Along for the Ride - Issue #21
Today's just another Friday in the UK, but for our readers in the US, hoping you are spending today relishing in the aftermath of turkey, yams, and pumpkin pies. Happy Thanksgiving!
Read of the Week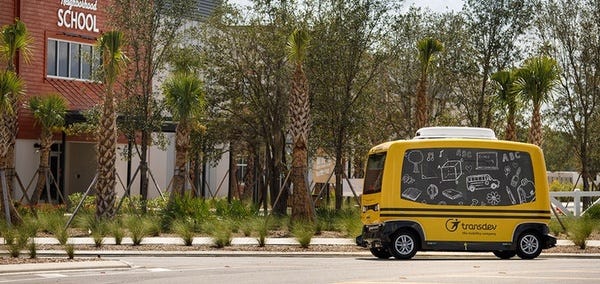 Transdev's North America CEO, Yann Leriche, is interviewed about autonomous vehicles, public transit and what the US can learn from Europe. Transdev is a French-based private operator of public transportation.
www.smartcitiesdive.com • Share
Governance and Policy
European Commission: Public consultation on AVs is open. "The input gathered from this public consultation will feed into a new policy Recommendation to be adopted by end of 2018/ beginning of 2019." (EC Europa).
Vision Zero: London's plan for reducing road fatalities (and serious injuries) is all about road speed, junctions, and driver behaviour. (BBC).
Rennes, France: Rennes University is embedding a autonomous shuttle into its public transport fleet. (Smart Cities World).
Air Control: How Uber and Lyft are undermining Airport revenue from parking and car rental companies. This trend will continue as self-driving cars are brought into the mix. (The Economist).
The Politics of it All: The Wall Street Journal discusses the political roadblocks that have halted trials, test and policies being brought forward in the US. (WSJ).
Marysville, Ohio: The city is hosting a trial of 1,200 connected vehicles and intersections - AECOM will be "developing statewide standards for connected and autonomous vehicles so results can be replicated." (Biz Journals).
On the Road: The UK Government is supporting three AV trials by 2021, with London and Edinburgh at the centre. Funding for the projects comes from a £25m Connected and Autonomous Vehicles Intelligent Mobility Fund grant. (Gov.UK).
Industry
Drunk Driving: Waymo partners with Mothers Against Drunk Driving (MADD) this holiday season. This comes after a MADD report found that "between the first Thanksgiving football game and the final countdown on New Year's Eve, more than 1,100 people lost their lives to drunk drivers" in 2017. (Business Insider).
Tunnels: Elon Musk is tunnelling under your home - and he probably didn't ask permission. (The Atlantic).
Emerald City: Cruise plans to open a new office in Seattle, with over 200 new engineers. (GeekWire).
Research and Academia
Traffic Models: A new video has been whirling around the interwebs this week: "Watch just a few self-driving cars stop traffic jams". (Science Mag).
Opinion
The "Family Car": How self-driving cars will change the way families move. (Smart Cities World).
Have a lovely weekend friends.
Sarah
By Sarah Barnes
This weekly newsletter on cities, transportation and technology is curated weekly by Sarah Barnes, a transport nerd based in San Francisco, CA.
The newsletter encourages new conversations about advanced transportation technology, primarily autonomous vehicles, which focus on people, equity, design and the cities we want to (and need to) be building for the future.
If you don't want these updates anymore, please unsubscribe here.
If you were forwarded this newsletter and you like it, you can subscribe here.
Powered by Revue
San Francisco, CA