Along for the Ride - Issue #29
Heya friends - you're in for another great week, we've got more road pricing, permits, and blind spots coming your way.
As an aside, I'll be speaking at the MOVE conference in London on the 12th of February. If anybody's in town it'd be great to meet up!
Read of the Week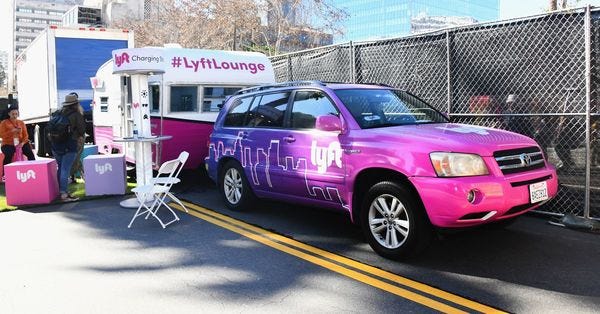 The calculated impact of Uber and Lyft
New research from the University of Kentucky finds Uber and Lyft culpable for the decline of bus ridership in San Francisco. The Transport Network Companies (TNCs) are responsible for a 12.7% decrease in ridership according to the study. The two companies can partner with public transport organizations as much as they want, but they'll have to contend with the fact that their existence undermines that of their new favourite partner.
The Era of "Move Fast and Break Things" Is Over
Yup - two reads of the week! This one is not mobility or urbanism related per se; this piece from HBR is a beautiful reflection on the entire start-up and VC industry - but especially pertinent to those of us who work in mobility. In the last ten years we've seen bullish mobility start-ups with hundreds of millions of funding (hell bent on proving everybody wrong) piss off urban authorities every step of the way. It's time to do things differently (read: thoughtfully, in partnership and in alignment with cities).
Government and Policy
The stress of it all: The NYT covers what many transport experts have been humming away at for years: traffic effects our physical and psychological wellbeing, and in the US car culture is leading to a society that is exhausting and unhealthy for both individuals and the environment. Do we really think self-driving will solve these problems as well? Would love to know your thoughts! (NYT).
Road pricing: I know there's a new link about road pricing every week, but hey sometimes we have to shout louder for the people in the back. Seattle hopes to have road pricing in place by 2021, arguing it will cut congestion without pricing out the poor. But 70 percent of residents either oppose or strongly oppose its implementation - almost exactly on par with Stockholm's residents pre-implementation opposition as well. Here's why they should still move forward with it. (Crosscut).
Texas task force: A new task force has been set up in the Lone Star State to progress research and testing for AVs. (Smart Cities Dive).
Sweden: Sweden is ready to let local automotive champion Volvo test on their roads. Drivers will be present, and vehicles will travel up to 80 km/hr (50 mph). (Reuters).
Industry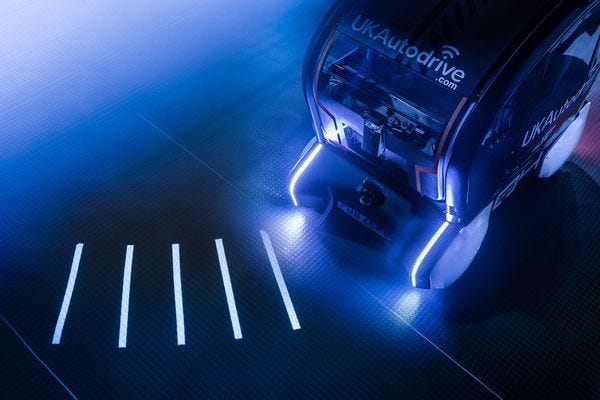 Jaguar Land Rover
Uber: is open to outside investment for their self-driving car unit, although they are not currently looking for backers. (Bloomberg). Uber has also been more and more keen to partner with public transport organizations ('bout time). I personally wonder if it's a little too late for Uber to be building these types of relationships. But better late than never? (WSJ).
A light in the right direction: Jaguar Land Rover have been testing some… interesting designs for autonomous vehicles. The latest is a laser-based light that indicates where the vehicle is moving /turning (see above). (CNET).
Waymo One: Another (anonymous) review from a Waymo One rider was released this week - including an account of how the vehicle reacts when it gets a little bit lost. (Futurism).
Lyft: Lyft's CEO isn't often in the spotlight - but ahead of their IPO, Logan Green is stepping into his own. It's a fascinating read, if only to compare his personality to that of Uber's founder and CEO Travis Kalanick. (NYT).
Argo.ai: is on the road again - the Ford backed self-driving company has just been granted a permit to test on California roads. The permit is for one vehicle and two drivers. (Tech Crunch).
Research and Academia
🙋‍♀: The University of Toronto and Coursera have teamed up to deliver a free online course for a Self-Driving Car Specialization. The course is designed for those who are already engineers, but with little knowledge on self-driving. I'm not an engineer, but I am 100% signing up this. Who's with me! (AP News).
Maps, maps, maps: Mapillary, a Swedish startup, examines how crowdsourced maps can help self-driving cars navigate more safely throughout city streets - a bit of a departure from other tactics being used to maps streets. (MIT Tech Review).
AI blind spots: New research from MIT explores a "model which identifies instances in which autonomous systems have 'learned' from training examples that don't match what's actually happening in the real world". In essence, they are able to identify blind spots - how cool is that?? (Science Daily).
Pinching pennies: Researchers from Harvard and MIT believe the biggest barrier to self-driving adoption will be their cost - less so the individual investments, but rather the larger impact that will be had on taxation. (HBR).
Opinion
Tug of war: The Overhead Wire (an incredible transportation / urbanism newsletter if you don't already follow it), has just released its first piece of written content on the topic of transportation data, its ownership and exploitation. (Move Forward).
Regulation roadblocks: Daniel Araya lists out three of the main challenges to regulatory implementation of autonomous vehicles across the US. (Forbes).
Waze: The Co-founder of Waze, Uri Levine, discusses why he designed the product and how technology can be used to eliminate traffic jams. I personally have many qualms with his take - in not one scenario does he account for the relationship between land use, public transport, and car ownership / culture. An interesting read, but in need of the less biased perspective. (Forbes).
That's all from me. Have a beautiful weekend friends!
Sarah
By Sarah Barnes
This weekly newsletter on cities, transportation and technology is curated weekly by Sarah Barnes, a transport nerd based in San Francisco, CA.
The newsletter encourages new conversations about advanced transportation technology, primarily autonomous vehicles, which focus on people, equity, design and the cities we want to (and need to) be building for the future.
If you don't want these updates anymore, please unsubscribe here.
If you were forwarded this newsletter and you like it, you can subscribe here.
Powered by Revue
San Francisco, CA