Along for the Ride - Issue #31
Hi friends, happy to be back! This week's edition is a bit longer, as it includes some pieces from the week before.
I've got some fun personal news to share as well: Beryl announced our new bike share offering this month in the UK (this is what I work on when I'm not curating news for you - multimodal as ever).
Read of the Week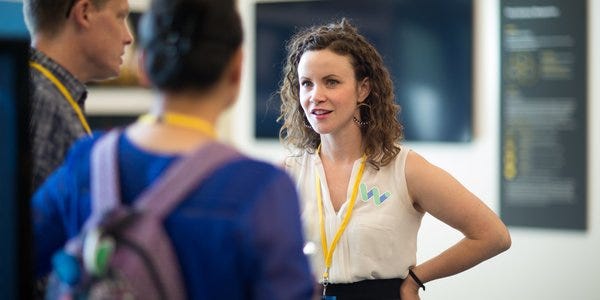 In the spotlight: Waymo's Ellie Casson
Ellie Casson's job is the Head of Local Policy at Waymo. Business Insider takes a deep dive into her role, and why it's critically important for self-driving car companies to consider localized issues and have a point of contact dedicated to local authorities. In short, she is my ultimate girl crush.
www.businessinsider.com • Share
Podcast of the Week
The Autonomous Vehicles Podcast
There's a new podcast on the scene and it is dedicated to all things self-driving. I had the wonderful pleasure of remotely sitting down with the host, Gurtej Gill, a wee bit ago and my episode has just been released! He is looking for interesting people to speak with, so if you're interested let me know and I can put you in contact.
www.autonomousvehiclespodcast.com • Share
Governance and Policy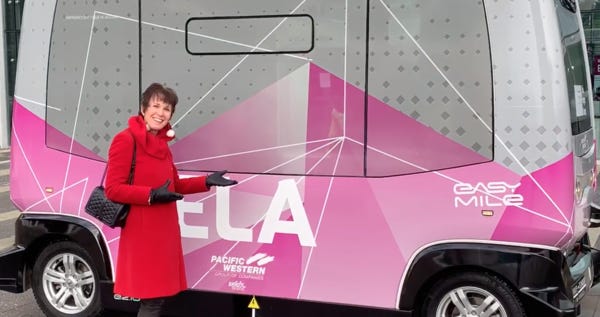 Shout out to readers Pam & John for sending me picture, images, and philospohical musings on their experiences in Vancouver.
Hello Vancouver: Self-driving shuttles are available for public rides in Vancouver; the vehicles are designed by Easy Mile and supported through a government grant. (CTV).
California: Woof. Two weeks of high speed rail drama have swamped transport news in the state. What's worse? People are suggesting an autobahn in California as a solution to the bullet train between LA and SF having its funding cut. This short-sighted plan makes me want to bang my head against a wall, to be frank. (LA Times).
Disengagement: The California DMV released (and then retracted) disengagement reports from various self-driving car companies in the state. (CA DMV). Reddit users give an analysis. (Reddit).
Vision impairments: CNIB argues now is the time for people with impairments to be a part of the formal design process for self-driving vehicles, as the technology is being developed. Otherwise, their existence could be a very expensive missed opportunity. (CBC).
Utah: Taking the first steps to legalize self-driving vehicles - a new bill won unanimous approval by the state House of Representatives' Transportation Committee. The bill focuses on removing the assumption that all vehicles have a human driver, and has some policy on what happens when an AV is in a collision. (Smart Cities Dive).
AV Start Act: Is up for another vote in congress, but we shan't hold our breathe. (Smart Cities Dive).
Uber and NYC: The ride-hailing giant is suing NYC based on their new driver cap, arguing it is anticompetitive. (Wired). Bloomberg also gives a great hot-take on the taxi, Uber, limousine market in NYC. (Bloomberg).
Unsafe roads: It's important for this industry to consider the multitude of ways pedestrians and cyclists are put to risk on public roads. So much of what keeps people safe is the right infrastructure, and a detailed explanation of why more pedestrians and cyclists are dying in the US is proof. (The conversation).
Tempe, Arizona: The current lawsuit against the city for its place in the fatal Uber collision last year is slated to run at $10m, in favour of the victim's family. (The Drive).
Industry
Raising capital: May Mobility (think autonomous, electric shuttles) raises $22m, bringing total investment to $33.6m a shockingly low amount in this industry (VentureBeat). Also remember last week when I said SoftBank's Vision Fund was running out of cash? Well they clearly had a little left as they invested $940m in Nuro, an autonomous delivery startup. (TechCrunch).
… Spending capital: Meanwhile, Uber's rising operating costs has meant its net loss for the last quarter was $865m. Ouch. And they even had tax breaks working in their favour. (Tech Crunch).
The 3D printed AV: File this under pretty snazzy. Local Motors has designed an electric, self-driving shuttle which is… 3D printed… and it has a name: Olli. (Bloomberg).
BlackBerry: Ottawa invests $40m CDN in Blackberry to advance connected car technology. (Bloomberg).
Apples to oranges: Apple released their "Approach to Automated Driving System Safety". Many are comparing their report to Waymo and Cruise, making it seem the company is lagging behind their peers. But, with minimal information actually detailed, the comparison lacks substance in my humble opinion. (Apple).
Lyft's IPO: is scheduled for March - likely beating Uber to the race. They are rumoured to be listing their shares on Nasdaq. (WSJ).
Citymapper's latest quip: The transit app has released a new service that gives Londoners access to public transport, cycle share, and their own ride-hailing service. It looks flashy, but as a Londoner, somehow I can't see this scheme picking up. (TechCrunch).
Tesla self-driving car is ~coming~: It was meant to be here in December, then in the spring, and then before that, yada yada yada. Industry analysts highly doubt Tesla and Mr. Musk will keep his promises this time around. (CNBC).
Open source: Uber and Cruise open up their visualization software to the general public. Cruise's blogpost on the software ("Worldview") details how powerful the program truly is. (Cruise).
Research and Academia
Pedalling backwards: Report out of the Netherlands question how cyclist detection may delay the delivery of self-driving cars to the world's biggest cycling city. (The Guardian).
Auto loans: 7 million Americans are three months behind on their car payments or more - despite low unemployment and a fairly strong economy. (US PIRG).
Congestion: Think the most congested city in the US is Los Angeles? Well, you'd be wrong. This year Inrix places Boston at the top of their list. (Smart Cities Dive).
Opinion
Po-po: When will self-driving cars learn to pull over for the police? Certainly not today, but someday soon this will need to be a reality. (Bloomberg).
Voyage's moment: Not sure who does Voyage's PR, but there have been *so* many news stories recently about why retirement communities are an ideal market for self-driving cars, and the Economist is here to lend their support. (The Economist).
But will it work in reality? Dean Burnett, author of The Happy Brain and The Idiot Brain, questions if self-driving cars will truly be able to cope with the unruliness and unpredictability of urban life. (The Guardian).
Trolleys: How useful is the Trolley experiment when examining the ethical decisions of autonomous vehicles? Perhaps less important than most would assume. (Fast Company).
That's all from me. Have a beautiful weekend friends.
Sarah
By Sarah Barnes
This weekly newsletter on cities, transportation and technology is curated weekly by Sarah Barnes, a transport nerd based in San Francisco, CA.
The newsletter encourages new conversations about advanced transportation technology, primarily autonomous vehicles, which focus on people, equity, design and the cities we want to (and need to) be building for the future.
If you don't want these updates anymore, please unsubscribe here.
If you were forwarded this newsletter and you like it, you can subscribe here.
Powered by Revue
San Francisco, CA