Along for the Ride - Issue #32
Hi all and welcome to Issue #32.
This week is heavy on industry news - which is mostly about mergers, acquisitions, and raising capital. But we've also got some great research on how and why all companies should be considering the impacts of self-driving technology on marginalized communities.
Happy reading!
Read of the Week
Where are Self-Driving Cars Taking Us?
New research out of Washington DC asks one of my favourite questions: what policies need to be put in place to reap the most benefits from self-driving cars (eg. increasing transport access, decreasing emissions, and supporting public transport)? Great to see a fully-fleshed research paper taking a deep dive into this questions!
Governance and Policy
NYC: *drum roll please* de Blasio has finally endorsed road pricing as a mechanism to help address the growing public transport crisis the metropolis is experiencing. It's still a long way from implementation, but I still think I can hear angels singing? (Streetsblog).
Singapore: The city-state is looking to see how self driving cars can help increase access to mobility for the city's aging population - especially as an anticipated shortage of bus drivers over the coming years. (CNN).
Industry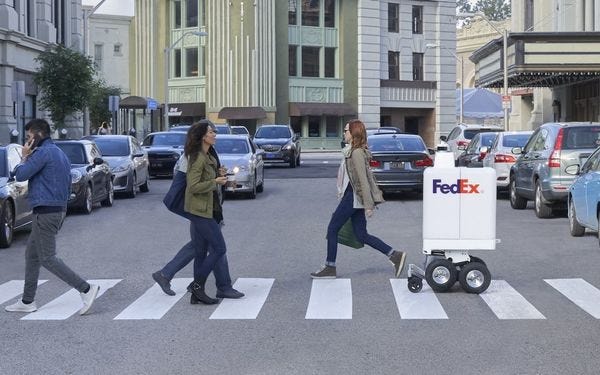 Fedex's new delivery bot - coming soon to a street near you.
Delivery bots: Fedex is the most recent company to release images of their autonomous delivery bots, designed in partnership with Pizza Hut and Walmart. Would have *loved* to be in those design sessions. (City A.M.).
Waymo: Remember last week how we included an opinion piece about how cars will soon need to respond to hand signals from the police? Well, Waymo just cracked that nut. (CNET). A short piece on how Waymo trained their vehicles to master the "left turn". (Popular Science).
And lastly, this week another Business Insider exclusive on one of Waymo's leading women: their Head of Rider Support, Priscilla Knox. Safe to say there exists some (…paid) partnership between BI and Waymo..? (Business Insider).
Uber: Is in advanced talks to buy Careem - for a brisk $3 billion USD. There were talks in 2018 of merging their operations in the Middle East. (Bloomberg).
Nio sells a lifestyle: The "Tesla of China" has a new clip on 60 minutes that shows how Nio's member club in China does more than sell fancy electric cars, they also sell luxurious lifestyles. (CBS).
VW invests in Argo.ai: Argo.ai is Ford's self-driving unit, and VW invests nearly $2 billion into it. (WSJ).
Lyft IPO: Prior to going public later this Spring, Lyft is reducing its prices in an attempt to gain greater market share. (The Information). Lyft also introduced their "Shared Saver" ride option in select cities this week. (Venture Beat).
Mapping the way: Toyota has announced a new partnership which will compile data from a fleet of autonomous vehicles to create more detailed HD maps. The programme will be based in Tokyo and utilize cameras. Highway HD maps cover less than 1% of the worldwide road network. (Smart Cities Dive).
Zūm Zoom: Ride-sharing company that focuses on children's travel raises $40 million USD. The app lets parents schedule rides for their children from vetted drivers. It will be interesting to see what their long-term objectives are with regards to self-driving. (Tech Crunch).
Research and Academia
AVs & Marginalized Communities: A new report asks how self-driving cars can be adopted such that they increase transport access to those who need it most. The answer? Creating disincentives for personalized private travel. (Greenlining.org).
Autonomous vehicles and land use: Professors from University of Oregon are interviewed about the ever pressing issue of how land-use will be affected by self-driving cars. (Union of Concerned Scientists).
Pros & Cons: A new podcast from the Wharton School of Business discusses the pros and cons of self-driving with Engineer Samuel I. Schwartz, author of No One at the Wheel: Driverless Cars and the Road of the Future, and previously NYC's transportation commissioner. (Knowledge@Wharton).
Opinion
Insurance: Who needs insurance in the age of self-driving cars? (LA Times).
That's all from me. Have a beautiful weekend friends.
Sarah
By Sarah Barnes
This weekly newsletter on cities, transportation and technology is curated weekly by Sarah Barnes, a transport nerd based in San Francisco, CA.
The newsletter encourages new conversations about advanced transportation technology, primarily autonomous vehicles, which focus on people, equity, design and the cities we want to (and need to) be building for the future.
If you don't want these updates anymore, please unsubscribe here.
If you were forwarded this newsletter and you like it, you can subscribe here.
Powered by Revue
San Francisco, CA