Along for the Ride - Issue #33
First and foremost: Happy International Women's Day! On this joyous occasion I share with you two of my long-time favourite articles about women in urbanism and architecture:
Secondly, do I have a week of news for you. From Uber's Tempe lawsuit, to new funding rounds (in the billions), and worrying research about pedestrian detection - I can only promise it's interesting.
Read of the Week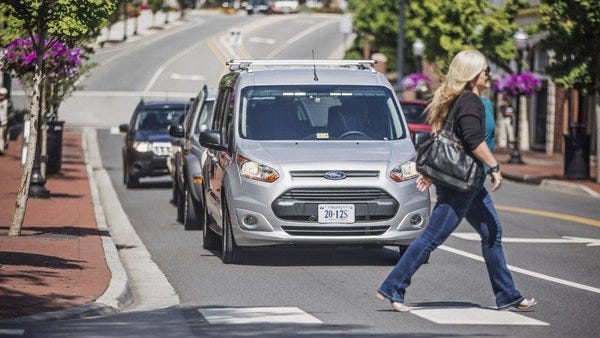 The racial implications of self-driving tech
New research this week whirled around major news outlets: object recognition systems are less accurate at detecting pedestrians with darker skin tones. Researchers at the Georgia Institute of Technology bring forward an incredibly important and necessary problem to solve before we consider bringing AVs to city streets at scale. For myself, I began reflecting on the driving while black phenomena, and began to question if we can expect computers to fairer and more just than the humans who create them.
www.technologyreview.com • Share
Government and Policy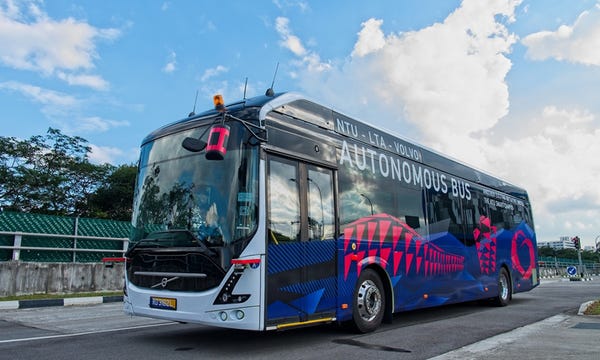 Volvo autobus in Singapore.
Liability and lawsuits: An Arizona prosecutor has ruled that Uber is not liable for the death of Elaine Herzberg, a 49 year old woman who was killed last year after being struck by one of Uber's vehicles in Tempe, Arizona. The in-vehicle human operator present on the other hand could face charges of manslaughter. (NPR, NYT).
Pittsburgh: The city was once heralded as America's self driving city, but halted testing with Uber after the fatal collision in Arizona last year. Now the city wants to work hand-in-hand with auto OEMs to bring self-driving vehicles to city streets. (CBS, Business Times).
Singapore: The city state and Volvo unveil the world's first 12-metre fully electric autonomous bus(!). The buses, of which there are two, will be trialed on designated public roads. (Bloomberg).
London: Uber pushes back against road pricing, arguing discrimination against people of colour - approximately 94% of their drivers in London. A lawsuit argues the charge creates indirect discrimination.
"Most drivers, such as those working for Uber, will have to pay the charge themselves and cannot pass it on to passengers, because it is the company that sets the rates for fares." (BBC).
Barcelona: After instating new rules for ride-sharing companies to follow, Cabify returned to the city a month after refusing to cooperate with the regulations which required customers to book a ride at least 15 minutes in advance. (Phys.org).
Sex, vomit, and criminals: The latest (and most provocative?) podcast from Citylab's Technopolis looks into the urban implications of self-driving cars, at an extreme. (Citylab).
Teaching humans to drive with robots: The INFRAMIX project seeks to test how new road upgrades can help soothe the transition between now and full autonomy. Some aspects include building out strategies to deal with roadworks, bottlenecks, and highways where a lane can be dedicated to automated vehicles only. (Horizon Magazine).
Industry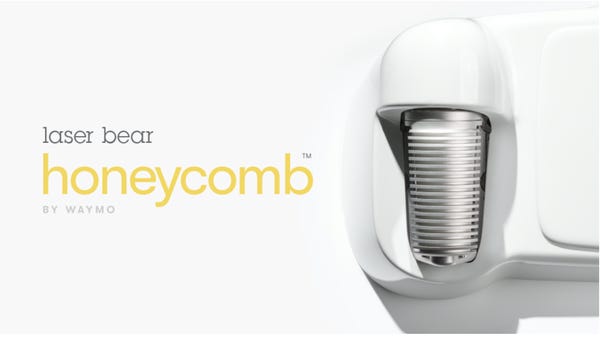 Lyft: So many stories floating around this week about Lyft's IPO filing with the SEC. My favourite headline so far? Lyft's IPO Banks Big on Self-Driving Cars, Shits on E-Scooters. (NYT for the real info, Gizmodo for the laughs).
Waymo: Say hello to the Honeycomb: Waymo's custom LiDAR sensors are going to hit the market soon and will be available to companies outside of the self-driving industry. (Waymo).
Grab: Ride-hailing giant which acquired Uber's Southeast Asian operations last year raises $1.5 Billion from Softbank's Vision Fund. (NYT).
Drive.ai: Is looking for a sugar-daddy (ok, to be acquired), just months after its CEO made a dramatic exit. (The Information).
Tesla: The company has announced that full self-driving capabilities will cost an additional $7,000 for consumers. (Engadget). They've also announced a plan to close retail stores. (Tech Crunch).
Faraday Futures: The chaotic EV company has 11 lawsuits that have piled up since October 2018 - mostly from suppliers and contractors. They are seeking nearly $80 million in owed payments, damages, and fees. (The Verge).
Volvo: The Swedish auto OEM has announced plans to limit vehicle speeds to 112mph, in an effort to reduce traffic fatalities. It is a part of the company's plan where no one is killed or seriously injured in a Volvo vehicle by 2020. (The Verge).
Geneva Auto Show: Kia displays a unique(?) … dashboard in a concept EV made up of 21 smartphone-sized LCDs. (The Verge).
Research and Academia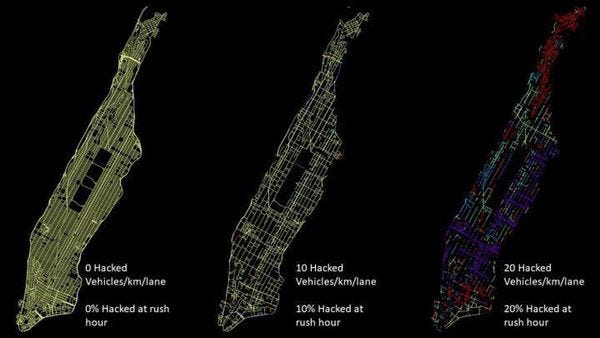 New research from GIT.
Data ownership: Research from Dartmouth questions who owns geospatial data from self-driving cars, and what will they use it for. (Dartmouth).
Hacked: Another popular story this week, and also from the Georgia Institute of Technology looks at how hacked vehicles will impact road traffic, causing collisions and congestion. (Science Daily, Forbes).
Opinion
Move slowly and build things: Why the era of "moving fast and breaking things" is over - especially for start-ups working alongside and within the parameters of the public sector. (Sifted).
Disengagement reports: Mitch Turck outlines why measuring disengagement reports (no. of times a safety driver is forced to take control of the vehicle during public testing) will not lead to safer vehicles. He describes some of "the tactics companies could pursue, intentionally or otherwise, to build a worse autonomous car with a better disengagement rate". (Mitch Turck).
Events!
London: The Science Museum's latest exhibition Driverless: Who is in control? opens June 12, 2019 and runs until October 20, 2019.
That's all from me folks. Have a beautiful weekend.
Sarah
By Sarah Barnes
This weekly newsletter on cities, transportation and technology is curated weekly by Sarah Barnes, a transport nerd based in San Francisco, CA.
The newsletter encourages new conversations about advanced transportation technology, primarily autonomous vehicles, which focus on people, equity, design and the cities we want to (and need to) be building for the future.
If you don't want these updates anymore, please unsubscribe here.
If you were forwarded this newsletter and you like it, you can subscribe here.
Powered by Revue
San Francisco, CA