Along for the Ride - Issue #34
It's another week and, well I'm sending this to you from sunny Madrid (there are scooters and electric bikes galore). Thus, a short and sweet edition.
Read of the Week
Illustration: Steph Davidson
Americans still fear self-driving cars (feat. a lovely gif)
"The portion of Americans who fear autonomous vehicles—71 percent in the American Automobile Association's latest survey—is virtually unchanged from a year ago and up eight percentage points from 2017".
This is interesting because the previous survey (nine weeks after Uber's fatal collision in Tempe) found 73% of Americans expressed anxiety about the technology. So even a year later, auto OEMs across the country have failed to sway public opinion.
Government and Policy
Japan: New legislation for self-driving vehicles has been released in advance of the Tokyo 2020 Olympics. This includes a safety standard for auto OEMs to comply with. It also re-iterates that people behind the wheel will still be held responsible for driving their vehicles safely.
"Drivers are currently banned from using mobile phones while holding their handsets. But people using self-driving cars will be allowed to use the devices if they are able to take control of their vehicles". (NHK).
Presidential qualifications: South Bend, Indiana Mayor Pete Buttigieg (a Rhodes Scholar no less) has thrown his hat into the Democratic race for president of USA. He gets a nod this week because of his concern for job loss associated with automation - particularly in the automotive industry. (CityLab).
Arkansas: New legislation welcomes pilots of fully autonomous vehicles on state roads - but there's a cap. Organizations have to submit "operation and safety plans", and then with approval, can operate up to three autonomous vehicles. (Insurance Journal).
Industry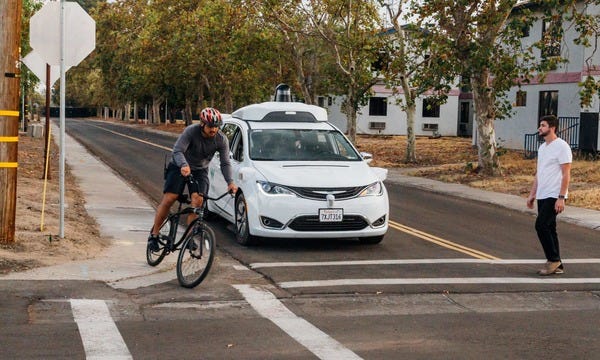 One of the more staged photos I've ever seen.
Waymo: Takes centre stage in The Guardian with a full-spread on the auto OEM. I'm convinced this is a continuation of their PR strategy which saw multiple profiles of employees in Business Insider. (Guardian). Also the company is thought to be raising money, with an estimated valuation between $100-175 billion USD. (The Information - paywall).
Cruise: The start-up is planning on doubling their staff, and has just opened a new office moments from the California Institute of Technology. (Engadget).
Uber: Gotta love all the information uncovered in an IPO. Nothing is confirmed, but it appears Uber will sell a $1 billion stake in its self-driving car unit to a consortium of investors led by SoftBank Group Corp. (Bloomberg). Meanwhile it is also unveiled that the same unit was spending $20 million USD a month prepping for self-driving tech before the collision in Tempe last year. (TechCrunch). As an aside - it is industry gossip that Lime is spending approx. $35 million a month… operating bikes and scooters. Just to put things into perspective 🤷🏻‍♀️. (No link!).
Ford: Self-driving car program (Argo.ai) is likely to expand to Austin as part of the company's City:One Challenge program. (TechCrunch).
Research and Academia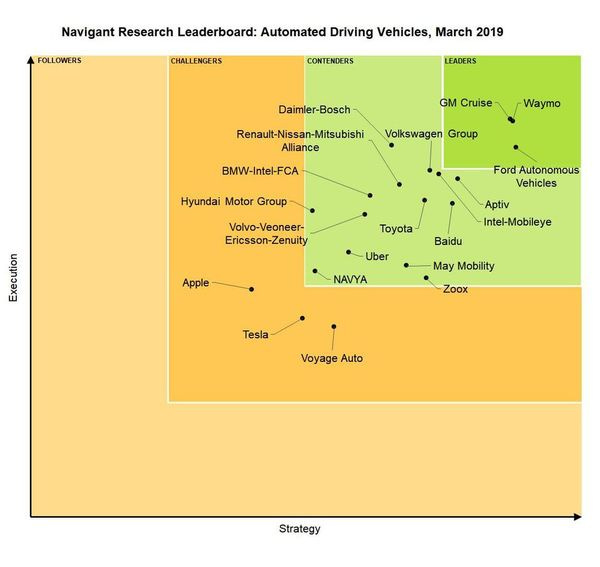 Navigate Research (March 2019).
Leaderboard: Navigant Research has released their annual Automated Driving Leaderboard. And this year the competition has narrowed, with Waymo, GM Cruise, and Ford Autonomous Vehicles taking the lead. The rankings are based on strategy (including story-telling) and execution. (Navigant Research).
Street Smarts: StreetLearn is a project led by AI/ML researchers at Deepmind. They essentially took a massive Google Street View-derived dataset and asked an AI system to navigate across New York and Pittsburgh. The program helps AI systems pick up on landmarks when navigating urban areas. (Arvix).
Opinion
Documentary: A new documentary on autonomous vehicles (feat. Alex Horwitz, Malcolm Gladwell and co.) has been released. I've yet to watch it myself, but The Verge gives a detailed recap. (The Verge).
That's all from me! Have a beautiful weekend friends.
Sarah
By Sarah Barnes
This weekly newsletter on cities, transportation and technology is curated weekly by Sarah Barnes, a transport nerd based in San Francisco, CA.
The newsletter encourages new conversations about advanced transportation technology, primarily autonomous vehicles, which focus on people, equity, design and the cities we want to (and need to) be building for the future.
If you don't want these updates anymore, please unsubscribe here.
If you were forwarded this newsletter and you like it, you can subscribe here.
Powered by Revue
San Francisco, CA