Along for the Ride - Issue #36
From congestion pricing nearing approval to a good swath of new research this week, I hope you enjoy.
Read of the Week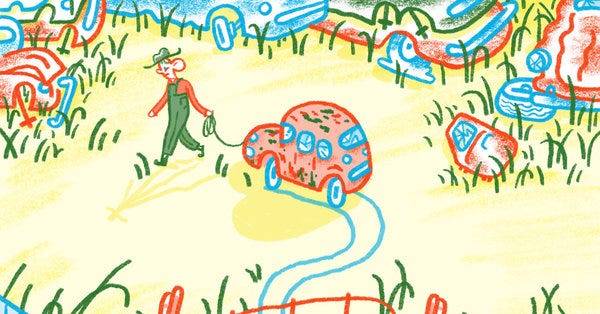 Car ownership will soon be as quaint as owning a horse
This opinion piece in the NYT was followed up with a rebuttal written later this week titled Giving up owning a car? An urban fantasy. In my opinion, both deserve a read and debate - combined they depict the polarization of the urban experience and the dissonance which exists between urban dwellers about the potential for a city, a road and our personal perceptions to change.
Government and Policy
A really fascinating read about how Google Maps changed the name of a neighbourhood in Buffalo, NY from "Fruit Belt" to "Medical Park". And the fight the neighbourhood had to put forward to reclaim their home from from the urban data industrial machine.
"Lott learned that the issue had been festering for years, and she wanted answers. The 2,300 residents in the Fruit Belt didn't refer to the community as "Medical Park," but Google Maps had done so since the late 2000s. Community members argued the designation was a calculated tweak in favor of gentrification, a digital rechristening that would be used to sell houses, market Airbnbs, and wrest the neighborhood's future from the people who had made a home there for generations."
A review of how Portland and NYC are tackling the feat of bringing congestion pricing to city streets. Including how they can design a system that supports, and avoids strain, on low-income populations. You can also see this recap on congestion pricing in NYC as well as London's Ultra Low Emission Zone (coming into place April 8th).
China's electric bus fleet seems to be having an impact on the country's demand for oil – in a good way. According to a new report, by the end of this year "a cumulative 270,000 barrels a day of diesel demand will have been displaced by electric buses, most of it in China".
Industry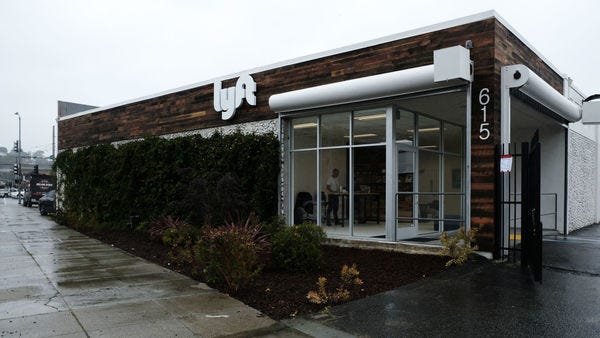 Lyft opens car repair location
Lyft has opened three service centres for their drivers, in an effort to increase driver retention. They plan to have 34 centres by the end of the year. Currently all efforts at based in SF.
Uber's acquisition of Careem means that the company will have a greater share of Saudi Arabian shareholders. Bloomberg reflects on how the impact of Saudi Arabia's involvement in the killing of Jamal Khashoggi last year has impacted regional investment and foreign relationships.
Uber's expands Ride Pass subscription to more cities
Ride Pass, Uber's monthly subscription service, allows customers to pay a monthly fee of $14.99 for discounted rates for all UberX, Uber Pool, Express Pool rides, and electric bike and scooter trips. The service welcomes 16 new cities.
Drive.ai moving on from Frisco, Texas
Drive.ai is removing its self-driving shuttles a bit earlier than expected from Frisco, Texas. While the contract was meant to end in April anyways, the city chose not to renew the contract citing high costs. Drive.ai will refocus their energy on other projects in Arlington.
Getting autonomous cars ready for the road
Watch as Dmitri Dolgov, CTO and VP of engineering at Waymo, talks with MIT Tech Review about their product, and how they are preparing for wider rollout.
events.technologyreview.com • Share
Research and Academia
Research from LSE's US Centre looks at how large states with relatively low populations, like Nebraska, move people without access to a car. The piece looks at the dynamic between car ownership and public transport usage, and how mobility management can target those with limited access to mobility.
Making self-driving cars safer on roads.
Researchers from USC and ASU have built a new mathematical method able to identify anomalies or bugs in the self-driving system before the car hits the road. The method allows researchers to test the system's perception algorithms, which allow the car to "understand" what it "sees."
Clean Cities Alternative Fuel Price Report
The U.S. Department of Energy's Alternative Fuels and Advanced Vehicles Data Center has released the latest version of its quarterly report. This report is designed to keep interested organizations up to date on the prices of alternative and conventional fuels in the United States.
Opinion
Unusual Nissan Perk: $601,000 Stanford Tuition Fees
Okay maybe file this one under Miscellaneous. Nissan Motor Co. paid tuition for all four of ousted chairman Carlos Ghosn's children when they attended Stanford University between 2004 and 2015, according to people familiar with the matter. Yup.
That's all from me. Have a beautiful weekend friends.
Sarah
By Sarah Barnes
This weekly newsletter on cities, transportation and technology is curated weekly by Sarah Barnes, a transport nerd based in San Francisco, CA.
The newsletter encourages new conversations about advanced transportation technology, primarily autonomous vehicles, which focus on people, equity, design and the cities we want to (and need to) be building for the future.
If you don't want these updates anymore, please unsubscribe here.
If you were forwarded this newsletter and you like it, you can subscribe here.
Powered by Revue
San Francisco, CA