Along for the Ride - Issue #37
An exciting week leading up to London's new Ultra Low Emission Zone coming into practice on April 8th. Also lots of interesting reflections on Uber + Lyft (and how IPOs are changing public perception of mobility companies). Enjoy!
Government and Policy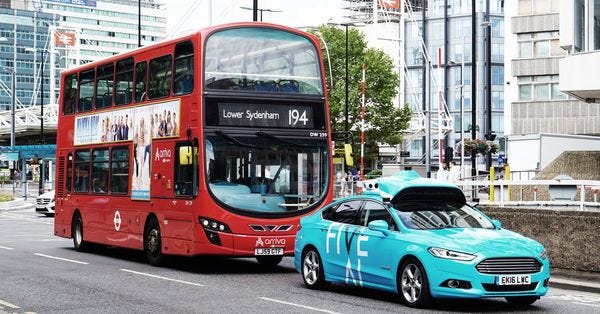 (In the pool of autonomous driving). While not the first self-driving pilot the city has seen, it is the most advanced yet. The trials will take place in the outer London boroughs of Croydon and Bromley, which have a much more residential (almost suburban) urban fabric compared to the hustle and bustle of inner London. FiveAI (the company behind the trial) mentioned that passenger trials were due to start in 2020.
Brexit puts UK's £62bn self-driving industry at risk.
According to Mike Hawes, the chief executive of the SMMT (Society of Motor Manufacturers and Traders), a "no deal [Brexit] is not an option and would be catastrophic for this industry, and the UK's position globally would be undermined."
D.C. lawmakers want to regulate self-driving cars with new legislation that would "create a comprehensive framework for autonomous vehicles operating on city streets". This is detailed in the Autonomous Vehicle Testing Program Amendment Act of 2019.
The estimated cost needed to "provide safe, reliable and convenient public transportation and to meet the mobility needs of communities of all sizes" in America. This investment would yield a 4-to-1 return to the US economy.
The Verge discusses congestion pricing, breaking it down for those unfamiliar with the concept and its multitude of benefits. They believe congestion pricing will end the "era of consequence-free driving in cities".
The EU has put forward new safety rules which mandate that "new cars sold in Europe from 2022 will have to be fitted with systems to limit their speed". The rules also mandate crash data recorders and reversing cameras.
Sacramento trials app that rewards low-carbon travel.
The City of Sacramento and the Sacramento Regional Transport District are working with Miles: "an app that gathers data on users' movement throughout a city and rewards those who travel in low-carbon ways". This is how all transport reward systems should work (cough Uber, cough Lyft).
www.smartcitiesdive.com • Share
Uber drivers bring lawsuit against Mayor of London.
A few weeks ago I mentioned Uber drivers in London were suing the Mayor of London for "unintended" racial discrimination brought forward by the latest amendment to the city's congestion charge. Well, the Independent Workers' Union of Great Britain, which represents the drivers facing the new levy, has won permission to challenge the mayor on the distribution of fees.
Uber's federal infrastructure principles.
Uber has unveiled a set of four principles which they believe are needed to guide cities towards a future of more holistic urban movement.
"Carefully maintained lane striping, road signage, and general maintenance — such as filled potholes — are critical since these are ultimately how our self- driving vehicles 'see' roads and infrastructure."
Industry
Volkswagen has joined BMW in testing vehicles in Hamburg and Munich this week (respectively). BMW has been testing in Germany since 2017.
A look at how the automobile industry is being pushed to reimagine itself, with added pressure from Californian tech companies. "That new form of competition could be the most serious issue for the traditional automakers. Today you can have the best vehicles in the world and you still might not survive 20 years".
Despite being deeply unprofitable, Lyft had a hell of an IPO last week. "Lyft's shares rose 8.7 percent in its first day of trading after opening at $87.24, far above the public offering price of $72. By the end of the day, the ride-hailing firm's market value stood at $26.4 billion, making it one of the most valuable American companies to go public in the last decade".
And then they slumped. "Lyft shares fell as much as 4.2 percent in New York before paring losses and briefly trading higher. The shares tumbled 12 percent on Monday [April 1, 2019] after multiple cautious analyst reports warned that the company's growth may be poised to slow".
Baidu has just released figures for its self-driving programme based in Beijing. TechCrunch has the recap, but you can also find the initial report here (in Cantonese).
"Baidu registered nearly 140,000 kilometers in Beijing last year, representing about 91 percent of total self-driving distances traveled by the eight licensed transportation companies in the city".
Partnership for self-driving standards.
GM, Ford and Toyota are forming a consortium to "help draw up safety standards for self-driving cars that could eventually help create regulations in the United States".
Research and Academia
A new study finds that aggressive driving behaviour is linked to seeing cyclists as 'less than human'.
Streetsblog has a great recap. "The Australian researchers asked participants about their attitudes toward cyclists — and 31 percent rated cyclists as less than human. The dehumanization was even worse among non-cyclists: 49 percent viewed people who ride a bike as non-human".
Opinion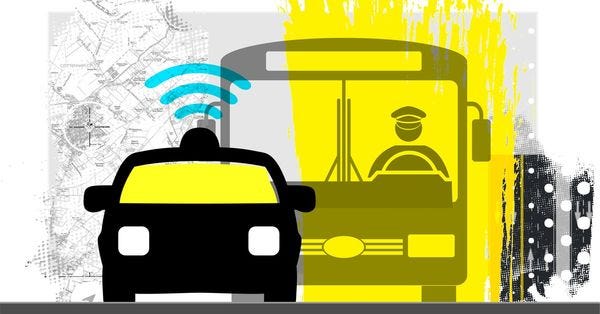 Imagine we're 50 years in the future and despite all of the current hype, there's not a single AV to be found on city streets. Vox discusses why removing drivers from our transportation system disrupts delicate social contract, and how this impacts the longevity of self-driving technology.
China's plans for the future of the car
How China is leading the world in electric, autonomous and shared fleets. And why it does not need to have the best car companies to win the race.
That's all from me. Have a beautiful weekend friends.
Sarah
By Sarah Barnes
This weekly newsletter on cities, transportation and technology is curated weekly by Sarah Barnes, a transport nerd based in San Francisco, CA.
The newsletter encourages new conversations about advanced transportation technology, primarily autonomous vehicles, which focus on people, equity, design and the cities we want to (and need to) be building for the future.
If you don't want these updates anymore, please unsubscribe here.
If you were forwarded this newsletter and you like it, you can subscribe here.
Powered by Revue
San Francisco, CA