Along for the Ride - Issue #38
Dearest subscribers -
We've got updates on laws in Florida, flying cars, and slow streets this week, so safe to say there's a little something for everybody.
Tweet of the Week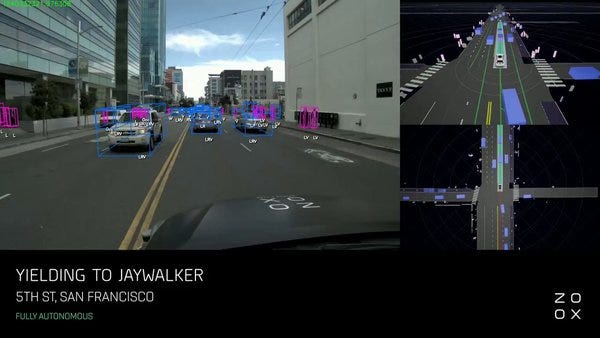 Jaywalkers are a common sight in SF. This clip shows how our technology predicts this pedestrian's trajectory, then slows to a stop in order for him to pass safely. https://t.co/3D6lkXEqxs
Zoox shares a clip on twitter of how their vehicles handle jay-walkers in San Francisco, to keep all road-users safe. (Also, read this piece on how the term "jaywalking" came to fruition - and why it's problematic).
Government and Policy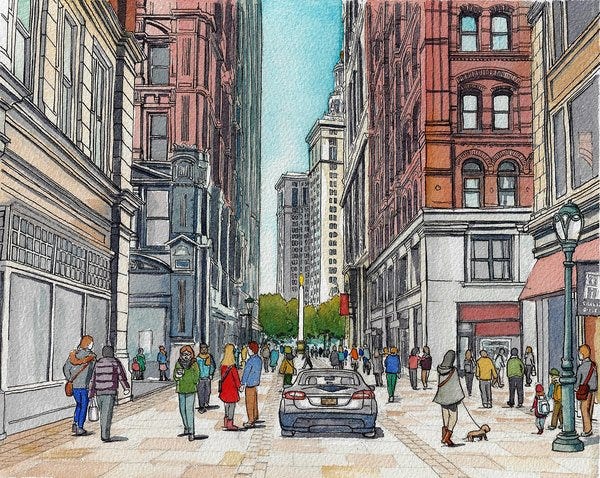 How NYC's Financial District may welcome a slower pace of urban life. A study commissioned by the Financial District Neighborhood Association (FDNA) titled "Make Way for Lower Manhattan" includes a slow streets district. Sounds like the perfect side-kick policy for the 2021 introduction of congestion pricing to me.
The Eno Center for Transport has released their second report on autonomous vehicles and public policy. The goal of the report is to "overview of the current policy arena and posit concrete and substantive recommendations for policymakers to responsibly test and deploy AVs on public roads". They've also written a blog post summarising the report.
With all the news about congestion pricing from NYC to London, the NYT discuss why streets have never been free and why the end to end consequence-free driving is a welcome change.
Florida considers expanding self-driving law.
Self-driving vehicles could be operated in Florida without a human backup under a bill approved by a House committee last week. "Florida is widely recognized as one of the nation's leaders in self-driving vehicle public policy, and in order to maintain this position and encourage companies to test and deploy here in our state, we must address our existing laws governing motor vehicle operation that did not contemplate a driverless future when they were written," Republican sponsor Rep. Jason Fischer said.
www.insurancejournal.com • Share
The unusual reason London's public transport usage is dropping.
As London's population, jobs, and wages grows - its public transport system is seeing fewer rides on the underground. The reason? According to Nicole Badstuber it's that fewer young people have been moving to the capital. This reasoning reveals the true cost of the affordability crisis and why "any plans that assume continued population growth are now at risk".
Industry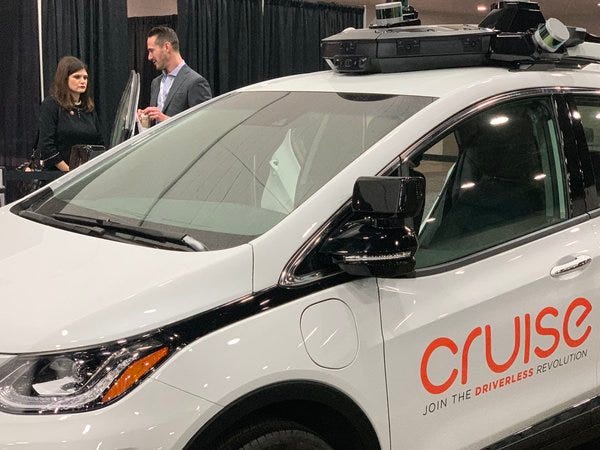 .@edanko from PAVE member @Cruise shows Congresswoman @HaleyLive their vehicle — with no steering wheel! https://t.co/kT1HEvRqVi
Cruise previewed a vehicle this week with no steering wheel. More images of the design as you click through the tweet.
Less than six months after launching in Cairo and Monterrey, Mexico, the Uber Bus program will add staff to its Seattle-based engineering team. I personally love buses, so I'm interested to see how this programme can solve current pain points in existing bus networks - and even what local authorities might learn from this project.
Uber's IPO and its reflection on self-driving.
Uber expects their self-driving car project to be further out than originally anticipated, according to Raquel Urtasun, who leads the project team in Toronto. In other relevant news, according to CNBC Uber is seeking a valuation of between $90 billion and $100 billion.
Lyft is threatening litigation against Morgan Stanley.
Some tension has emerged between Lyft and Morgan Stanley, linked to Morgan Stanley's involvement in Uber's IPO. "In a letter sent to Morgan Stanley on April 2, Lyft questioned the firm about its role in helping market certain products that would help pre-IPO investors bet against the stock". Also on CNBC: Lyft shares drop to a new low.
Ford's CEO Jim Hackett has changed his tune slightly when it comes to self-driving vehicles. "We overestimated the arrival of autonomous vehicles, its applications will be narrow, what we call geo-fenced, because the problem is so complex."
Research and Academia
Between architecture, public transport, and AVs.
New research from Stockholm based RiSE and London based architecture firm PLP looks at the relationship between public transport and AVs. They suggest that electric AVs pose a great threat to the long-term sustainability of public transport such as subways.
On flying cars and sustainable urban mobility.
New research from Ford and the University of Michigan's Center for Sustainable Systems finds (*drum roll please*) that flying cars (or VTOLs) are "not suitable for short urban commutes". Rocket science.
That's all from me. Have a beautiful weekend friends.
Sarah
By Sarah Barnes
This weekly newsletter on cities, transportation and technology is curated weekly by Sarah Barnes, a transport nerd based in San Francisco, CA.
The newsletter encourages new conversations about advanced transportation technology, primarily autonomous vehicles, which focus on people, equity, design and the cities we want to (and need to) be building for the future.
If you don't want these updates anymore, please unsubscribe here.
If you were forwarded this newsletter and you like it, you can subscribe here.
Powered by Revue
San Francisco, CA