Along for the Ride - Issue #39
Hi all - back after a mini-hiatus - so it's a longer issue today!
I've been busy wearing my other mobility hat: working on bike share as Beryl is quickly prepping for launch in London, Bournemouth and Poole, and Hereford within the coming weeks. I apologize in advance if this newsletter becomes a bit more sporadic as I run into launch mode. C'est la vie.
Also if you like human-powered mobility (aka lots of bikes) follow along with Beryl's newsletter that I also curate: City Movements.
Without further delay, those other vehicles with four wheels and a mind of their own.
Read of the Week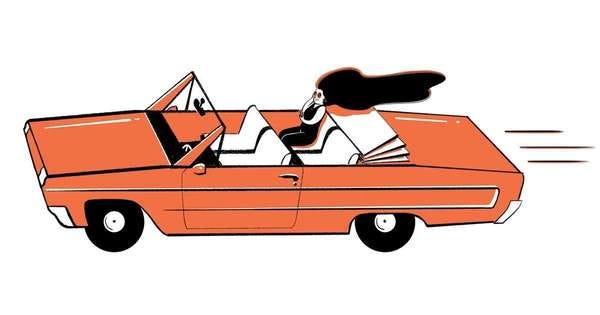 To be a safety driver in a self-driving car
A (short) and sweet look into what it's like to be a safety-driver in a self-driving car. Joe VanOflen is the operations lead at drive.ai, and he describes what it's like to be behind the wheel of a car that drives itself: "first-time passengers would peek up at me to see if I was touching anything".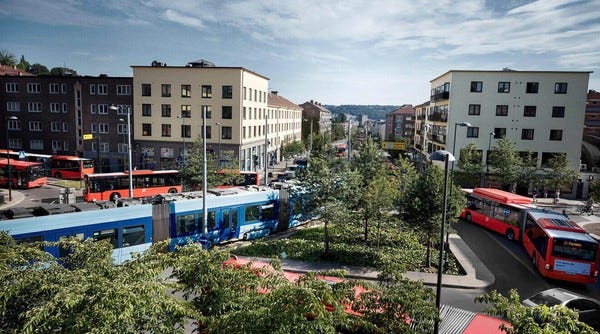 Oslo's report on self-driving vehicles
Oslo released a report recently about the impact self-driving cars could have on the city region and there are some interesting (and bold) predictions about their potential.
In all of the scenarios examined, the number of cars can be reduced by between 84 and 93 per cent;

The scenario that produces the biggest reduction in traffic is where users of public transport continue to do so while car-drivers switch to ridesharing. This will give a 14 per cent reduction in traffic;

Conversely, the volume of traffic would increase by 97 per cent if everyone who currently drives and everyone who uses public transport switched to car-sharing, but without ridesharing.
Government and Policy
Self-driving trucks coming to California.
The California DMV announced earlier this month that light-duty self-driving delivery vehicles will get the go ahead to test on California roads. Interestingly, companies are not allowed to charge delivery-fees when using self-driving vehicles.
www.popularmechanics.com • Share
Utah gives self-driving vehicles the green light.
Utah passed new legislation that considers computer systems in autonomous vehicles to be "drivers", which enables self-driving vehicles to operate on public roads. While the bill will open the state to economic opportunity associated with the self-driving industry, critics of the bill say it hasn't gone far enough to ensure safety for all road users.
An autonomous vehicle fit for an army.
Self-driving vehicles have a history with the army, since the first DARPA challenge in 2004. Growing on this history, it was just announced that The United States Army "will see autonomous combat trucks deployed to help soldiers avoid accidental casualties caused by driving." The Pentagon has allocated another $3.7 billion for research that will cover autonomous driving.
China builds out highway for autonomous vehicles.
Eager to test autonomous vehicles under highway conditions, China is building a test site using a section of an existing highway in eastern Shandong province. "The stretch of highway being converted to a test site has three tunnels, one bridge, three toll-collecting points, and many slopes."
Blockchain bolsters mobility in Reno.
Yup, we've finally got an article about blockchain, self-driving vehicles and "intelligent mobility initiatives". Welcome to 2019 friends. The city of Reno, Nevada and the University of Nevada have partnered to use "blockchain technology to validate and attest data communications between autonomous vehicles and surrounding street infrastructure."
www.smartcitiesworld.net • Share
Industry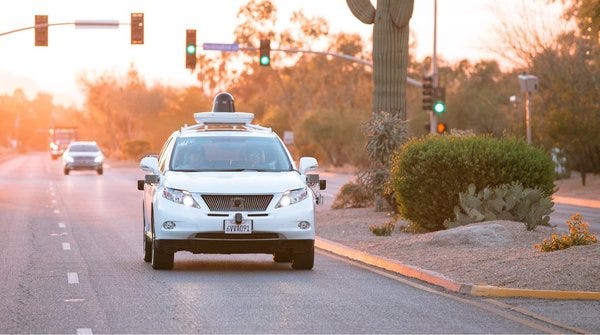 At least in terms of mass production. Waymo will be manufacturing their level 4 vehicles in a refurbished warehouse in Motor City. There are no numbers or dates released in terms of how many vehicles will be made and by when, but I'll keep my ear to the ground.
The Waymo One app is now publicly available in Google Play Store. "Interested customers with Android devices can download the app. This doesn't mean users will get instant access. Instead, potential riders will be added to a waitlist. Once accepted, they will be able to request rides in the app."
The difficulty of parking lots.
Even self-driving cars struggle with parking lots. John Krafcik, Waymo's CEO, explains why a parking lot is one the most challenging environments for a self-driving vehicle to be in: the presence of pedestrians and vehicles behaving unpredictably makes it hard to navigate. To be fair, I can absolutely relate.
www.businessinsider.com • Share
Who is leading the electric vehicle movement?
Hint: it's not traditional auto OEMs. According to Fast Company the real movers and shakers in terms of electric mobility are based in Silicon Valley. "Big U.S. automakers are struggling to catch up–and oil companies are dipping their toe into charging … but none have jumped in the deep end."
A continuation of the above, Ford plays catch up with electric mobility - investing half a billion dollars in Rivian. This comes after Amazon invested $700M in the company in February of this year. Ford and Rivian will build an EV battery using the company's skateboard platform.
Ford will have 100 AVs on the road this year.
Ford slowed their roll earlier this month saying that AVs are further out than they'd originally anticipated. But that's not stopping them from having 100 AVs on-road later this year. Ford is already testing AVs in Miami and Washington, D.C.
Uber's $1 billion investment round.
Uber's self-driving car unit has snatched $1 billion in investment ahead of their IPO. The funding includes investment from Toyota, Saudi Arabia's Sovereign Fund, Denso, and Softbank's Vision Fund. This values the Advanced Technologies Group (Uber ATG) at $7.3 billion.
Kroger debuts delivery vehicles in Texas.
Kroger's partnership with Nuro will see delivery vehicles across Houston, bringing customers everything from ice cream to their daily vitamins. Current trials will use adapted Toyota Priuses.
Pony.ai tests robo-taxi program on its employees.
Pony.ai has launched an autonomous ride-hailing program (PonyPilot) for employees in Guangzhou's Nansha district. Currently the service is only available to employees and select affiliates but they plan to open it up to the public in due time.
Elon Musk's ambitions for Tesla.
Elon Musk once again made a series of predictions about Tesla and its self-driving capabilities:
By the middle of 2020, Tesla's autonomous system will have improved to the point where drivers will not have to pay attention to the road;

Tesla will roll out autonomous taxis next year in some parts of the US;

Cars will be Level 5 autonomy with no geofence (I mean seriously);

Cars could last for at least one million miles, while requiring minimal maintenance.
And once again, I shall believe this when I see it.
Research and Academia
Induced travel demand and energy consequences.
Researchers at the University of Michigan have developed a microeconomic model of VMT choice under time and budget constraints, using NHTS data to forecast connected and autonomous vehicle-induced travel and energy rebound.
"Our results indicate that backfire – i.e., a net rise in energy use – is a possibility, especially in higher income groups. This presents a stiff challenge to policy goals for reductions in not only energy use but also traffic congestion and local and global air pollution, as CAV use increases."
In 2003, China enacted the Road Traffic Safety Law in an attempt to promote traffic safety. Researchers looked into the results of the law, finding that "while the law was successful in decreasing the number of accidents and casualties, the ratio of deaths to accidents and injuries to accidents increased." Yikes.
Opinion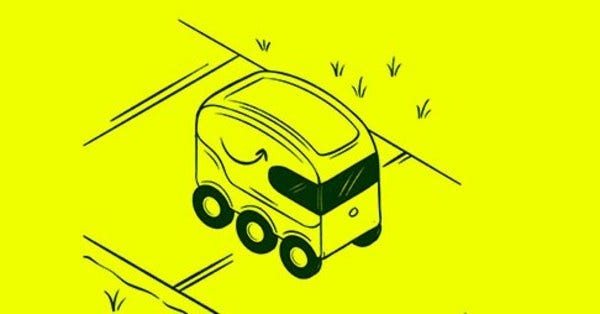 Wired gives a wee recap on the state of self-driving cars, and considers that fully autonomous cars may never arrive.
Could AVs be worse for cities than regular cars?
"One thing is clear – vehicles and technology alone do not improve mobility or quality of life for cities."
And that's all from me! Have a beautiful weekend friends.
Sarah
By Sarah Barnes
This weekly newsletter on cities, transportation and technology is curated weekly by Sarah Barnes, a transport nerd based in San Francisco, CA.
The newsletter encourages new conversations about advanced transportation technology, primarily autonomous vehicles, which focus on people, equity, design and the cities we want to (and need to) be building for the future.
If you don't want these updates anymore, please unsubscribe here.
If you were forwarded this newsletter and you like it, you can subscribe here.
Powered by Revue
San Francisco, CA