Along for the Ride - Issue #40
Hello friends - happy to begin and end my week with you!
My favourite piece is by far the Right to Drive published in the New Yorker. It stews up all kinds of nostalgia, in a way that I personally never thought I'd feel about a car. Also very exciting this week is LA's New Green Deal and the many inspiring (yet lofty) goals the city has planned for 2050. Enjoy!
Read of the Week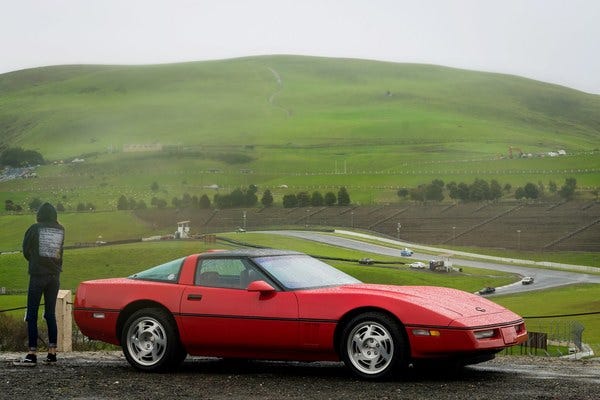 The fight for the right to drive.
The Human Driving Association emerged in San Francisco in 2017, and as an organization they oppose the creation of fully autonomous vehicles and advocate for "constitutional amendments that would protect people's freedom of movement and their right to drive their own cars".
"Last fall, the Philadelphia Navy Yard hosted Radwood, a car meet-up with a very different conception of the automotive future. The only cars allowed at Radwood are ones manufactured between 1980 and 2000… They represent a relationship to technology that has now vanished—one that privileges user involvement over convenience."
Government and Policy
Israel speeds ahead with self driving.
Israel's government has reportedly approved widespread, real-world testing for self-driving and electric cars.
"Our goal is to fill Israel with autonomous, efficient and electric transportation on demand, which will reduce traffic and congestion," said Anat Bonstein, director of the Fuel Choices and Smart Mobility Initiative at the Prime Minister's Office.
This quote (and title) does nothing to reassure me that this tactic will do anything to ease congestion in Israel - for that to happen they'd have to invest in better infrastructure such as the radius of their kurbs, street-width and public transport.
Uber and Lyft halt new drivers in NYC.
Uber stopped hiring new drivers in New York City on April 1. This is in response to New York City's new driver pay regulations, which stipulates that drivers must earn at least $17.22 an hour after expenses.
"Since the rules went into effect, drivers have earned $56 million more than they would have otherwise, according to a city presentation from earlier this month."
Florida legalizes self driving.
Florida passed legislation last week that legalized the use of self-driving vehicles state-wide. State records show four Uber lobbyists met with state representatives on the House version of the bill, HB 311*.
*This local reporting has some skewed opinions about Uber's lobbying for the bill.
L.A. and Mayor Eric Garcetti released their latest variation of pLAn ("Plan LA"), and the name of the game is zero carbon everything.
"By 2050, L.A. will have a zero carbon grid, zero carbon transportation, zero carbon buildings, zero waste, and zero wasted water — and we've developed a series of targets to mark and measure our progress in this fight."
Some (of my favourite) targets include:
Ensure Los Angeles is prepared for Autonomous Vehicles (AV) by the 2028 Olympic and Paralympic Games;

Increase the percentage of zero emission vehicles in the city to 25% by 2025, 80% by 2035, and 100% by 2050;

Increase the percentage of all trips made by walking, biking, micro-mobility / matched rides or transit to at least 35% by 2025; 50% by 2035; and maintain at least 50% by 2050.
Industry
Jaguar Land Rover consider purchasing Addison Lee.
JLR are in talks to acquire Addison Lee (a minicab* company based in London). Addison Lee has signed a deal with the driverless pioneers Oxbotica to bring some self-driving car services into London by 2021.
*For those of you outside the UK a minicab is "a taxi which may be booked in advance but which is not licensed to pick up passengers who hail it in the street"
Uber adds public transportation information.
In London that is. This week when users in London open the Uber app they can see cost and time comparisons for ride-hailing and taking the bus or tube alike. They recently integrating public transport payments in Denver.
Toyota to invest $100 million in self driving and robotics.
In an effort to discover the next new thing in mobility, Toyota has set-aside $100 million to invest in small scale technology start-ups focusing on self driving and robotics.
Opinion
Australia ramps up autonomous vehicles.
But are they doing it all wrong? With a $500 million fund for new parking at train stations in Sydney and Melbourne it appears the government would rather fund 'band-aid' solutions than to actually address transport problems head on.
This is a great piece if you know very little about the Australian AV scene.
www.businessinsider.com.au • Share
That's all from me. Have a beautiful weekend friends.
Sarah
By Sarah Barnes
This weekly newsletter on cities, transportation and technology is curated weekly by Sarah Barnes, a transport nerd based in San Francisco, CA.
The newsletter encourages new conversations about advanced transportation technology, primarily autonomous vehicles, which focus on people, equity, design and the cities we want to (and need to) be building for the future.
If you don't want these updates anymore, please unsubscribe here.
If you were forwarded this newsletter and you like it, you can subscribe here.
Powered by Revue
San Francisco, CA