Along for the Ride - Issue #41
Heya friends - happy Friday!
There's a lot of question state-level regulation (would love to know your thoughts on this venerable readers), highway expansions (🙄), and media buzz around Uber, Lyft and Waymo this week.
Enjoy!
Read of the Week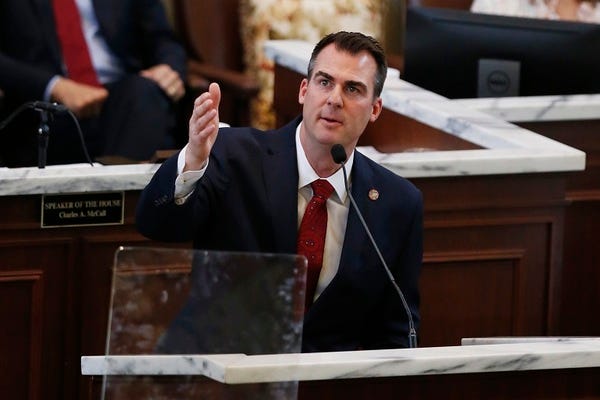 Oklahoma's new self-driving regulation
"Basically we're trying to make sure we don't have municipalities or counties coming in and interfering with this development." - the bill's author, state Sen. Micheal Bergstrom, R-Adair.
Oklahoma's Governor, Kevin Stitt, has signed Senate Bill 365 which defines what an autonomous vehicle is and who in the state has the authority to regulate it. Hint: The bill restricts city and county governments from legislating autonomous vehicles - including choosing not to operate the vehicles.
I am a pretty big believer (especially in cases of transportation) in the "city knows best" mentality. By all means, state level regulation can work when individual urban needs are considered on a city-by-city basis - and for consistency, but limiting the authority of city's to regulate the vehicles is (in my humble opinion) a wrong turn. So safe to say I'll be watching how this pans out with hawk eyes.
Government and Policy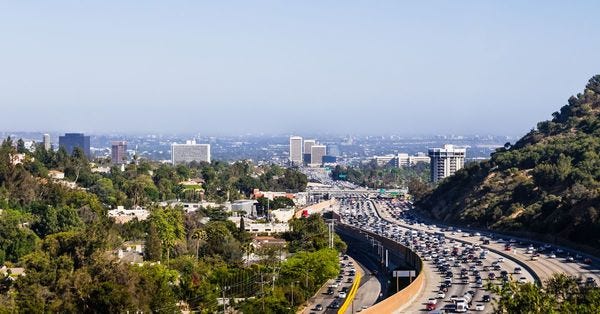 Why widening highways doesn't work.
With evidence from where else, Los Angeles. Today a direct quote from the article will suffice:
"Five years ago this month, a northbound carpool lane opened on the 405 freeway, between the 10 and 101 freeways, widening 10 miles of the interstate. It took half a decade to construct and cost more than $1 billion.
Since then, average northbound drive times through the Sepulveda Pass have increased at all hours of the day, according to data from traffic analyst Inrix."
But it's all ok, because Austin, Texas just approved another expanded highways, so it's not like were making the same mistakes over and over and over again.. right? $400 million put to its best use.
Pittsburgh wins Knight Foundation grant.
Pittsburgh has been granted funding from the Knight Foundation for a project that will teach the public about autonomous vehicles. The grant will go to the city's Department of Mobility and Infrastructure for $410,000 over three years.
Pittsburgh has been ground zero for autonomous vehicle testing in US for many years, but halted all trials after the fatal Uber collision in Tempe, Arizona last year. Today, the city is home to five organizations trialling AVs: Aptiv, Argo AI, Aurora Innovation, Carnegie-Mellon University, and Uber.
Vietnam boosts electric buses.
Next year, at least 3,000 new electric buses will roll out to Vietnamese roads, as part as a new "nonprofit bus service" called VinBus. VinBus plans to launch in the Vietnamese cities of Hanoi, Hai Phong, Da Nang, Ho Chi Minh City, and Can Tho in March 2020 in an effort to reduce emissions, and pollutants.
"As a nonprofit, VinBus will reinvest all of its profits back into the company for service and development improvements. It plans on expanding its service area in the future."
The Danish way of doing things.
Copenhagen's Østerbro district is getting driverless buses, as part of the European AVENUE-project. The AVENUE-project will introduce self-driving vehicles to four major European cities over the course of the next four years.
In Copenhagen, the buses will follow a 1.3 route around the new Århusgade quarter in Nordhavn, with service from 10am-6pm everyday.
Industry
On strike: Uber and their workforce woes.
Thousands of Uber drivers around the world are on strike this week ahead of Uber's IPO (today!) which may be one of the largest public offerings in recent history at an estimated $90 billion valuation.
Their protest calls on companies like Uber and Lyft to improve drivers' working conditions, and treat them as the valuable employees that they indeed are.
Waymo & Lyft: in holy matrimony.
Waymo will put ten of its vehicles currently operating in the suburbs of Phoenix on Lyft's app come September. This comes weeks after releasing the Waymo One app publicly on the Google Play Store.
Probably good to remember Alphabet has a pretty penny invested in Lyft and Uber; but the relationship between Waymo and Uber could be described as strained (at best…) as intellectual property lawsuits loomed over the companies these past two years.
www.washingtonpost.com • Share
Waymo and vulnerable road users.
Waymo has published content that details how the vehicles identify and react to vulnerable road users such as cyclists and children. Two videos in a recent blog show case studies from a busy school street and allowing a cyclists to pass.
Meanwhile, on the other side of this new partnership - Lyft posted $1.1 billion in quarterly losses earlier this week. To be fair, the company forecast that its losses would peak this year as "it controlled expenses and got more revenue from each customer."
Lyft's legal battles with the Americans with Disabilities Act.
Lyft is undergoing legal battles, in a federal class action lawsuit for not complying with Americans with Disabilities Act standards. Lyft's rebuttal? It's a tech company, not a transportation company.
"According to their public filings their mission is to improve people's lives with the world's best transportation," said former New York City Taxi Commissioner Meera Joshi. "Or maybe it should be improving some people's lives because throughout the country most passengers that use a wheelchair still can't get a Lyft."
The dutch reach is a well known action used to protect cyclists from driver's opening their doors and potentially hitting a passing-by cyclist.
Last month, Lyft added a push notification to their app to alert passengers exiting a vehicle to practice the dutch reach. The company said the addition was the result of conversations with transportation advocates locally and nationally.
Cruise raises another billion.
Cruise Automation has secured another $1.15 billion investment, bringing its post-money valuation to a humbling $19 billion. The usual players (GM, Honda, Softbank's Vision Fund) were involved.
On children and mobility technology.
Both Uber and Lyft do not permit drivers to pickup unaccompanied users under the age of 18. But there is an emerging set of niche ride-hailing services designed for the modern parent - who can't always drive their children from activity to activity. WSJ has the scoop.
Research and Academia
Transportation agencies and metropolitan planning organizations often wrestle with how to properly value transportation investments. These challenges are tackled in a new issue of Research in Transportation and Business Management, including specific research on:
Emerging best practices in urban transportation

The early impacts of California's shift from LOS to VMT in measuring transportation impacts

Active transportation metrics, intangible benefits, and approaches to funding

Reframing traffic safety, including a defense of urban street trees

Challenges in properly measuring housing and transportation costs

Urban parking demand and lessons in parking policy implementation

Curb use and surge pricing in the age of ride hailing

Methods for evaluating the benefits of freight movement

Problems with static traffic assignment in travel-demand modeling
Comparing consumers: China and America
New research from the Capgemini Research Institute finds that "more than half of Chinese consumers can't wait to get out from behind the wheel and into an autonomous car." Significantly higher than approval rates for AVs in the US.
Opinion
Where research has gone wrong with self-driving cars.
"Academics love to be distracted by a future in which self-driving vehicles make life-or-death decisions while moving at high speed… What these academics are not doing is asking the questions that society needs answered to decide what the role of driverless cars will be."
According to Arm and FiveAI were ruthless this past week in their opinions about the future of self-driving vehicles, calling much of what we read today a load of hype (my internal dialogue: does this make me a hype woman?).
Read for yourself and see if you agree.
www.businessweekly.co.uk • Share
Thats all from me, have a beautiful weekend friends.
Sarah
By Sarah Barnes
This weekly newsletter on cities, transportation and technology is curated weekly by Sarah Barnes, a transport nerd based in San Francisco, CA.
The newsletter encourages new conversations about advanced transportation technology, primarily autonomous vehicles, which focus on people, equity, design and the cities we want to (and need to) be building for the future.
If you don't want these updates anymore, please unsubscribe here.
If you were forwarded this newsletter and you like it, you can subscribe here.
Powered by Revue
San Francisco, CA