Along for the Ride - Issue #42
Hi all! Another week, another newsletter.
Lots happening in the industry front this week - particularly regarding Uber. Between its IPO, and the Labour Board ruling their drivers are contractors (and not employees) it's been quite the week for them.
Enjoy!
Read of the Week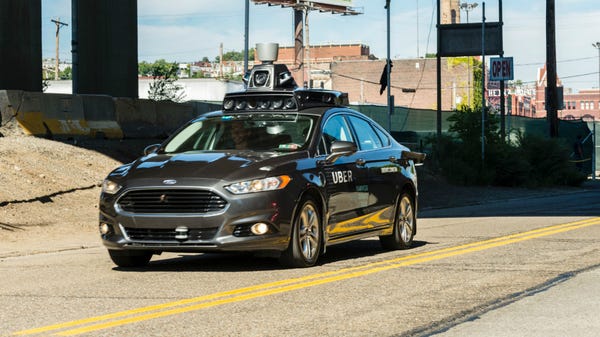 Robots in training are worth the bother.
Gregory Winfree, former U.S. assistant secretary of transportation, speaks to why on-street testing of AVs is "inescapably disruptive, and … entirely necessary".
"A century ago, it was drivers and pedestrians who needed to learn how to respond to and comply with the machines. Today, it's the machines that bear the burden of learning — yes, even driverless vehicles need driver education. But here's the really great thing about machine learning: Once they learn, the machines (unlike human drivers) never forget."
Government and Policy
Senate to push for self-driving vehicle regulation (again).
Senate Commerce Committee Chairman, Roger Wicker (R-Miss.), spoke to US Chamber of Congress this week about the AV Start Act. Despite bipartisan support, the bill (which would serve as federal regulation) could not garner support from five senators, who insisted certain provisions to the bill were needed to protect public safety.
"We are also going to deal with autonomous vehicles, the AV START Act, and the way we think about how people and goods are transported around the country. Congress got close on this last year … we will see how far we get this time, there are wrinkles that need to be ironed out, but I think we can get there." - Roger Wicker
Slow rolling in Washington, DC.
This piece in Roll Call gives a really good overview of existing legislation and pilots of AVs across the US at a Federal, State and Local level. The piece also speaks to how difficult it is to design adaptable policy, which enables precarious and ever-changing technology (such as AVs) to move forward/
The Canadian government has announced the winners of its Smart City Challenge. The big winner is Montreal, who is taking home $50m CDN to work on improving access to mobility and food.
"We want to make neighbourhoods more dynamic and inclusive, where mobility is a driver of social cohesion and collective action, and where vulnerable populations have better access to quality food."
www.infrastructure.gc.ca • Share
Vancouver votes for slow streets.
City Council unanimously voted in favour of pilot which would see speed limits reduced from 50km/hr to 30km/hr on side streets, with the potential to expand to all residential streets. As one Councillor put it:
"This is our public realm, this is where our kids play street hockey, this is where I'm teaching my daughter how to ride a bicycle. This is where people live, it's not just a place for cars."
Cities across the US (Denver, Atlanta and Detroit) have all hired Chief Storytellers to help shape changing urban narratives – and its pretty wholesome if you ask me.
"Denver and Atlanta, have followed Detroit's lead and hired their own writers, videographers and historians to help spruce up the metro areas' images – and engage with residents – by producing stories about unique people and places, or local history, that the mainstream media has ignored."
In one of my favourite news pieces for the week, police in Providence, Rhode Island pulled over a self-driving shuttle on Wednesday, hours after the project launched. The police went as far as lighting up the car's blue and red sirens as the shuttle dropped off passengers because they were "unfamiliar with the oddly shaped people transporter."
Industry
Drivers can just become mechanics.
Lyft's COO, Jon McNeill, thinks that in the most-driving world people who currently rely on driving as a source of livelihood can become mechanics for self-drivings cars, that "will require 20 times more maintenance than traditional vehicles."
www.businessinsider.com • Share
Uber drivers are contractors - not employees.
The National Labor Relations Board has ruled that Uber and Lyft drivers are indeed contractors, not employees. Drivers hoped that gaining recognition as employees would lead to better pay and working conditions, both of which are more uncertain now than ever. This is the first major policy move the board has made concerning the gig economy under Trump.
Or in the words of the NYT: How the promise of a $120 billion Uber I.P.O. evaporated.
"Nine months later, Uber is worth about half that figure. The ride-hailing firm went public last week at $45 a share and has since dropped to around $41, pegging Uber's market capitalization at $69 billion — and officially crowning it as the stock market debut that lost more in dollar terms than any other American initial public offering since 1975."
Inside Uber's self-driving car lab.
A look at Uber's Advanced Technology Group (ATG) based in Toronto, and in particular their team. From the leaders of the pack to interns, its an interesting story about the make-up of one of the industries most provocative teams.
Uber helps(?) cities track traffic speed.
Uber announced this week an update to their Uber Movement platform that now allows cities to track vehicle speeds on a granular, street-by-street level. The tool uses historical aggregated speed data from Uber's massive data base, along street segments in New York City, Seattle, Cincinnati, Nairobi, and London.
I can't speak for every city on this list, but I know for certain London already measures its own traffic speed, so it will be interesting to see how useful this "new" information is.
Voyage, the self-driving car company focused on delivering services to aging populations (currently testing in Florida), has been hit an intellectual property lawsuit.
"Sucxess, a suburban Detroit engineering-services firm, claims that Voyage has used its patented technology to convert regular production Ford Fusions and Chrysler Pacificas into autonomous-vehicle test mules."
Research and Academia
Vision for a connected future.
The FLOURISH CAV project wrapped up this week, after three years of research and development with a multidisciplinary team. Their findings consider how data can be leveraged to optimise the functionality of the road network and provide an enhanced user experience.
www.flourishmobility.com • Share
Have a beautiful weekend friends.
Sarah
By Sarah Barnes
This weekly newsletter on cities, transportation and technology is curated weekly by Sarah Barnes, a transport nerd based in San Francisco, CA.
The newsletter encourages new conversations about advanced transportation technology, primarily autonomous vehicles, which focus on people, equity, design and the cities we want to (and need to) be building for the future.
If you don't want these updates anymore, please unsubscribe here.
If you were forwarded this newsletter and you like it, you can subscribe here.
Powered by Revue
San Francisco, CA