Along for the Ride - Issue #43
Hello friends!
Hope all is well with you this week. Today we get a bit nostalgic about buses, see one of the most interesting (and odd?) delivery propositions from Ford, and consider how urban demographics are shifting making cities feel more suburban than ever.
Enjoy!
Read of the Week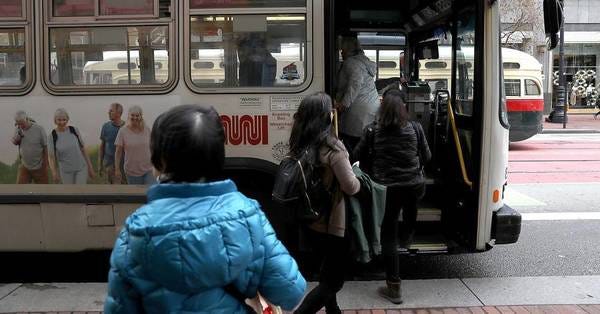 I am a *huge* proponent of taking the bus (when not on my bike of course); after living in Vancouver and London where dedicated bus routes, express bus lines, smart ticketing, live timetables, contactless payments, and all-door boarding are a reality, taking the bus is cheap, easy and fast. The WSJ recaps how these seemingly minor adjustments are changing the narrative about public transport.
Government and Policy
How Sidewalk Labs made Toronto mad.
New protests have begun in Toronto against Google's smart city unit Sidewalk Labs. "Canada is not Google's lab rat" say members of Block Sidewalk, who are fighting against Sidewalk's intention to seek "a share of Toronto's property taxes and development fees in exchange for their project financing".
Reminiscent of Amazon HQ2 no?
Building equitable and fair transport systems.
At a time when transportation tech has swelled, how can city planners and politicians maintain or shift focus to equity and flexibility, while refusing to buckle to venture capital?
"With so many unknowns, urban officials need clear, consistent principles to guide policy as mobility companies continue to rise and fall. These goals need not be complex; in fact, two simple ones are sufficient. First, urban officials must design mobility policy to promote equity, ensuring that new travel options serve the maximum number of people while improving access for the most vulnerable; and, second, they must embrace flexibility, so that policies about street and curb space can adapt to technology's uncertain evolution."
The postal service joins the club.
The U.S. Postal Service has started a two-week trial in between San Deigo and Dallas using self-driving truck start-up TuSimple. A safety driver will sit behind the wheel to intervene if necessary and an engineer will ride in the passenger seat over the course of five round trips, each totalling more than 2,100 miles (3,380 km) or 45 hours of driving.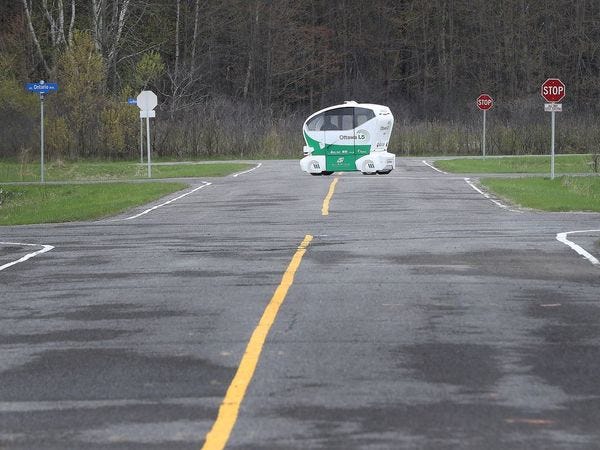 Ottawa's self-driving car test-track
Invest Ottawa unveiled their new test-track for Level 5 autonomous vehicles this past week which includes 16 km of paved roads, one-way streets, pedestrian crossings and bike lanes.
Pretty cool map in the article that shows the entire facility if you're into that sort of thing… 🙋‍♀
Hungary has opened a new test track for self-driving vehicles, ZalaZone. The 265-hectare site cost 45 billion Hungarian forints (€137 million or $153 million USD) and has a two-kilometre handling course for "testing stability, steering and braking systems, and lane keeping assists functions".
For the past few decades, single-occupancy vehicles have been the bane of many a transportation planner. Their inefficient use of road space, leads to congestion, pollution, and expensive operational cost for individuals. But with autonomous vehicles we can now imagine a future where zero-occupancy vehicles will be a reality, and cities need to understand how to manage this.
There is a great road hierarchy image mid-way through this article that breaks down AVs into their respective levels and occupancies.
Industry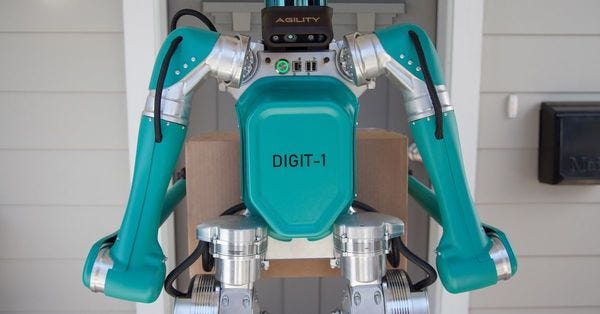 This one got a lot of press this week! Ford has released a new vision for parcel delivery and it includes an autonomous vehicle with a delivery robot inside of it. The video is worth a watch for its level of cheesiness (my favourite bit is when the robot has to reroute around an improperly parked electric scooter, so relevant).
Lyft is adding a panic button.
Lyft is adding an in-app panic button for riders who need to call 911; it did the same for the driver's app late last year. This type of innovation always makes me curious about rider safety in autonomous vehicles (e.g. if you are in a shared autonomous shuttle with no driver, and somebody is harmed or at risk, how can a person easily and discreetly ask for help). Any thoughts?
Safety standards sticking around.
Earlier this year, GM asked the National Highway Traffic Safety Association (NHTSA) to waive some automobile safety standards such as steering wheels, mirrors and other human controls for two years. But after 60 days of consultation, regulators and other commentators have pushed back, but it will continue to "seek public comment on the removal of unnecessary regulatory barriers to the safe introduction of automated driving systems as part of its wider efforts to draw up a body of regulations for self-driving cars".
BMW's CEO, Harald Krueger, job may be terminated over concerns that he's not steering the company toward electric and autonomous vehicles fast enough.
At first I thought this sounded a bit harsh, but upon further reflection there is minimal news or press about BMW's efforts in these areas so it does make sense.
The only acquisition of the week! Blackmore's Doppler lidar system can determine how far away an object is, and its speed, a handy addition for self-driving vehicles undoubtedly.
Waymo expands operations in Phoenix.
Waymo is expanding to the East Valley in Phoenix, Arizona. What I like most about this piece is that it actually gets into a bit of pricing - according to one user a four-mile trip to the Chandler library cost nearly $9.
Research and Academia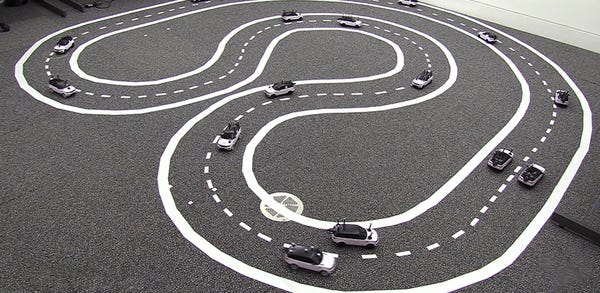 New research from Cambridge, programmed a small fleet of miniature robotic cars to drive on a multi-lane track and observed how the traffic flow changed when one of the cars stopped. "In the normal mode, cooperative driving improved traffic flow by 35% over egocentric driving, while for aggressive driving, the improvement was 45%".
This is overly optimistic to me, but hey when has a transportation model ever been wrong?
Podcast: Clogging streets and congestion
Yale Climate Connections (another great newsletter for those not subscribed) interviews Dan Sperling from the Institute for Transportation Studies at UC-Davis. The clip is very short, but his book is not - and well worth the read in my opinion.
www.yaleclimateconnections.org • Share
Opinion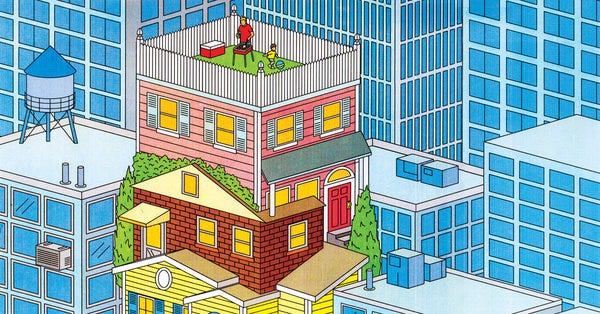 The suburbs are coming to a city near you.
"For the first time since the invention of the car, many cities saw their populations grow faster than their suburbs between 2010 and 2015, said William H. Frey, a demographer with the Brookings Institution… By 2014, the wealthiest 10 percent of households were just as likely as the poorest 10 percent to live in high- density neighborhoods".
To end your week...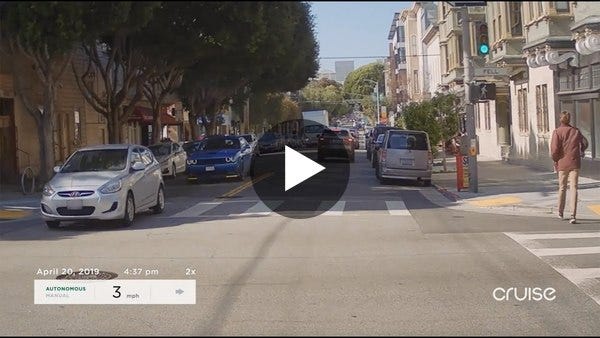 Cruise has released a video of *so* many left hand turns in SF.
Have a beautiful weekend friends!
Sarah
By Sarah Barnes
This weekly newsletter on cities, transportation and technology is curated weekly by Sarah Barnes, a transport nerd based in San Francisco, CA.
The newsletter encourages new conversations about advanced transportation technology, primarily autonomous vehicles, which focus on people, equity, design and the cities we want to (and need to) be building for the future.
If you don't want these updates anymore, please unsubscribe here.
If you were forwarded this newsletter and you like it, you can subscribe here.
Powered by Revue
San Francisco, CA