Along for the Ride - Issue #44
Hi friends, welcome to another Friday of self-driving cars and urbanisation!
We are approaching Along for the Ride's first birthday (🥳) on June 8th, which is so shocking and humbling for me. For those of you who have been here since the analog gmail version of this newsletter: Bravo! And to more recent subscribers: you're also my favourite.
If you love this newsletter I have two requests:
Please share with people you think would enjoy this mix!

Tell me what you like or think could work better about this newsletter. When you pop to the end of the newsletter you can hit it with a 👍 or 👎 which also works.
Thank you! Now onto the news…
Read of the Week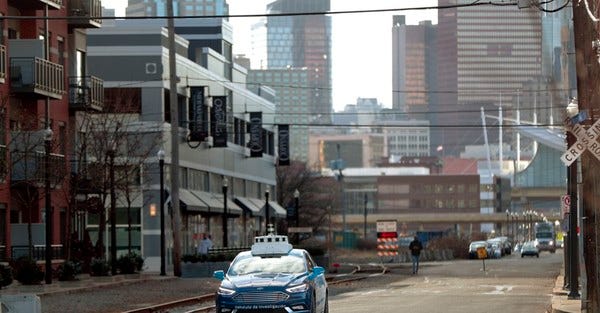 The slow start for self-driving cars and urban planning.
While research and industry seem to be speeding right along for AVs, urban planning and local decision making about self-driving cars is moving at the speed of tumble weed. New research from the American Planning Association & MIT shows a lack of city level policy to anticipate and respond to autonomous vehicles (link to research below).
"And though the arrival of these vehicles en masse could still be decades away, the authors write that now is a rare window of opportunity for cities to write policies that tackle both the unwanted effects of AVs as well as other big civic challenges."
Tweet of the Week
The SF BART twitter account called out Elon Musk this week about a statement he made about cars being safer in tunnels than trains. Click on the tweet for the full grilling including infographics, emojis, and a solid dose of shade. SFGate tells the story nicely.
We carry 28,000 people per hour through our Transbay Tube under the bay because of the capacity of a train. That's nearly twice as much as cars over the bay. Why wouldn't you prioritize something that carries far more (and safely with automatic train control) over cars? https://t.co/2Hu3uzu2ND
Government and Policy
Ahead of the 2020 Tokyo Olympics, Japan has relaxed some of its laws regarding self-driving vehicles. For instance, in traffic jams drivers will be allowed to use a smartphone behind the wheel as their vehicle drives itself.
The UK welcomes (a bit) of 5G.
Select locations in London, Cardiff, Edinburgh, Belfast, Birmingham and Manchester will be the first to experience 5G connectivity. 5G is a building block for self-driving vehicles, and lays the ground work for further innovation and testing in the UK.
This piece links to video from Canada, where Richard Florida and other urban experts talk about how autonomous vehicles could lead to traffic and congestion increasing by up to 30 per cent in cities like Toronto, Montreal and Vancouver.
NYC's infrastructure conundrum.
New York Magazine breaks down why it costs nearly three times more to build a subway station in New York than in London or Paris. (They also seem to still think London's Crossrail line has been built on budget and will open soon – but I won't tell them if you don't). The main take away is that NYC needs a new capital-construction process for major transportation infrastructure projects.
Pittsburgh's self-driving grant.
Remember a few weeks ago I mentioned that Pittsburgh won a grant from the Knight Foundation to work on projects related to public awareness and education of self-driving tech? Well this week City Council members voted to amend how the grant works, including having a public hearing.
Industry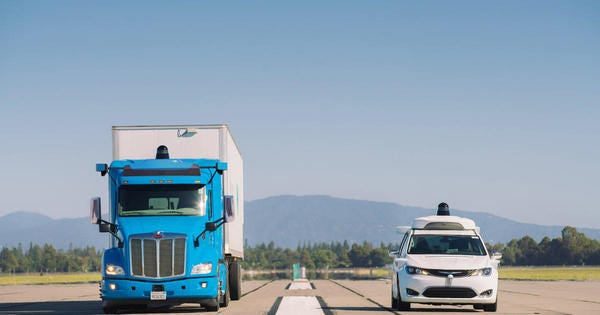 Waymo is bringing their autonomous trucks to the roads around Phoenix, and initially rigs will have two drivers. Trucks will use the same sensors as passenger vehicles, but are configured differently.
Volkswagen Group is working on a remedy to motion sickness, something they predict will spike with more normalized use of self-driving vehicles. The group is running multiple tests at their lab in Wolfsburg, Germany to better understand what triggers motion sickness and how this can be prevented.
The consumer savings of self-driving.
UBS Bank predicts that self-driving technology could cut the cost of an Uber or Lyft journey by up to 80%. They also predict that the whole autonomous-ride-hailing industry could be worth $2 trillion by 2030.
www.businessinsider.com • Share
Research
Are cities prepared for autonomous vehicles?
As mentioned in Read of the Week, a snippet from the abstract:
"First, we find that few local governments have commenced planning for AVs. Second, cities with larger populations and higher population growth are more likely to be prepared. Third, while local officials are optimistic about the technology and its potential to increase safety while reducing congestion, costs, and pollution, more than a third of respondents worried about AVs increasing vehicle- miles traveled and sprawl while reducing transit ridership and local revenues.
Those concerns are associated with greater willingness to implement AV regulations, but there is variation among responses depending on political ideology, per-capita government expenditures, and population density."
Events!
Changing lanes: an evening of sustainable transport ideas.
For the London-based subscribers.
Centre for London is holding a quick-fire presentations evening event where entrepreneurs and policymakers will showcase their ideas to tackle some of London's current transport concerns and prepare for the challenges of the future.
www.centreforlondon.org • Share
That's all from me - have a beautiful weekend friends.
Sarah
By Sarah Barnes
This weekly newsletter on cities, transportation and technology is curated weekly by Sarah Barnes, a transport nerd based in San Francisco, CA.
The newsletter encourages new conversations about advanced transportation technology, primarily autonomous vehicles, which focus on people, equity, design and the cities we want to (and need to) be building for the future.
If you don't want these updates anymore, please unsubscribe here.
If you were forwarded this newsletter and you like it, you can subscribe here.
Powered by Revue
San Francisco, CA