Along for the Ride - Issue #47
Hi folks!
Another edition of what I am calling "Links without love" … the love being my added transport wit. See what I did there? Should be back to regularly scheduled programming in August. Until then, some interesting headlines and snippets.
Government and Policy
Routes announced for UK's first self-driving car trial.
Smart Mobility Living Lab (SMLL), the UK's most advanced connected urban testbed for future transport and mobility solutions, has announced its first test routes for self-driving cars in London.
Located in the Royal Borough of Greenwich and Queen Elizabeth Olympic Park in Stratford, the test routes are not only a first for London, but also a UK industry first in offering transport innovators the ability to design their own test routes on public roads in a 'real-world' urban environment. Advanced roadside monitoring infrastructure will be installed to increase safety and provide information on how vehicles behave in real world situations.
www.intelligenttransport.com • Share
Why cities are writing their own standards for scooters and AVs
[From the Los Angeles Department of Transportation's General Manager, Seleta Reynolds].
Our answer was to act less like a government agency and more like a tech company. When apps such as Uber, Caviar or Lime petition Google or Apple apply to appear in their app stores, they agree to a set of terms and conditions — a legally-binding agreement to behave in the marketplace, just as you promise to do the same when you install them.
Streets and sidewalks have no such conditions. There are codes and rules, of course — along with fines and other legal remedies that carry steep costs in enforcement - but these regulations can't keep up with scooters, sidewalk robots, and delivery drones, so they proliferate faster than cities can keep up. Following their own playbooks of "blitzscaling," these swarms may or may not help cities meet residents' goals, and without regulation, very few share data about their impacts.
Chandler will partner with Waymo to transport city employees
A select group of Chandler city employees won't have to drive to and from off-site work meetings for the next year. In fact, no one will be driving at all, thanks to a partnership with the autonomous vehicle company Waymo. The program kicks off this month and will serve as a test-run to evaluate employee productivity and savings in fleet service costs.
Industry
Uber warns UK not to over-regulate self-driving cars
[This can barely be considered news, because really, it's just Uber behaving as they always have. Uber is thought to be the only US-based self-driving company to respond to this consultation.]
Uber has warned the UK not to over-regulate self-driving cars.In the first solid indication that it is considering bringing the technology to the UK, the app-based taxi firm said any new bodies set up to regulate the vehicles should not "impede innovation or create artificial barriers".
The San Francisco-based company, which is currently working to develop autonomous vehicles in the US, told the Law Commission that there could be "natural tension" between innovation and safety and regulators should "avoid making concrete decisions where evidence is not yet available to support them".
Apple buys autonomous driving company Drive.ai
The deal comes after Drive.ai talked with multiple potential acquirers, but in the end Apple won out. Apple also purchased Drive.ai's autonomous cars and other assets, sources tell Axios.
Drive.ai ceased operations within the last 2 weeks.

Apple's hires are mostly in engineering and product design, per a source.
The purchase price was not disclosed. Apple was expected to pay less than the $77 million Drive.ai raised in venture capital, to say nothing of the $200 million it was valued at two years ago, after its Series B round.
Waymo makes autonomous vehicles available to Lyft riders
Waymo has officially expanded its reach and is now making some of its self-driving minivans available for customers of ride-share firm Lyft.
The rides are restricted to a small area just outside of Phoenix, Arizona, where Waymo has been testing self-driving vehicles and has started its own autonomous ride-share service called Waymo One.
11 companies propose guiding principles for self-driving vehicles
A coalition of 11 companies — Aptiv, Audi, Baidu, BMW, Continental, Daimler, Fiat Chrysler Automobiles, Here, Infineon, Intel, and Volkswagen — published a whitepaper ("Safety First For Automated Driving") describing a framework for the development, testing, and validation of "safe" autonomous vehicles.
Ford, Lyft, Uber, Volvo, and Waymo have a coalition of their own — the Self-Driving Coalition for Safer Streets — that launched in April 2016, with the stated goal of "work[ing] with lawmakers, regulators, and the public to realize the safety and societal benefits of self-driving vehicles."
Research and Academia
Argo AI funds new AV research centre at CMU
Pittsburgh-based autonomous vehicle company Argo AI will invest $15 million to create a new research center at Carnegie Mellon University. The funding will be disbursed over five years and support both faculty and graduate students. Argo AI CEO, Bryan Salesky, said he expects the center to expand the talent pool available to the company.
Toronto researchers looking to improve self-driving cars for seniors
Toronto researchers are studying seniors in order to assess their interests and their needs in creating self-driving cars suitable for the elderly.
The Driver Lab at the Toronto institute has the ability to simulate all kinds of adverse driving conditions, from rain to nighttime glare. It's mounted on a frame that allows the car to physically move instead of relying on visual projections.
Bike Brags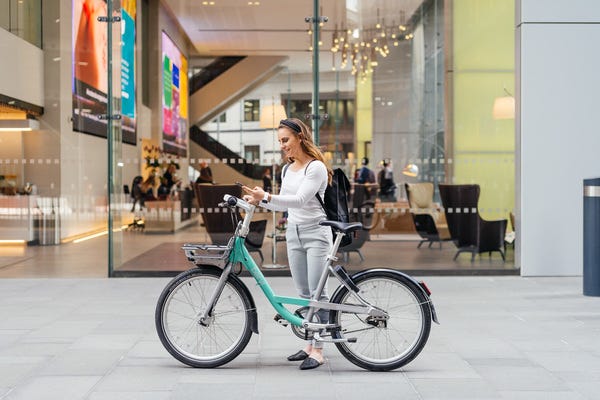 Beryl introduces new rental fleet to North London
[I can do this right? Right..]
Beryl has started to make some waves in the UK market, and the media has been picking up on our slightly different approach to working with councils when introducing bike share. This article (briefly) mentions our more ethical attitude and makes me really proud to be a part of something so wonderful.
"The bikes are also an instant hit, being by some distance the best non-electric models we've tried.. As a company, Beryl also seems less ethically dubious than many.. From our quick spin around Enfield, if Beryl ends up as one of the last providers standing, it wouldn't be the worst thing." 💞
C'est fini. Until next time friends.
Sarah
By Sarah Barnes
This weekly newsletter on cities, transportation and technology is curated weekly by Sarah Barnes, a transport nerd based in San Francisco, CA.
The newsletter encourages new conversations about advanced transportation technology, primarily autonomous vehicles, which focus on people, equity, design and the cities we want to (and need to) be building for the future.
If you don't want these updates anymore, please unsubscribe here.
If you were forwarded this newsletter and you like it, you can subscribe here.
Powered by Revue
San Francisco, CA