Along for the Ride - Issue #48
Hello friends!
Here's this week's round-up, I hope you enjoy! The read of the week has been floating around the internet for the last week or so, with great acclaim, so if it missed your radar (or if you don't normally encounter urbanism-related news) it is a must read.
Read of the Week
Americans shouldn't have to drive, but the law insists on it
"In America, the freedom of movement comes with an asterisk: the obligation to drive. This truism has been echoed by the U.S. Supreme Court, which has pronounced car ownership a "virtual necessity." The Court's pronouncement is telling. Yes, in a sense, America is car-dependent by choice—but it is also car-dependent by law."
Government and Policy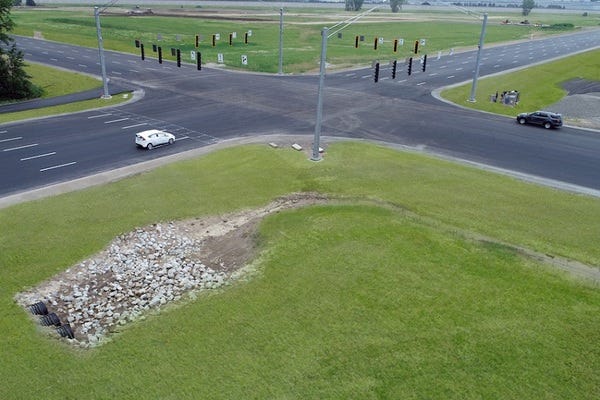 The longest driverless test track opens in Ohio
A new state-funded facility for testing driverless cars and other "smart" vehicles has opened in the latest expansion of Ohio's Transportation Research Center.
I really love that when building this track they built one sidewalk, which just ends, with nowhere else to go. Sadly this "test track" is indicative of many American roads.
UK Ordnance Survey sets mapping standards for driverless cars
The national mapping agency and the UK Government's hub for self-driving vehicle development, Zenzic, have launched a report to set out the global standards for high-definition mapping, for the safe deployment of self-driving vehicles.
The 'Geodata report – analysis and recommendations for self-driving vehicle testing', calls for the creation of common data standards to promote collaboration and improve confidence in mapping data for self-driving vehicles.
The Generating Resilient, Environmentally Exceptional National (GREEN) Streets Act was introduced in the Senate last week.
"The Generating Resilient, Environmentally Exceptional National (GREEN) Streets Act, introduced by Senators Ed Markey (D-MA) and Tom Carper (D-DE), will create new performance measures and goals requiring that states measure, and reduce, vehicle miles traveled (VMT) and GHG in their transportation systems." Can I get a woop-woop??
Judge reinstates Madrid's low emissions zone
Barely a week after Madrid's rightwing council began rolling back the city's low emissions zone, a judge has ruled that the traffic restrictions must be maintained.
As of Monday, drivers of non-exempt vehicles will once again be fined €90 if they enter the 1.8 sq mile zone in the centre of the Spanish capital.
The zone, known as Madrid Central, was introduced in November by the city's then mayor, Manuela Carmena, a leftist. In April nitrogen dioxide levels in the city centre were down by 48% year on year, according to the environmental group Ecologists in Action.
Industry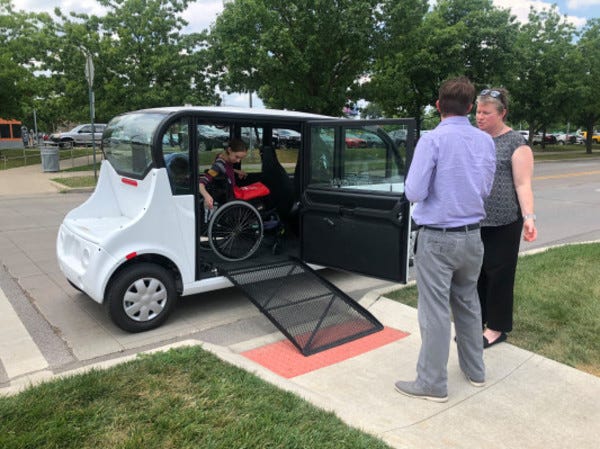 May Mobility reveals prototype of a wheelchair-accessible autonomous vehicle
May Mobility recently began developing a wheelchair-accessible prototype version of its autonomous shuttle vehicle, and just concluded an initial round of gathering feedback from the community of people in Columbus, Ohio, who would actually be using the shuttle.
Lyft self-driving cars from Aptiv offer tactile maps, diagrams for blind riders
Lyft's self-driving car service demoed rides with the National Federation of the Blind for blind and low-vision riders.
Each ride included a paper tactile graphic with braille describing what makes the car autonomous (LiDAR, radar, cameras, and other sensors) and how the self-driving tech works along with a tactile map of the route to the Vegas sign. The paper map and diagram were made with the Lighthouse for the Blind and Visually Impaired nonprofit organization.
The staggering cost of self-driving cars is behind Ford and Volkswagen's new partnership
As the costs and experience needed to develop self-driving vehicles come into focus, automakers are teaming up to spread the expense. The latest is Volkswagen's partnership with Ford to invest $7 billion in Argo AI, a startup developing autonomous cars.
The carmakers announced last week they will jointly own Argo while independently integrating its self-driving system into their vehicles. "While Ford and Volkswagen remain independent and fiercely competitive in the marketplace, teaming up and working with Argo AI on this important technology allows us to deliver unmatched capability, scale and geographic reach," Ford CEO Jim Hackett said in a statement.
Waymo gets green light in California to pick up passengers in self-driving cars
Waymo was awarded a permit by the California Public Utilities Commission to take part in the state's autonomous vehicle passenger service pilot program — though it may not charge riders, and a human safety driver must remain behind the wheel. The permit brings the Alphabet company one step closer to launching a robot taxi service in its home state.
U.S. clears SoftBank's $2.25 billion investment in GM-backed Cruise
A U.S. national security panel approved a $2.25 billion investment from Japan's SoftBank Corp in Cruise, a U.S. self-driving vehicle company majority-owned by General Motors Co.
Research and Academia
The end of driving: transportation systems and public policy planning for autonomous vehicles
This book explores both the potential of vehicle automation technology and the barriers it faces when considering coherent urban deployment. The book evaluates the case for deliberate development of automated public transportation and mobility-as-a-service as paths towards sustainable mobility, describing critical approaches to the planning and management of vehicle automation technology.
It serves as a reference for understanding the full life cycle of the multi-year transportation systems planning processes, including novel regulation, planning, and acquisition tools for regional transportation.
Opinion
European startups try to develop driverless cars in streets built for horses
Far from the sunny, wide streets of Phoenix, where Waymo's self-driving taxis ply their trade, a handful of European startups are developing driverless cars to navigate the clogged, chaotic, rain-swept roads of European cities.
Startups such as Oxbotica, FiveAI and Wayve that are testing cars in Britain say the old continent is a unique proposition with quirks and challenges that tech giant Alphabet's Waymo, Uber, Aurora and others have yet to crack.
The symbolism of your daily commute
Ok, this isn't really "opinion" per se. But it is an interesting look at what our commutes say about us, and the impact had on our psyche. Food for thought.
That's all from me – have a wonderful week ahead folks!
Sarah
By Sarah Barnes
This weekly newsletter on cities, transportation and technology is curated weekly by Sarah Barnes, a transport nerd based in San Francisco, CA.
The newsletter encourages new conversations about advanced transportation technology, primarily autonomous vehicles, which focus on people, equity, design and the cities we want to (and need to) be building for the future.
If you don't want these updates anymore, please unsubscribe here.
If you were forwarded this newsletter and you like it, you can subscribe here.
Powered by Revue
San Francisco, CA