Along for the Ride - Issue #49
Happy Hump-Day subscribers!
For your mid-week highs and lows, and I gift to you my longest newsletter ever. It actually warrants an apology, there's a lot packed in here from the past few weeks. My two favourite are at the top, but there's lots to deconstruct and consider throughout each section.
I'm taking a short hiatus until the end of August, while I enjoy a holiday with family. I hope your Augusts are filled with time spent with loved ones, ice cream, and afternoon naps after a day spent absorbing Vitamin D. We will *finally* return to weekly newsletters (w/ editorial glitz) after this break!
Reads of the Week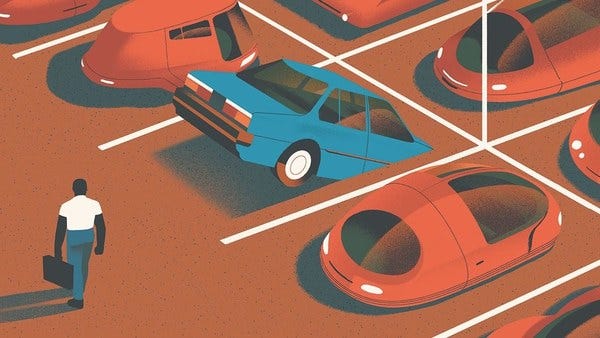 Was the Automotive Era a Terrible Mistake?
"Until then, despite having been in cars all my life, I'd failed to recognize the ease with which an errant movement, the equivalent of knocking into someone on a crowded bus, could bring about an injury or a death. As I jolted around the lot, I imagined myself on the road, in traffic, and felt a tight spasm of panic in my chest. I was eighteen. It had been all I could manage to remain on top of my un-botchable after-school job watering the neighbors' bonsai trees. By the end of day, the idea of not driving—of not entering a future in which, day to day, I'd risk becoming an accidental killer of children—seemed freeing and bright. I never had a second lesson."
Leave it to the New Yorker to a turn an age-old urbanism debate into a literary reflection of modern day values.
How Jaywalking Could Jam Up the Era of Self-Driving Cars.
I preface this by saying, there was so much industry whiplash (some below) from this piece, but you should read it for yourself to see why. There are many parts of this piece that are huge red flags for urbanists everywhere.
"In New York, the unwritten rule is plain: Cross the street whenever and wherever — just don't get hit. It's a practice that separates New Yorkers from tourists, who innocently wait at the corner for the walk symbol. But if pedestrians know they'll never be run over, jaywalking could explode, grinding traffic to a halt.
One solution, suggested by an automotive industry official, is gates at each corner, which would periodically open to allow pedestrians to cross."
Government and Policy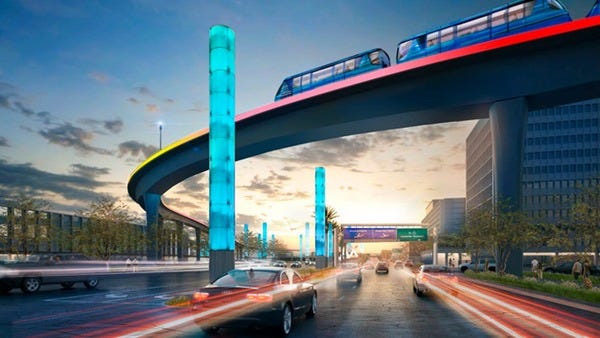 This is how Self-Driving Cars Will Change Our Cities, According to Urban Planners.
"This is an opportunity to make our city more beautiful by eliminating huge parking lots and doing something more aesthetically pleasing," De La Torre said. "It's an evolution from an auto-oriented society to a more pedestrian-oriented society."
www.washingtonpost.com • Share
Congress Wants the Self-Driving Car Industry's Help to Draft a New AV Bill.
"The House Energy and Commerce Committee and the Senate Commerce Committee are pairing up to draft a bipartisan, bicameral "self-driving car bill. A letter to stakeholders prompts them to file feedback on a variety of issues involving autonomous vehicles, including cybersecurity, privacy, disability access, and testing expansion to the committees."
Autonomous Car Industry's Frightening Vision for Cities.
One of the visceral reactions to the NYT piece above.
"Those are some of the ideas self-serving car companies are presenting to the New York Times as "solutions" to social problems. This latest bill of goods from Big Auto is extremely alarming."
The Autonomous Vehicle Industry Would Turn Sidewalks into Cages if it Could.
And another reaction to the NYT:
"The challenges facing autonomous car companies are generally separated into two categories: getting the technology to work and getting society to accept the technology. And a recent New York Times article makes the case that the rest of society should make an awful lot of concessions to get out of the self-driving cars' damn way, both figuratively and extremely literally."
Despite High Hopes, Self-Driving Cars Are 'Way in the Future'.
"A year ago, Detroit and Silicon Valley had visions of putting thousands of self-driving taxis on the road in 2019, ushering in an age of driverless cars.
Most of those cars have yet to arrive — and it is likely to be years before they do. Several carmakers and technology companies have concluded that making autonomous vehicles is going to be harder, slower and costlier than they thought."
MTA Sticks on Decals to Deter Subway Farebeaters.
"Decals directing commuters to exit the subway system through turnstiles —and not emergency gates — have begun appearing at stations citywide as part of a $40 million fight against fare evasion.
It's being introduced as the MTA projects it will lose more than a quarter billion dollars in 2019 to fare evasion, a major surge over last year."
Some interesting equity implications discussed in this piece, worth considering how we can support mass transport without creating negative consequences for people on lower incomes.
The Highway Was Supposed to Save This City. Can Tearing It Down Fix the Sins of the Past?
"Helen Hudson will tell you what the 15th Ward was like when she was a girl. In the 1950s and early '60s, the Syracuse neighborhood was home to thousands of predominantly black residents who had settled in the growing upstate New York city during and after the Great Migration. Those who remember it, like Hudson, describe it as thriving, self-sufficient community they were proud to call home."
Industry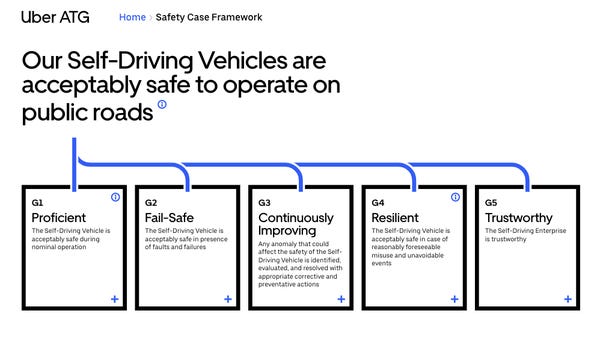 Uber's Blueprint for Safe Self-Driving Cars it Wants the Rest of the Industry to Follow.
"On July 16, [Uber] announced the industry's first "safety case," a universal framework for developing safe driverless vehicles, and it wants the rest of the industry to join in."
Lyft Opens to the Public Autonomous Driving Data.
"Lyft is offering to the public a set of autonomous driving data that it calls the "largest public data set of its kind," containing over 55,000 3D frames of captured footage hand-labeled by human reviewers, data collected by seven cameras and as many as three lidars depending on the car used, plus a drivable surface map and HD spatial semantic data that corresponds to the captured info to provide context to researchers."
Cruise Postpones Plan to Launch Driverless Taxi Service.
"Cruise says it will miss its goal of launching a large-scale self-driving taxi service in 2019. Previously, the GM subsidiary told investors that its autonomous ride-hailing service would be open to the public by this year. But as the clock wound down, it seemed more and more likely that Cruise would miss the self-imposed deadline."
Forbes' Dr. Lance Eliot gives a nice summary of Cruise's response to delaying launch:
"Within his explication, I appreciated that he mentioned something that I've been repeatedly attempting to emphasize about the self-driving car space, namely that it is a moonshot race that not only has to do with who can land on the moon first (achieve a true self-driving car), there is also the likewise vital aspect of doing so sufficiently safely enough that it garners trust among the public and all other stakeholders.
Per Ammann's comments, this is both a tech race and a trust race."
Cambridge Start-up, Wayve, to Become One of Britain's Best-Funded Driverless Car Ventures in $20m Deal.
The irony being that $20M is literal peanuts in comparison to what other competitors globally are working with.
"Wayve Technologies, launched by Cambridge PhDs Amar Shah and Alex Kendall, is developing driverless car technology that it claims allows autonomous vehicles to learn to navigate unknown roads with minimal training.
Insiders said Wayve is expected to raise about $20m (£15m), which would be one of the largest early stage deals for a UK driverless car start-up."
Luminar Lands $100 Million Funding Boost to Ramp Up Lidar for Self-Driving Cars and Trucks.
I mean, case and point.
"Luminar, a Silicon Valley-based maker of laser lidar sensors for self-driving vehicles, raised an additional $100 million and is marketing a new, affordable sensing and perception platform for automated passenger vehicles and commercial trucks to see their surroundings more accurately.
The Silicon Valley startup is led by 24-year-old optics prodigy Austin Russell, and has now raised $250 million to commercialize its laser sensor tech."
Waymo Tests Wi-Fi in Driverless Taxis.
"Waymo is rolling out amenities to entice riders to use its self-driving taxis, creating a potential route to profitability in a money-losing industry.
Waymo is testing complimentary Wi-Fi in its robotaxis in greater Phoenix, where hundreds of the company's identical, driverless minivans have been carrying paying riders since December. Other perks include ad-free music streaming for passengers through Google Play Music, a child car seat in every minivan, and vehicles arrive cooled to a precise 72 degrees in Arizona's desert heat."
Aurora Gears Up for Big Silicon Valley Expansion.
"Aurora, deemed to be one of the young hotshots in the autonomous vehicle business, has struck a deal to dramatically expand its footprint in Silicon Valley, a leasing agreement that would shift the tech company's headquarters to Mountain View."
Toyota Unveils Electric Shuttles for 2020 Olympic Games in Tokyo.
"Toyota's first dedicated vehicle for the 2020 Olympic and Paralympic Games in Tokyo isn't a flying car, but it shows promise. The automaker today unveiled the APM (Accessible People Mover), an all-electric vehicle it designed especially for next summer's event.
The open-air, three-row vehicle can reach speeds of up to 12 mph and accommodate up to five passengers. Each car is powered by lithium-ion batteries and can run 100 kilometers on a single charge. A fleet of 200 APMs will be used to transport people to different competitions and the Olympic Village."
Optimus Ride's Brooklyn Self-Driving Shuttles Begin Picking Up Passengers.
"Self-driving startup Optimus Ride will become the first to operate a commercial self-driving service in the state of New York — in Brooklyn. But don't expect these things to be contending with pedestrians, bike riders, taxis and cars on New York's busiest roads; instead, they'll be offering shuttle services within the Brooklyn Navy Yard, a 300-acre private commercial development."
China's Didi Chuxing Spins Off Autonomous Driving Unit.
"Chinese ride-hailing giant Didi Chuxing has decided to move more aggressively to develop its technology by spinning out its self-driving car unit.
Its autonomous driving unit will become a standalone company, a move designed to bring greater focus to research, product design, and the search for business use cases."
Research and Academia
Uber and Lyft Admit They're Making Traffic Worse.
"But now, less than a decade into this experiment, the industry is 'fessing up. Today the ride-hailing giants released a joint analysis showing that their vehicles are responsible for significant portions of VMT in six major urban centers (in San Francisco 13.4 percent of traffic is generated by ride-hailing). Still, Uber and Lyft's combined share is still vastly outstripped by personal vehicles.
As Chris Pangilinan, Uber's head of global policy for public transportation, wrote in a blog post accompanying the findings, "although TNCs are likely contributing to an increase in congestion, its scale is dwarfed by that of private cars and commercial traffic."
DeepMind and Waymo: How Evolutionary Selection Can Train More Capable Self-Driving Cars.
"Waymo's self-driving vehicles employ neural networks to perform many driving tasks, from detecting objects and predicting how others will behave, to planning a car's next moves.
Training an individual neural net has traditionally required weeks of fine-tuning and experimentation, as well as enormous amounts of computational power. Now, Waymo, in a research collaboration with DeepMind, has taken inspiration from Darwin's insights into evolution to make this training more effective and efficient."
Opinion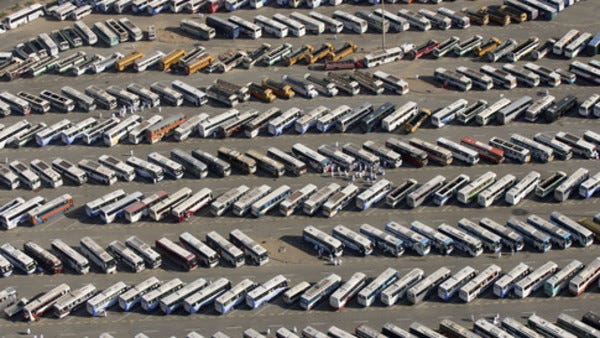 In a World of Autonomous Vehicles, This is Why We'll Need More Public Transport Than Ever.
"There is growing consensus that while personal electric AVs may improve air quality, they will only make traffic worse in cities, because replacing private autos one-for-one will not address congestion; and people may be so comfortable in their AV pods that they won't mind sitting in traffic for hours. For the latter reason, researchers at ETH Zurich have suggested that cities prohibit the use of personal AVs.
What is crucial is that AVs are electric, shared and work with public transport; and that cities invest in the infrastructure and technology necessary to support a connected, multi-modal transit network that includes shared electric AVs that can replace or augment less efficient traditional bus lines."
Bill Gates: Why Bet AI's Future on Self-Driving Cars?
"Notably, Gates wondered why big tech companies like Google and Uber chose something as complex and risky as autonomous driving as the first potentially epoch-shifting AI business.
"We've a little bit made it opaque by making car-driving the paradigmatic task," he said. "It has so much demand for liability, for dealing with arbitrary situations that are unexpected, like somebody stops in front of you or the ball rolling out [into the street] …"
That's all from me friends – have a beautiful last spot of Summer, and I'll see you on the other end.
Sarah
By Sarah Barnes
This weekly newsletter on cities, transportation and technology is curated weekly by Sarah Barnes, a transport nerd based in San Francisco, CA.
The newsletter encourages new conversations about advanced transportation technology, primarily autonomous vehicles, which focus on people, equity, design and the cities we want to (and need to) be building for the future.
If you don't want these updates anymore, please unsubscribe here.
If you were forwarded this newsletter and you like it, you can subscribe here.
Powered by Revue
San Francisco, CA