Along for the Ride - Issue #51
Hi friends!
I'll be the first to admit it's been a while 🙈, but life crops up sometimes and the last month has been a bit wild!
There's a section at the end of this titled "In case ya missed it" to capture some articles which now feel out-dated, but weren't shared in the last edition (it's a face paced industry indeed).
Also, I hope many of you were able to celebrate the joy which is Car-Free Day or the Global Climate Strike this past week! Yesterday, I walked down my local high street, enamoured by local jazz musicians, children on trikes, parents pushing buggies and the casual conversations occurring harmoniously (a very un-London phenomenon). Here's to more days spent with less traffic, and streets filled with more people, in our future.
With that, some news about urbanism, autonomous vehicles, and what's happened in the last month.
Read of the Week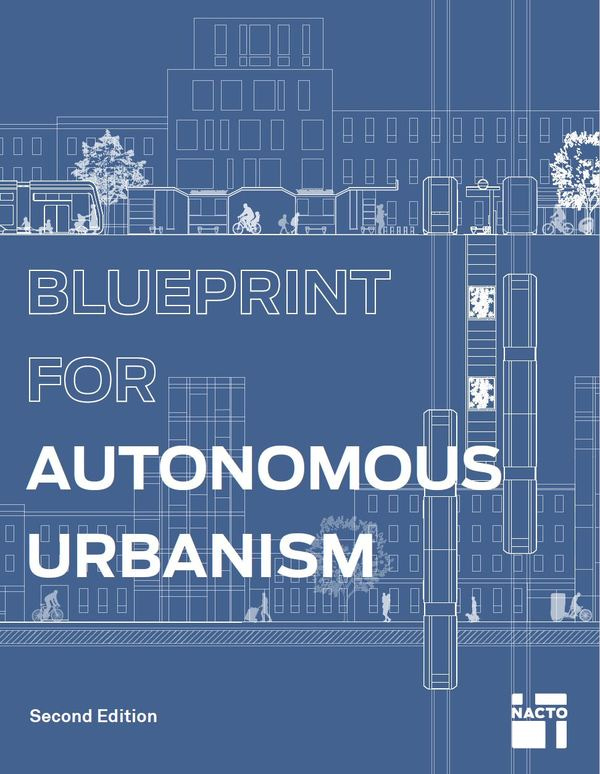 Blueprint for Autonomous Urbanism: Second Edition
NACTO has released the second edition of their Blueprint for Autonomous Urbanism, which lays out a vision for how autonomous vehicles, and technology more broadly, can work in service of safe, sustainable, equitable, vibrant cities.
This is essential reading folks!
Government and Policy
No special treatment in Singapore.
Singapore has restricted private car ownership on the island since the 1970s, and while Elon Musk may believe his vehicles are a part of a broader solution to improving quality of life in cities, Singapore's minister for water and the environment has a different perspective.
"What Elon Musk wants to produce is a lifestyle," Zulkifli said. "We are not interested in a lifestyle. We are interested in proper solutions that will address climate problems."
Vancouver finally welcomes Uber and Lyft.
Alternative caption: Can you tell its election season in Canada?
Vancouver will finally bring Uber and Lyft to its city-streets, moving past years of conflict between ride-hailing companies, taxi lobbies, and the city's public transit agency Translink. As a former Vancouverite I have so many thoughts, and I really hope this advancement does not deter the modal shift which the city has seen over the last two decades.
Pedestrians die every 90 minutes in the U.S., and low-income areas are hurt most.
A troubling national trend that has perplexed advocates and experts alike, pedestrian deaths are increasing, disproportionately affecting lower-income, minority communities.
"This has important implications for design: Broad, five- or six-lane roads with high speed limits are the main arteries within these [sunbelt] cities, often with few places where pedestrians can cross. Indeed, the biggest jumps in the fatality rate occur on arterial roads."
China dedicates a mountain highway to test self-driving cars.
The local Qilu Transportation Development Group earmarked a 26-kilometre-long (16 miles) highway for autonomous driving and vehicle-to-infrastructure communication. The test section is a typical mountain motorway with three tunnels, a bridge and three toll stations.
Shanghai allows self-driving cars to carry passengers.
Initial licenses have been granted to Chinese automaker SAIC motor group, Germany's BMW, and ride-hailing company Didi Chuxing.
Under the terms of the permit, each company is allowed to deploy up to 50 vehicles. If there's no incident after six months, there's room for the firms to expand their fleets. A human driver must always be available to take control if needed.
Industry
Uber weaves its way to Dallas.
Uber will begin testing its self-driving cars in Dallas, Texas in November. The vehicles will be operated by human drivers in downtown Dallas to start out, collecting mapping data and capturing driving scenarios which Uber's engineers will then reproduce in simulation.
Uber also plans to map the city before its arrival (govtech).
Uber lays off across engineering and product teams.
Just a month after laying off a significant chunk of their marketing team, Uber has laid off 435 employees across its product and engineering teams. Combined, the layoffs represent about 8% of the organisation.
The road towards profitability ain't always easy, folks.
Waymo urges U.S. to 'promptly' remove barriers to self-driving cars.
Waymo has urged the National Highway Traffic Safety Administration (NHTSA) to "promptly" remove regulatory barriers for cars without steering wheels and brake pedals. Other companies were a bit softer with their language, but the emphasis was the NHSTA needs to keep pace with the speed of development.
Waymo self-driving cars head to Florida for rainy season.
Waymo is taking part of its fleet to Florida for hurricane season to begin testing in heavy rain. The move to Florida will test how its sensors hold up during the region's rainy season, as well as to collect data. All of the vehicles will be manually driven.
Here's Waymo's blog about the move to Florida.
Toyota's concept vehicles for the 2020 Olympics.
Toyota has released a set of vehicles for the 2020 Olympics, including a boxy shuttle (ePalette) to move athletes, and a family-centred vehicle (Concept-i). 90% of vehicles will be electric. The ePalette can host up to 20 people, or there's space for four wheelchairs and seven standing passengers.
Pony.ai and Toyota are collaborating on a pilot program this month on public roads in Beijing and Shanghai to "accelerate the development and deployment" of autonomous vehicles, using Lexus RX vehicles and Pony.ai's driving system.
Teens and the ride-hailing revolution.
Under 18s aren't technically allowed to hail Uber and Lyft rides, but that's not stopping them. For some under 18, convenience outweighs the risk that comes with illicitly calling a car.
"Data from within the last 90 days for Current, a debit card company that caters to teens, shows that Uber and Lyft account for 94 percent of all taxi service transactions for customers aged 13 to 18. Combined, these companies are the second-most popular merchant behind Apple when it comes to teen spending."
Research and Academia
Autonomous vehicles in the United States.
This research paper is by AFYR friend, Marcel Moran, PhD at UC Berkeley.
This report analyses how cities, transit agencies, and metropolitan planning organisations are responding to autonomous vehicles (AVs), both in terms of current testing and pilot services, as well as long-term implications of broad AV adoption. The report is based on 21 interviews with staff at cities, transportation agencies, MPOs, and select AV companies, as well as extensive document review.
"Publicly-led AV shuttles provide the largest opportunity for municipalities to shape AV testing, while private passenger AV testing and pilot services often provide inadequate information to cities to appraise their operations".
Americans would rather drive themselves.
New research from the University of Washington finds that Americans still prefer to drive themselves than to have an autonomous vehicle drive them around.
"The average person in our sample would find riding in a driverless car to be more burdensome than driving themselves. This highlights the risks of making forecasts based on how people say they would respond to driverless cars today."
Uber's mobility research funding pilot.
Uber opens a mobility research fund to match fund (up to a dollar-for-dollar basis) competitive research grants from governments, nonprofits and other sources. The intention is to enable more research on ride-hailing, and help unlock government grants that specifically encourage or require third-party contributions.
Waymo opens data to researchers.
Waymo is making some of the high-resolution sensor data gathered by its fleet of autonomous vehicles available to researchers.
"Waymo says its dataset contains 1,000 driving segments, with each segment capturing 20 seconds of continuous driving. Those 20-second clips correspond to 200,000 frames at 10 Hz per sensor, which will allow researchers to develop their own models to track and predict the behaviour of everyone using the road, from drivers to pedestrians to cyclists."
Leveraging technology to eliminate congestion.
A new research paper from the University of Cologne addresses the impact of various technologies on congestion, finding that the most impactful interventions have to do with congestion pricing and dynamic road pricing.
Texas A&M remotely controls self-driving shuttles.
Texas A&M will integrate technology from startup, Designated Driver, that allows remote workers to monitor and operate the shuttles if need be. The ultimate goal is to remove the safety driver from each shuttle, but it could help erase mistakes in the short term.
Opinion
Highway to hell: Climate denial at the TRB.
The Transport Research board (TRB) is under-fire for supporting policies which are inherently anti-climate. The TRB, an arm of the National Academy of Sciences, is promoting highway expansion and increased car travel by calling for tripling spending on highway construction to as much as $70 billion annually, to accomodate and another 1.25 trillion miles of driving each year.
The future of design: Transportation.
Architectural Digest brings you utopian renderings of streetscapes, last-mile deliveries, flying taxis, and personal cars. Take em all with a grain of salt, but interesting nonetheless.
www.architecturaldigest.com • Share
What happens if you fall asleep in a self-driving car?
The BBC looks into the manoeuvres a self-driving car will take when a passenger falls asleep – cars increasingly becoming more of "care takers" than siloed transport providers as time goes on.
In case ya missed it
Anthony Levandowski's really bad horrible no good day.
Anthony Levandowski was charged with 33 counts of theft and attempted theft of trade secrets from Google; he has since pleaded not guilty. He may face 10 years in prison and $250,000 for every count. At 33 counts, that totals $8.25 million, which sounds like a helluva lot until you realise he sold his company (Otto) to Uber for an estimated $680 million in 2016.
The NYT article that prompted CEO Dara Khorsrowshahi to tweet this. The NYT took a scathing review of Uber's business model, slowed growth, and plethora of contentious actions, and disappointing outcomes.
The U.N.'s framework for the globalisation of AVs.
A new UN framework designed representatives from China, the EU, Japan and the US propose amendments to the existing framework for automated / autonomous vehicles.
Not the sexiest read, but not the longest either! Worth a read.
Atlanta opens autonomous vehicle test track.
The Curiosity Lab in Peachtree Corners will feature a 1.5-mile AV test track, complete with steep grades, curves and trees. City officials hope the track will attract economic development and business investments. Now they just have to compete with that mountain in China in terms of complexity….
UK introduces new system to ensure safety of self-driving vehicles.
The UK has opened a new test facility for AVs, to ensure their safety before broader deployment or sale in the UK, including the Autonomous Village at Millbrook-Culham with 70km of secure test tracks, a private mobile network and a simulator suite. Again, makes 1.5 miles in Atlanta look a bit elementary.
The commuting principle that shaped urban history
"In 1994, Cesare Marchetti, an Italian physicist, described an idea that has come to be known as the Marchetti Constant. In general, he declared, people have always been willing to commute for about a half-hour, one way, from their homes each day."
That's all from me folks! Have a beautiful week ahead.
Sarah
By Sarah Barnes
This weekly newsletter on cities, transportation and technology is curated weekly by Sarah Barnes, a transport nerd based in San Francisco, CA.
The newsletter encourages new conversations about advanced transportation technology, primarily autonomous vehicles, which focus on people, equity, design and the cities we want to (and need to) be building for the future.
If you don't want these updates anymore, please unsubscribe here.
If you were forwarded this newsletter and you like it, you can subscribe here.
Powered by Revue
San Francisco, CA