Along for the Ride - Issue #53
Welcome to Edition 53 of Along for the Ride.
This week we're talking a lot about safer streets and prioritizing pedestrians, while the industry sections reads mostly likely a Waymo recap. There's a *great* piece in the opinion section that I would also recommend if you've got some extra time in your day for a deep dive.
Read of the Week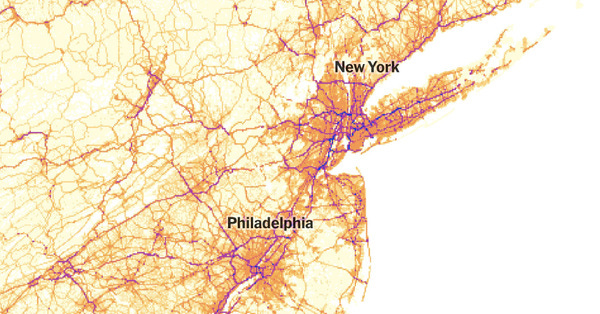 America's auto emissions, mapped.
The NYT published research from Boston University's Database of Road Transport Emissions, which maps annual CO2 emissions, road by road. It's no surprise to see passenger vehicles leading emissions, with trucks and freight directly behind them as main contributors.
I personally enjoyed zooming in on my old stomping grounds in Pittsburgh, Houston, and the Bay. It's a remarkable tool and worthy of your time to play around with.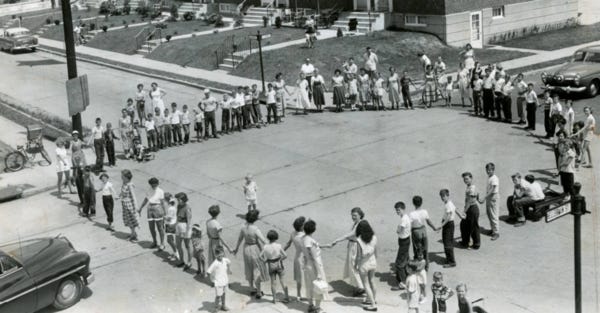 America's safer streets activism, remembered.
It's well known that activism in the 70s in the Netherlands led to the safe streets found in Amsterdam and other dutch cities today. But few know the story of America's anti-car movement which was earlier, and led largely by women.
And when we talk about an "anti-car movement" what I think we mean here is safer streets activism. People held die-ins to protest against the rise of death of children on city streets. It's not that they believed there was no place for the automobile, but rather that that space had to be better managed, monitored, and prioritized properly.
Policy and Governance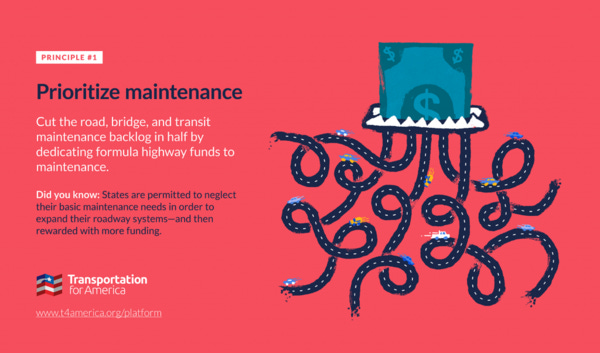 Three principles for transportation investment.
Transportation for America has released three principles for transportation investment:
Prioritise maintenance

Design for safety over speed

Connect people to jobs and services by prioritizing accessibility
While these concepts are broad enough that they can be applied to projects from bike lanes, to BRTs, and high speed rail, they can also easily be embraced when considering how we launch AVs in cities globally.
Madrid's electric, autonomous shuttle.
The University Carlos III de Madrid (UC3M) has developed an autonomous electric shuttle to replace vehicles that currently tour the volcanoes in the Timanfaya National Park, beginning in May 2020.
Sounds like a great excuse for a field trip if you ask me!
Uber hosts a Town Hall in Dallas.
Uber hosted a Town Hall in Dallas to answer questions from the public about bringing their vehicles to the city's streets. They went on to tell the crowd that the vehicles will be "better, cheaper and safer" than their existing service which is bold statement all around.
I for one, am a big fan of companies hosting town hall events, and am in support of more companies hosting such efforts.
A slow start for shuttles in Reston, Virginia.
Reston, Virginia began a trial of electric autonomous shuttles (by Optimus Ride) in partnership with Brookfield Properties. Since launching a few weeks ago, the shuttles have completed 15,000 rides and have had a number of hiccups to learn from.
Some examples: How does the shuttle react when a passenger opens the door mid-way through the ride? How easy is it to get a stroller into the main area?
www.washingtonpost.com • Share
Why are cars killing more and more pedestrians?
For drivers, roads are safer than ever – but for people on foot, they are getting deadlier.
"There are good reasons to be sceptical about the promises made by the proselytisers of the high-tech car future. Car companies swear they are here to help – by selling us products that hardly ever hit anyone or anything.
But the truth is that this promise is, at best, a distraction. In fact, much of our discourse around cars, self-driving or otherwise, is less about transforming the status quo than maintaining it, obscuring paths to progress exactly when we need them most, and leaving pedestrians right in the line of fire."
Autonomous vehicles have hit the streets of London, for a trial which lasted a week. Vehicles cruised around the city's Stratford neighbourhood, on a pre-defined course marking one of the most ambitious routes for UK development thus far.
Industry
Zoox is expanding to Las Vegas. The startup has been testing on public roads in San Francisco, and have said that Las Vegas is a target market for its autonomous driving fleet and service.
Analysts from Morgan Stanley believe that Waymo's development is taking too long. The investment firm has cut the valuation of Waymo by a whopping 40 per cent since last year.
While I appreciate the industry can be over-hyped (and thus over valued), I'm personally surprised that Waymo, which is arguably ahead of the pack, would see such a hefty reduction in value.
Waymo welcome 'completely driverless' vehicles.
Waymo has emailed its customers in the suburbs of Phoenix, Arizona, to let them know that "completely driverless Waymo cars are on the way."
The link below includes a copy of the email, and how they are prepping users for this transition. Their wording is clear, concise, and simple.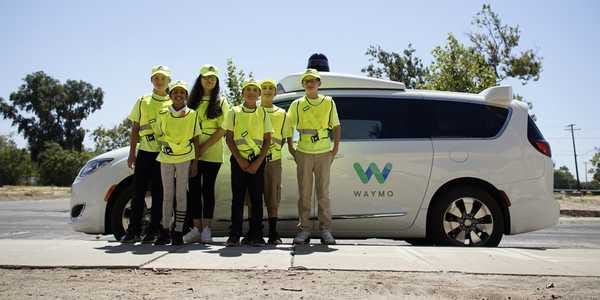 Waymo and AAA aim to ease anxiety.
Waymo and AAA have developed a school curriculum to help young people understand the benefits and limits of autonomous technology. The programme is called "Let's Talk Self-Driving" and is designed to encourage students to think about ways to make driving safer and how autonomous vehicles can reduce unsafe behaviour such as texting and eating while driving.
Also I can't get over how adorable these young people are. Transport nerds in the making!
www.businessinsider.com • Share
Waymo has three Chrysler Pacifica minivans traversing Los Angeles to make maps for their vehicles. These are 3-D maps of the infrastructure around which cars travel — curbs, fire hydrants, potholes, fences and crosswalks.
Opinion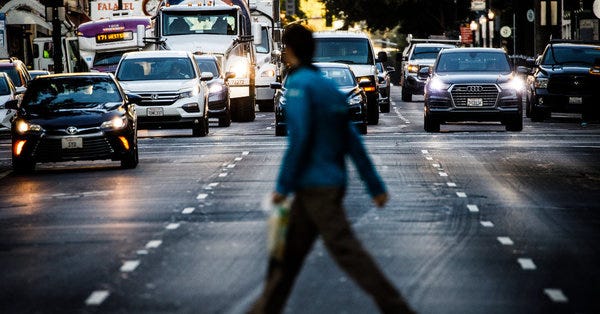 Cars are death machines. Self-Driving tech won't change that.
This one was almost a read of the week! I promise it's a gooder. I'd also be interested to hear where you stand on this, venerable readers.
"Since 2014, over $80 billion dollars has been spent on "smart" or connected cars (more on these in a minute) and autonomous vehicles, arguably to make cars safer.
But investing in the car of the future is investing in the wrong problem. We need to be thinking about how we can create a world with fewer cars."
Driverless cars are stuck in a jam.
The Economist takes a hard and fast (and critical) look at why we've still not seen AVs on city streets.
"Mr Musk is famous for missing his own deadlines. But he is not alone. General Motors said in 2018 that it would launch a fleet of cars without steering wheels or pedals in 2019; in June it changed its mind. Waymo, the Alphabet subsidiary widely seen as the industry leader, committed itself to launching a driverless-taxi service in Phoenix, where it has been testing its cars, at the end of 2018. The plan has been a damp squib."
Driverless cars could end downtown parking.
"While robotaxis are not here yet, preparing now for changes in downtown parking and infrastructure could help cities respond when privately owned AVs start to hit the streets."
And that's all from me folks. Enjoy your week!
Sarah
By Sarah Barnes
This weekly newsletter on cities, transportation and technology is curated weekly by Sarah Barnes, a transport nerd based in San Francisco, CA.
The newsletter encourages new conversations about advanced transportation technology, primarily autonomous vehicles, which focus on people, equity, design and the cities we want to (and need to) be building for the future.
If you don't want these updates anymore, please unsubscribe here.
If you were forwarded this newsletter and you like it, you can subscribe here.
Powered by Revue
San Francisco, CA