Along for the Ride - Issue #54
First of all, to our Canadian readers, Happy Election Day! I voted abroad, and encourage each and every one of you to get out and vote today if you haven't already. Voter information can be found here! Civic duties are cool, and you should exercise them! Hop to it!
OK, now back to regular programming. This week's edition includes a history lesson from the Energy Crisis of the 1970s, a look into GM's negotiations with the united auto workers, and many a millions being invested into the industry. Enjoy!
Read of the Week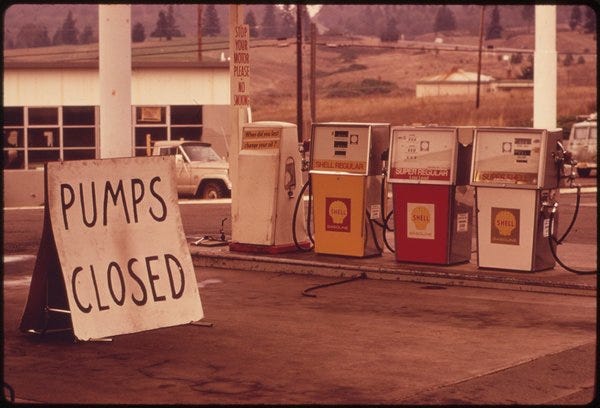 As a 90s baby I, and many of my peers, missed the energy crisis of the 1970s — and while it had lasting impacts on the practices of automotive companies and the oil and gas companies which fuelled their engines, its history is not often re-visited. So, if you like me, did not live through this period, I would highly recommend this read from Places Journal.
"The energy crisis of the 1970s destabilized American society and seemed to foretell the end of our auto-centric culture and oil-dependent politics. Back then we ignored the warnings… The crisis, Nye argued, had revealed the ugly face of human agency in creating, over a half century, and especially after World War II, social and spatial systems organized almost entirely around the car."
Government and Policy
Toronto's automated vehicles tactical plan.
Toronto has released their Draft Automated Vehicles Tactical Plan (that is a hum-dinger of a name). In their words, the "plan was created to fill a gap: between emerging technical understandings of AVs and the City of Toronto's existing long-term visions, strategies, and plans of a healthy, equitable, livable and sustainable City."
Specifically the plan outlines how Toronto should prepare for AVs and how it can influence the direction of the technology in these early stages! Huzzah!
An autonomous future is paved with data.
The national law review considers the copious amounts of data needed for self-driving vehicles to navigate city streets, as well as the enormous pool of data they will generate as they roam city streets (first in a testing environment, but also for the foreseeable future).
UK's regulatory framework for automated vehicles.
The law commissions of England, Wales, and Scotland have launched a consultation paper as part of a three-year review of the UK's regulatory framework for automated vehicles.
The paper looks at the regulation of self-driving vehicles which could travel empty or only with passengers. Its main focus is on self-driving vehicles providing mobility services to the public, which it refers to as Highly Automated Road Passenger Services, HARPS. Kinda catchy.
If you are a UK resident: responses to the paper are open until January 16th 2020. Again. Civic duties are cool, and you should exercise them! Hop to it!
s3-eu-west-2.amazonaws.com • Share
San Francisco votes to ban cars on Market Street.
🙌 Can I get a woop-woop 🙌 I spent some time in SF when the Market Street Prototyping Festival was ongoing, and let me tell you, this is a street which had ample potential to be so much more than a thoroughfare for private vehicles.
This project is *years* in the making, and a hard fought win by many local activists and campaigners. This is a $604-million project would turn San Francisco's main thoroughfare into a safer space for everyone.
A tentative deal between the United Auto Workers and GM was announced last week, and this particular negotiation has been one to watch, as a foreshadow for the impact of automation on the automotive industry.
At present workers have held a 30+ day long strike, and if passed the new agreement would pay most union members an $11,000 "ratification" bonus once the contract is signed.
Industry
Hyundai is investing $35 billion in autonomous driving.
Meanwhile South Korea has also committed to spending $1.9 billion on "innovative automotive technology". In addition, Hyundai also plan to have 23 (!) different types of electric vehicles by 2025.
Renault & Waymo partner in Paris.
Renault and Waymo said they would explore the creation of an autonomous mobility service between Charles de Gaulle airport in Paris and La Defense. The intention being that the service could be up and running prior to the 2024 Olympic Games.
Ola enters self-drive lane with $200m.
Ola has committed $200 million for its foray into self-driving cars. The Bengaluru-based company is building out a fleet of 20,000 cars by 2020. This would be double the current size of vehicles available across its existing car sharing platform.
timesofindia.indiatimes.com • Share
Yandex's self-driving cars have driven 1 million miles.
Russian tech company, Yandex, revealed that its autonomous car fleet has driven a collective 1 million miles without humans behind the wheel. The vehicles have been on Moscow's roads since 2017, and have been seeing miles accrue at an exponential rate as of late.
Opinion
The death of cars was greatly exaggerated.
It's no secret companies like Uber and Lyft like to claim they are reducing car ownership (cough: not VMT). And yet, car ownership in some of their most popular cities is increasing.
"But here's the funny thing: Personal car ownership in the US has actually increased in the past 10 years, even in the frenzied urban places where Uber and car-share have become verbs. According to research from former New York City transportation official Bruce Schaller, the number of vehicles has grown faster than the population in some of the cities where ride-hail is most popular: Boston, Los Angeles, New York, Philadelphia, and Chicago."
Have a beautiful week ahead friends.
Sarah
By Sarah Barnes
This weekly newsletter on cities, transportation and technology is curated weekly by Sarah Barnes, a transport nerd based in San Francisco, CA.
The newsletter encourages new conversations about advanced transportation technology, primarily autonomous vehicles, which focus on people, equity, design and the cities we want to (and need to) be building for the future.
If you don't want these updates anymore, please unsubscribe here.
If you were forwarded this newsletter and you like it, you can subscribe here.
Powered by Revue
San Francisco, CA