Along for the Ride - Issue #59
Happy Friday Friends.
The big news this week comes out of Cruise, who announced a new vehicle this week with nary a steering wheel nor brakes. While much remains unknown about the vehicle, it's safe to say this announcement garnered international attention. Safe to say we will be waiting patiently for more information.
Onto the news!
Read of the Week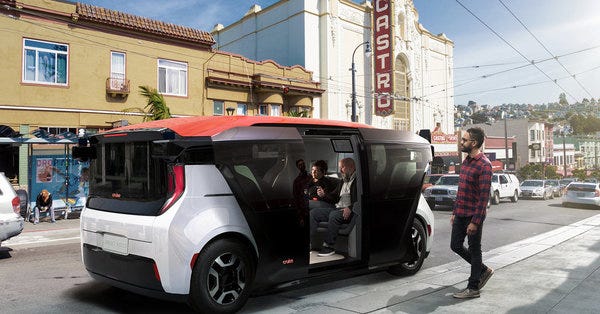 This week Cruise announced its latest vehicle: it seats six passengers, lacks a steering wheel and brakes, is fully electric and designed to last for one million miles. While regulatory policy will constrain how this vehicle is tested, it is possible for Cruise to test this vehicle in San Francisco (permitting it does not travel faster than 25 miles/hour and weigh more than 3,000 pounds).
I personally think this is the direction for CAVs. Its ambition is to be shared, electric, and autonomous (which you follow any research from the ITDP at UC Davis), is our best bet to lower emissions and miles travelled within in the automotive industry.
CNN and MIT Tech Review give a nice recap on the vehicle too.
Government and Policy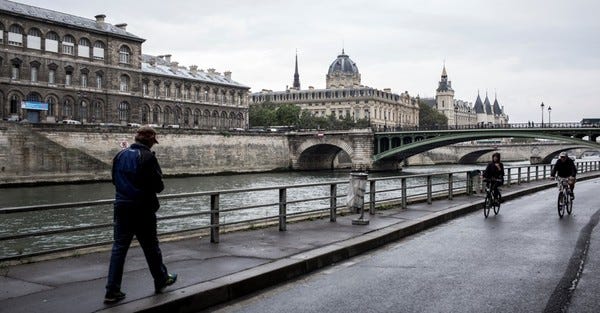 Paris' Mayor Anne Hiladgo is seeking re-election this March, and it's safe to say her ambitions are as bright as her city's lights. As part of her campaign she wants to make the city "100% bicycle". Think: more express cycling routes, segregated with raised medians, and lane space largely taken from cars. A pedestrianization plan intends to sweep motor vehicles away from major streets. And yet, her competition seem to also share these values.
"What's striking about Paris' current politics, however, is not that these measures are being proposed, but that many of Hidalgo's main opponents are proposing something similar."
Autonomous pods begin UK public trials.
Autonomous pods are being trialled in Bristol. The trial will allow the public to travel in the pods without any dedicated supervisor inside, and researchers will study their reaction to being in a driverless vehicle. The trial is being conducted by AECOM.
Uber calls on Congress to boost cyclist safety.
Uber has launched a new City Mobility Campaign this week, including new publicly accessible data sets for bikes and scooters. They wrote to the House of Representatives in the US, advocating for greater funding to be allocated towards safer infrastructure for all road users. I can't critique that, but I will say it is interesting to see the emphasis Uber is placing on this data feed because it is technically industry standard through GBFS feeds. 🤷‍♀
www.smartcitiesdive.com • Share
Climate friendly transport systems.
A new report (U.S. Transportation Climate Impact Index) has been released and looks at what factors make a city's transport system most sustainable. The obvious contenders are city's with extensive, well-funded and sound provisions for walking, cycling, and public transport. Shorter car journeys also make a big impact, which also hints at the importance of land-use and density of urban amenities on transport networks.
Speaking the same safety language.
The USDOT is trying to unite language around safety features in vehicles. Last week at TRB Transport Secretary, Elaine Chao, announced support for a plan to get automotive OEMs, safety advocates, regulators, manufacturers, suppliers, and drivers on the same page, language-wise.
According to Chao, the intention is to "make sure that drivers are aware that these systems are designed to 'assist,' not replace an engaged driver."
Orlando's plans for safer streets.
Orlando is sadly America's deadliest city for pedestrians. There are roughly 25 to 30 collisions involving pedestrians every day in the greater Orlando region. Every. Day. But its mayor, Buddy Dyer (who has been in office since 2003!) is bringing in traffic reform goals to enact safer streets. In recent years he has supported a penny sales tax initiative that would raise $600 million annually for transportation, and adopted Vision Zero, a campaign to eliminate traffic fatalities.
This seems to be one step towards creating safer streets that doesn't require sensors and "better vehicles", but rather political will power to design with the research and knowledge we already have.
Mayors like the idea of being less car-focused but hate the policies that could make it happen.
On the note of political will power to make our cities safer…
"Most U.S. mayors seem to agree that cities here are too dependent on cars—and many also believe travel for pedestrians and cyclists is unsafe on their streets—yet a new survey finds that they don't actually support the policy changes, such as increasing parking prices or reduced speed limits, that would decrease car usage and make streets safer."
Industry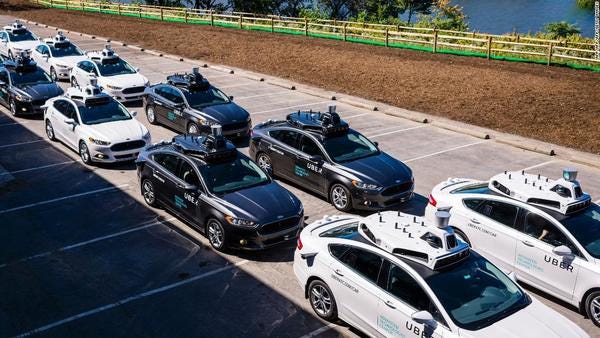 Uber will bring three mapping vehicles (equipped with cameras and sensors) to drive around the city and collecting data. Mapping data helps to capture scenarios unique to the city and virtually test how Uber vehicles would handle them in a simulated environment. This will happen for multiple weeks ahead of any trials. Uber has said it plans to test its autonomous vehicles in the city later this year, but hasn't committed to an exact timeline.
Waymo welcomes Texas and New Mexico.
Waymo has announced it will deploy its minivans and trucks in Texas and New Mexico. This is not a far departure from its main testing site just outside of Phoenix, Arizona (or other facilities in Georgia and California). It's clear the company is taking a more targeted approach, focusing on suburban neighbourhoods and cities, and trunking roads for freight. In comparison to other companies, they have far fewer tests being conducted in complex urban centres.
Safe to say that of all the finicky and complex problems to solve within the autonomous vehicle industry, carsickness (while important) probably isn't the biggest hurdle. This piece from the NYT is interesting nonetheless, with a particularly interesting point about how the vehicles can learn to mitigate motion sickness through trial and error.
What's wrong with self-driving car reporting.
Cruise has been quite vocal lately saying it's time for a new reporting metric for autonomous vehicle safety. In particular, the criticism lies with California's DMV who are about to release a report on vehicle disengagement (when a safety driver is forced to take control of the vehicle).
"A lot people, including AV experts, agree that the reports are largely meaningless. But in the absence of any federal reporting requirements for companies testing AVs on public roads, they are often acknowledged as being the best dataset we've got to track this technology's progress."
Magna is done with self-driving tech.
Magna, a supplier of automotive parts, is no longer focusing on parts for autonomous vehicles. This is news because two years ago they signed a partnership with Lyft to collaborate on self-driving technology. Magna's CEO has said the industry is getting "more realistic" about how long it will take before autonomous vehicles take off.
Velodyne to sell LiDAR for $100.
Velodyne, a start-up based out of Silicon Valley working on LiDAR (Light Detection and Ranging sensor), is claiming they can sell a sensor for only $100. This price point will require mass-manufacturing for these sensors to improve significantly, and is likely a long way off. While Velodyne has a great reputation in this field, it is still worth questioning if a low-end, low-resolution LiDAR at $100 still better than a high-resolution camera at the same price point?
That's all from me. Have a beautiful weekend friends.
Sarah
By Sarah Barnes
This weekly newsletter on cities, transportation and technology is curated weekly by Sarah Barnes, a transport nerd based in San Francisco, CA.
The newsletter encourages new conversations about advanced transportation technology, primarily autonomous vehicles, which focus on people, equity, design and the cities we want to (and need to) be building for the future.
If you don't want these updates anymore, please unsubscribe here.
If you were forwarded this newsletter and you like it, you can subscribe here.
Powered by Revue
San Francisco, CA