Along for the Ride - Issue #60
Hi friends.
Welcome to another week!
Before we get to the news, I will be in New York City next week (February 4th - 7th to be specific). If you're around town and want to grab coffee, let me know! This also means there will not be an edition of this newsletter next week.
Job of the Week
Autonomous Vehicle Policy Lead @ Wayve
London based autonomous vehicle start-up Wayve are looking for an AV policy lead to work with governments and regulators. Wayve have an ambitious roadmap, and a key part of this is getting their work with governments right. No closing date listed, but I'd recommend applying sooner rather than later.
Government and Policy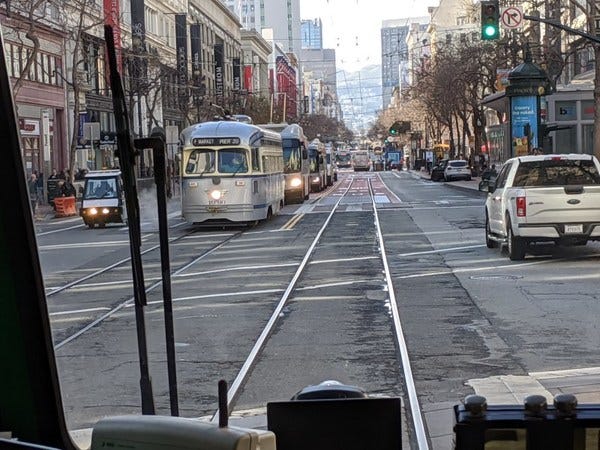 🎉🎉🎉An exciting week for shifting road-hierarchies my friends!
As of this week, private cars will be banned from Market Street, in San Francisco, including Uber and Lyft (/other ride-hailing companies).
"Car-free market street has been talked about for decades, and we're thrilled that next week it will finally happen," wrote Livable City's Tom Radulovich, in an email to Streetsblog. "We are excited for this next step towards designing people-centered, safe streets that prioritize sustainable trips and public transit," added the San Francisco Transit Rider's Cat Carter. "As San Francisco marks this accomplishment in shifting away from the primacy of private cars, we're eager to improve more streets for public transit and all transit riders."
Congress hearing on autonomous vehicles scheduled.
US Congressional committees will have a hearing about autonomous vehicles on February 6th. The House Energy and Commerce and Senate Commerce, Science, and Transportation committees developed bills to provide a federal framework to regulate the technology. So far, the development of the bill has largely been closed to the public.
New Haven approves application for autonomous shuttle pilot.
The city of New Haven, Yale University and Yale New Haven Health received approval from the City to apply for a state pilot program for autonomous vehicles. The proposes a pilot of autonomous shuttles along a similar route that hospitals use to shuttle their employees between campuses. One of the priorities of the pilot is to convince hospital employees to leave their cars parked for the whole day, and use shuttles to move between campuses throughout the course of a day.
How UK cities are moving towards a pedestrian age.
"Small-scale pedestrianisation schemes, while often controversial when first mooted, are almost always overwhelmingly popular after completion. Queen Square in Bristol, Briggate in Leeds, and Cornmarket Street on Oxford are all well-known local examples of once traffic-clogged areas thriving after being made car free.
"Once these changes are made, with very few exceptions, the consensus quickly becomes that it was unthinkable vehicles were ever allowed there," says Melia, adding that pedestrianising entire city centres would be met with the same long-term reaction: once done, future generations would look back and see the 80 years of car dominance as a bizarre historic anomaly."
Industry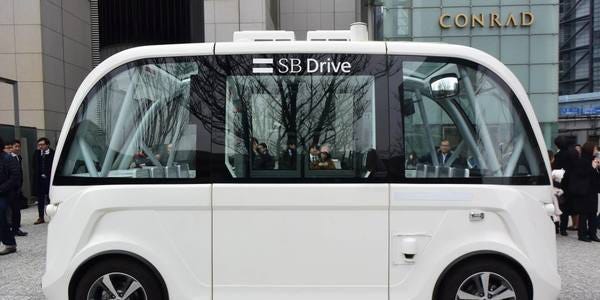 SoftBank to support autonomous shuttles in Japan.
SoftBank, a long term investor in transportation technology based in Japan, has partnered with french start-up Navya to bring autonomous shuttles to the roads just outside of Tokyo starting in April. The vehicles will travel on a 2.5 km route, stopping at places like banks and schools.
General Motors to spend $2.2 billion to build electric and autonomous vehicles at Detroit plant.
GM will spend $2.2 billion to retrofit its Detroit-Hamtramck plant for the production of autonomous and electric vehicles. This comes just days after their autonomous vehicle unit, Cruise, unveiled Origin, its first self-driving car without steering wheel or pedals.
Aurora gets a California license.
Aurora has received permission by California regulators to allow passengers in their vehicles. Aurora hasn't said when it will start letting passengers in its vehicles. Important to note: Aurora has never planned to operate a fleet service. Instead, it focuses on building the components and working with partners to integrate them into vehicle platforms.
UPS teams up with Waymo to test self-driving delivery vans.
Waymo will use its autonomous minivans to bring packages from UPS stores in Phoenix to a UPS sorting facility in Tempe, Arizona. The tests will begin in the coming weeks and last for several months. Waymo will have a driver on board to monitor the vehicle and take control of the van if needed.
Waymo will be paid for this service, but the specifics are not public. The pilot will begin in the coming weeks, and last for a couple of months.
Research and Academia
Researchers at Harvard is tracking the true cost of the vehicle economy. Route Fifty has a nice summary.
"Policymakers and budgetary analysts have long argued that roads are heavily subsidized. The diffusion of spending among federal, state, and local government entities, along with the complexity of indirect costs, make it difficult to understand the fully loaded cost of the vehicle economy. Individual families may track the personal costs of car ownership to their budgets, but they rarely consider the total cost of operating and maintaining the vehicle economy because the vast majority of roads and parking areas are provided free at the point of use."
Opinion
An opinion piece on four reasons why the self-driving revolution is stalled in the US. According to the author: road hazards, media coverage, investment in the status quo, and government organisation.
That's all from me. Have a beautiful weekend folks!
Sarah
By Sarah Barnes
This weekly newsletter on cities, transportation and technology is curated weekly by Sarah Barnes, a transport nerd based in San Francisco, CA.
The newsletter encourages new conversations about advanced transportation technology, primarily autonomous vehicles, which focus on people, equity, design and the cities we want to (and need to) be building for the future.
If you don't want these updates anymore, please unsubscribe here.
If you were forwarded this newsletter and you like it, you can subscribe here.
Powered by Revue
San Francisco, CA