Along for the Ride - Issue #61
Happy Friday friends!
We've got a long edition this week, after a short hiatus while I was in New York last week. It was so lovely meeting some of you and considering some of the biggest challenges facing the industry from a policy and governance perspective.
Without further delay, the news:
Read of the Week
What does it take to implement a municipal autonomous vehicle plan?
This week's Read of the Week is an interview with Toronto Councillor James Pasternak, who shares how the city's autonomous vehicle tactical plan (released last fall) came to be and other insights for municipalities looking to develop their own. I personally agree with some aspects, and entirely disagree with others – nevertheless worth the read to form your own opinion.
"I mean, why would the City of Toronto spend hundreds of millions when Uber and Lyft and Google are all going in the same direction? Let the private sector take the leadership on this and let them pay for it. That is very much the future. That's definitely the wisdom as we as go forward."
Government and Policy
House lawmakers close to draft bill on self-driving cars.
According to Frank Pallone Jr. (D-N.J.) Chair of the Full Energy and Commerce Committee, "[Congress] are working on a bipartisan, bicameral basis to draft a self-driving car bill that will help ensure that these life-saving technologies are safely deployed."
This comes after two bills stalled in the Senate: the House's Safely Ensuring Lives Future Deployment and Research In Vehicle Evolution Act and the Senate's American Vision for Safer Transportation through Advancement of Revolutionary Technologies Act. Opposition came from Democrats who felt that the safety and security language used in the bills was insufficient. Many advocates also objected to a lack of concrete protections that would ensure the right to sue an automaker if someone is hurt or killed in a self-driving vehicle.
Witnesses to Tuesday's meeting included John Bozzella, who heads an auto trade association representing General Motors, Toyota, Volkswagen and others; Gary Shapiro, who heads the Consumer Technology Association, and Jeff Tumlin, Director of Transportation at the San Francisco Municipal Transportation Agency.
After a week of taking Amtrak through New York, New Jersey and Pennsylvania the proposed infrastructure budget hits a bit harder this week. The White House budget released this week is proposing to cut funding Amtrak (owned by the US government) while calling for a significant rise in infrastructure spending (for cars) and killing an electric vehicle loan program.
Vancouver puts the rules in place.
Many years after ride-hailing has become the norm in cities world-wide, Vancouver Canada has finally paved the way for ride-hailing vehicles on their own city-streets. This is not without some clear rules set in place: all ride-hailing drivers in the province must obtain the same kind of license as taxi, bus, and ambulance drivers by passing additional road, medical, and inspection tests, and paying associated fees. The companies also have to share detailed data about when and where trips take place, and how much they cost. Both Uber and Lyft also agreed to charge above a set base fare for each trip – this fare is determined by the going rate for taxis.
These rules show a commitment to the Taxi Industry (and lobby) not seen elsewhere, and also show a changing tide of city leadership regulating the previously "un-regulatable" tech companies of Silicon Valley.
As a Vancouverite myself, there's a part of me that is saddened the city is no longer is a hold-out given it's superior public transport system (in the context of North America, of course). But perhaps that's just me, and the 99-B Line bus will forever be in my heart.
NYPD issued more moving violations to cyclists than truck drivers last year.
Given that a disproportionate source of traffic violence in NYC comes from truck drivers, this statistic is heartbreaking. For reference in NYC, "truck drivers were responsible for 43 road deaths last year; cyclists, who make up barely 1 percent of all traffic, have been involved in five fatal collisions with pedestrians in the past decade."
Judge upholds California's AB5.
A U.S District court judge has rejected Uber's request for a preliminary injunction against California bill (AB5) mandating how independent contractors are classified. The bill is designed to give workers in the gig-economy more protection, but has been heavily criticized by both the tech industry and freelance workers. The request was made as part of a lawsuit filed Uber and Postmates, along with two ride-sharing drivers, at the end of December. The lawsuit is still in progress.
Dubai prepares to roll out self-driving vehicles.
Dubai's RTA has announced a new set of rules regarding the trialing of autonomous vehicles, which they hope will make up 25% of all journeys by 2030. The details are light but what we do know is there will be new rules of the roads, determining where, how fast and when test runs of self-driving cars and vehicles can take place.
Columbus welcomes self-driving transit.
Columbus, Ohio will see an autonomous electric shuttle on city streets as part of a U.S. government-funded program that tests new ways to connect cities together.
What I love most about this project?
When Interstate 71 arrived in Columbus in the 1960s, the South Linden neighbourhood was largely cut off from the rest of the city, wedged between railroad tracks to the south and east and the new concrete highway to the west. This pilot is intended to help reconnect South Linden with the rest of Columbus. Granted truly transformative change would require infrastructure change, nevertheless this pilot at least has clear objectives aligned with a massive issue for many US cities.
www.crainscleveland.com • Share
If this NYT piece about Andy Byford doesn't give you a small dose of transport tears I don't know what will. Byford is touted will revolutionizing Toronto's transport network and has been hard at work doing the same for NYC. With so many accolades and accomplishments under his belt, it's almost impossible to capture the magnitude of the impact he has had. One small statistic that begins to capture it: the MTA subway system last month had an on-time rate of 84 percent, up from 58 percent in 2018.
But a well-known and reported upon conflict with NY Governor, Andrew Cuomo, was the nail in the coffin for Byford's time in New York City. Worth the read if you are unfamiliar with Byford's career and at all interested in how political egos and will power can ruin a really good thing.
How London got rid of private cars – and got more congested than ever.
"London has achieved the impossible by eradicating the private car – and still having desperate traffic congestion… people keep saying we need to get the cars off the road. In central London, there aren't any." These are the words of Tony Travers, Director of LSE London, a research centre that explores London's economic and social concerns.
A look into the measures London has put in place to eradicate traffic centrally, and the challenges the capital has faced despite bold measures: looking at you ride-hailing and urban freight deliveries.
Industry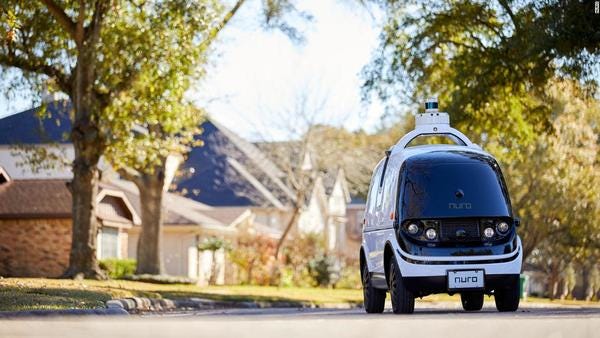 Nuro gets approval from US DOT to operate nation-wide.
Nuro, a start-up based in Mountain View, is now able to launch up to 5,000 of its R2 autonomous vehicles over the next two years, based on an inaugural decision by the US Department of Transportation.
The R2 has no steering wheel, pedals or side mirrors as it's designed to be unmanned and carry cargo. Large compartments on its side open up to reveal deliveries, such as groceries or pizza.
"The federal government has told self-driving companies to apply for exemptions to its vehicle standards in order to more quickly get innovative technologies onto roadways. Nuro is the first company to receive an exemption from the Department of Transportation's Federal Motor Vehicle Safety Standards, which requires cars to have a long list of safety features including airbags and seat belts."
Fiat Chrysler and AutoX collaborate in China.
Fiat Chrysler will supply AutoX with the same minivans used by Waymo as part of a collaboration in China. The vehicles could appear in Chinese cities such as Shenzhen and Shanghai in the first half of 2020.
May Mobility looses key members of senior management.
Something fishy is going on at one of my favourite autonomous vehicle companies, May Mobility, which is committed to designing electric, shared and autonomous shuttles. COO Alisyn Malek will leave her position with the company at the end of this week, and will stay in an advisory role. Her departure follows the exit of former chief technology officer Steve Vozar, who left last week.
Waymo has transitioned many of their workers in Chandler, Arizona from contractors to "vendors" which originally sounded like an improvement to existing conditions. In reality: vacation days were cut significantly, health insurance stagnated, conditions where in-vehicle safety drivers were harassed by riders proliferated. It's an interesting look into the conditions of safety drivers with many rebuttals from Waymo's team.
Uber self-driving cars allowed back on California roads.
Uber has received a permit to operate again in California, a state which has granted permits to 65 other transport firms. California allows companies to test self-driving technology with a backup driver in the car.
Uber pulled out of many testing environments after their fatal collision in Tempe, Arizona in 2018. Before that their vehicles were being tested in four locations in North America - Phoenix, Pittsburgh, San Francisco and Toronto.
UK record for longest self-driving car journey.
A little ol' Nissan Leaf has completed the longest self-driving car journey in the UK: a 230-mile trip from Bedfordshire to Sunderland. The vehicle was fitted with GPS, radar, Lidar and cameras to travel from Nissan's technical centre in Bedfordshire, to the carmaker's manufacturing plant in Sunderland.
This drive is part of the £13.5m HumanDrive project which is jointly funded by the British government and an industry consortium.
Research and Academia
The sustainable transport revolution.
According to a new study by Mobility Futures, private car journeys currently represent just over half of all trips made in major cities, but will sink to 46% by 2030, according to researchers who surveyed more than 200,000 residents in cities from New York to Nairobi.
Trips made on public transport, bicycle or on foot will all rise to reach a combined 49% of city journeys over the same period, creating a global "tipping point" towards sustainable travel.
Putting self-driving cars to ultimate test: Canadian winter.
Newly released data from a collaboration between the University of Toronto, the University of Waterloo and Scale AI will help train future self-driving cars to handle the challenges of winter driving.
Based on actual scans of icy, snow-covered Canadian roads, the dataset acts as a virtual training course for the computer algorithms that enable cars to drive themselves. Some pretty cool visuals here!
Autonomous vehicles and public health.
"AVs offer a variety of automation, vehicle ownership, and vehicle use options. AVs could increase some health risks (such as air pollution, noise, and sedentarism); however, if proper regulated, AVs will likely reduce morbidity and mortality from motor vehicle crashes and may help reshape cities to promote healthy urban environments.
Healthy models of AV use include fully electric vehicles in a system of ridesharing and ridesplitting. Public health will benefit if proper policies and regulatory frameworks are implemented before the complete introduction of AVs into the market."
Opinion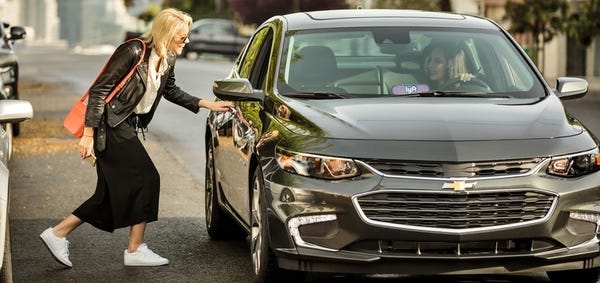 The future of mobility must be more inclusive.
From Jon Sadow, co-founder and chief product officer of Scoop.
"Existing technology solutions do not address issues faced by most Americans. Many of these approaches don't take into account the distances that people living in the suburbs travel each day to and from work, or even the specific demographics and behavioral patterns of people who don't live in cities.
Mobility-related innovation seems to cater specifically to city dwellers, who tend to be young and have disposable income. The solutions we've seen to date are short-distance options, such as shared bikes, scooters, ride-sharing, and even today's autonomous vehicles. These modes of transportation are becoming more popular, but they're not equipped to address the needs of Americans who don't meet the demographic profile of younger city denizens."
www.smartcitiesdive.com • Share
"Urban challenges that involve cars can't necessarily be solved with cars, no matter what the tech… If you try to make it smoother for vehicles to move around you'll still have a lot of motor vehicles in the street, but if you focus on other modes, you'll get more of those," states Geeti Silwal, the urban design principal at the San Francisco branch of global architecture firm Perkins and Will, the lead organization overseeing the municipality's $604 million Better Market Street project.
That's all from me. Have a great weekend folks!
Sarah
By Sarah Barnes
This weekly newsletter on cities, transportation and technology is curated weekly by Sarah Barnes, a transport nerd based in San Francisco, CA.
The newsletter encourages new conversations about advanced transportation technology, primarily autonomous vehicles, which focus on people, equity, design and the cities we want to (and need to) be building for the future.
If you don't want these updates anymore, please unsubscribe here.
If you were forwarded this newsletter and you like it, you can subscribe here.
Powered by Revue
San Francisco, CA