Along for the Ride - Issue #62
Hi friends,
Apologies for the delay in this week's newsletter, I've had to make a last minute trip to the states which threw a wrench in my plans to get this out last Friday. For personal reasons this newsletter is a bit slowed down, and the next newsletter will be sent the first week of March.
Important Note: I've heard from one subscriber they received a spam email from this account, where I claimed to be selling phone car mounts and slow cookers. While I do love a slow cooker, I can assure you I've not changed careers so fast. If you have received a similar email, can you let me know so I can sort the matter out with the platform? Thank you!
Now, onto the news.
Read of the Week
When cities begin to disrupt tech.
A critical look into how cities are reclaiming their power in the fast-paced (and ever-changing) world of transport technology, including how they negotiate with tech companies who rely on their goodwill to survive.
In spring 2018, Seleta Reynolds, the general manager of the Los Angeles Department of Transportation, issued a grave warning about the new generation of urban transportation companies such as Uber.
"A lot of these private actors and companies are not mobility companies," Reynolds told an audience at Harvard's Graduate School of Design. "They are data companies. And they are building new empires on top of a platform that we are absolutely not ready for."
The power dynamics must shift, she continued. "We have to bust our ways of thinking inside government in particular."
Government and Policy
"Though the full policy is forthcoming, Germany's framework plan recommends a series of clear national goals and strategies, and is an outstanding model for other countries to follow to develop their own plans to bring the change we need in cities.
The goals and strategies are designed to improve the systemic issues affecting walking rather than focusing on user behaviour as the problem. The policy framework proposes introducing a 30km/hr standard speed limit in all urban areas and new minimum design standards for infrastructure elements, such as at least 2.5-meter-wide sidewalks, shorter and safer pedestrian crossings, better street lighting, and other measures that make walking safer. The idea is to change road systems, as well as road users."
Congress proposal to allow AVs with advanced cyberprotections.
Further updates from DC, and the draft legislation being proposed by Congress. The legislation would allow automakers to sell autonomous vehicles without steering wheels or brake pedals. Automakers would also be required to provide annual detailed descriptions of what they are doing to mitigate hacking risks.
The struggle to mend America's rural roads.
Throughout much of the Midwest and South, the rural transportation system is crumbling. Two-thirds of the nation's freight emanates from rural areas. Traffic volume has increased. And over the years, tractor-trailers and farm equipment have been supersized, ballooning in length, breadth and weight.
A legally loaded semi-trailer truck can produce 5,000 to 10,000 times the road damage of one car according to some estimates, said Benjamin J. Jordan, director of the Wisconsin Transportation Information Center at the University of Wisconsin, Madison. Roads and bridges have not kept up.
Although just 19 percent of the country's population lives in rural areas, those regions have 68 percent of the total lane and road miles, according to the U.S. Department of Transportation.
"Our road hasn't been paved since the '60s," said Kellen Nelson, whose family owns Triple Brook Farms on County Road O outside Osseo. "Patching and seal coating is all they've ever done."
"President Donald Trump's 2021 budget request describes a $810 billion, 10-year surface transportation reauthorization bill as part of a proposed $1 trillion infrastructure investment. But the budget also calls for a 13 percent cut to discretionary spending for the U.S. Department of Transportation, the largest infrastructure-building agency in the cabinet.
That, in a nutshell, has been the persistent theme of the Trump administration when it comes to infrastructure: big talk, little action, and plenty of mixed messages in between."
Industry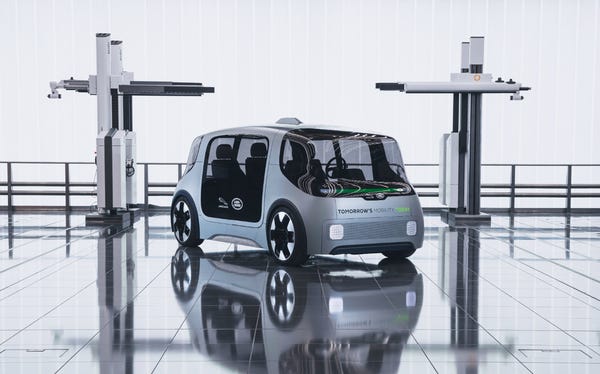 "A culmination of JLR's research and development work into autonomous travel, the Project Vector pod concept is being pitched by the car maker as "an advanced, flexible, multi-use electric vehicle" that's designed to excel in built-up areas like towns and cities.
JLR says the Vector's underpinnings are flexible enough to allow for a variety of uses, thanks to skateboard-style battery packaging in the pod's floor. This means the machines would be able to function as short range, last minute delivery vehicles or, as the images above show, self-driving cars."
Self-driving cars from Tesla, Google, and others are still not here.
"When it comes to self-driving cars, the future was supposed to be now.
In 2020, you'll be a "permanent backseat driver," the Guardian predicted in 2015. "10 million self-driving cars will be on the road by 2020," blared a Business Insider headline from 2016. Those declarations were accompanied by announcements from General Motors, Alphabet's Waymo, Toyota, and Honda that they'd be making self-driving cars by 2020. Elon Musk forecast that Tesla would do it by 2018 — and then, when that failed, by 2020.
But the year is here — and the self-driving cars aren't."
'Disgruntled' former Waymo operator arrested for causing car crash.
"A former Waymo contractor was arrested after allegedly forcing one of the company's self-driving cars to crash in Tempe, Arizona, last month. Police say 31-year-old Raymond Tang drove his Mazda recklessly around the Waymo vehicle, eventually swerving in front of the self-driving car and slamming his brakes, causing the Waymo vehicle to rear-end him."
Yandex claims two million self-driving car miles.
Yandex claims that its autonomous cars have driven two million miles to date, double the figure it reported in October and four times the number announced in August.
Cruise can now transport passengers in self-driving cars in California.
"Cruise recently received a permit to transport passengers in its autonomous vehicles in California. The permit is part of the state's Autonomous Vehicle Passenger Service pilot. Cruise must provide data and reports to the CPUC regarding any incidents, the number of passenger miles traveled and passenger safety protocols. Cruise must also have a safety driver behind the wheel and not charge passengers for rides."
Research and Academia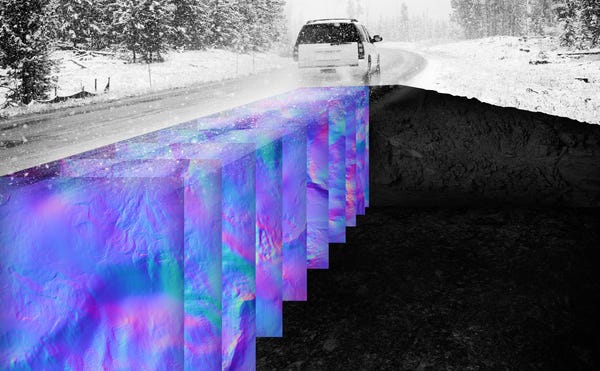 MIT's Ground-Penetrating Radar Looks Down for Perfect Self-Driving - ExtremeTech
"Ground-penetrating radar may soon be the sensor that makes your car autonomous in all weather conditions. It turns out that when you scan the 10 feet below the roadway surface, you get a unique identifier that is accurate to an inch or two.
Mapping cars would scan the roadways once, then your self-driving car with its own ground-penetrating radar would rescan as you drive, matching its real-time scan to the master map. That would keep your car centered, even if pavement markings are covered by snow or ice, according to WaveSense, an MIT spinoff that already has already tested military applications."
Have a great week ahead friends.
Sarah
By Sarah Barnes
This weekly newsletter on cities, transportation and technology is curated weekly by Sarah Barnes, a transport nerd based in San Francisco, CA.
The newsletter encourages new conversations about advanced transportation technology, primarily autonomous vehicles, which focus on people, equity, design and the cities we want to (and need to) be building for the future.
If you don't want these updates anymore, please unsubscribe here.
If you were forwarded this newsletter and you like it, you can subscribe here.
Powered by Revue
San Francisco, CA