Along for the Ride - Issue #64
Heya friends!
Apologies for the delay in news, I've been trying to wrap my head around everything that is currently happening in the world, show up for my local community, and keep everything else moving along. I hope you're all safe and healthy, and staying at home as you are able to.
I've added a little section at the end about all the wonderful things mobility companies far and wide are doing to support efforts to keep people safe. If you or your company are doing something positive during these times, I'd be happy to share it with the following over the coming weeks to help us all keep our chins up.
Now, onto the news!
Read of the Week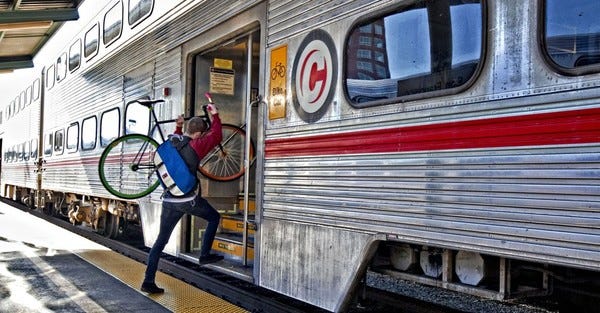 Cheap and boring transport solutions.
This piece lists four small actions cities can take to drastically change their transport systems: improve sidewalks, allow bikes on buses and trains, make intersections safer, and build a better bus stop.
"Rather than racing to be the first to deploy some new technology, they can instead focus on mundane mobility solutions that actually work. These are fixes that don't grab headlines, but will give cities a better chance to grow the share of trips taken on transit, on foot, by bike or on a scooter. They're also unlikely to break a city's budget or trigger angry pushback. In fact, many people won't even notice them."
Government and Policy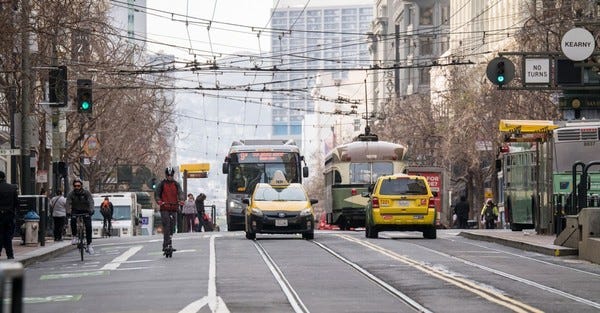 Early results from car-free Market Street.
San Francisco closed key arterial, Market Street, to private vehicles two months ago. And after that short period, the average number of dockless scooter trips provided by one company, Spin, shot up by 30 percent after the car ban went into effect, according to an analysis by Populus, a mobility data startup that works with the company. With minimal uptick in congestion on surrounding roads, the closure is being celebrated a success and shows just how powerful shifting road hierarchies can be at inducing behaviour change.
UK government announce £90 million fund to reduce carbon emissions.
The Department for Transport is ready to pilot new innovations with the intention of decarbonizing the transportation industry. The government has an open call for evidence on micro mobility, flexible bus services and MaaS (Mobility as a Service). Consultation closes May 22nd, so hop to it friends!
Massachusetts House passes proposal to tax drivers.
The Massachusetts House of Representatives passed a package of fee and tax raises this month that would make it more expensive for motorists to drive, in turn raising as much as $600 million (!) and investing that money into improvements for transportation infrastructure. Lawmakers approved the legislation, 113-40.
The proposal will increase the state's gas tax by 5 cents, to 29 cents per gallon. It would also increase fees for ride-hailing companies, charging them $1 per ride, which lawmakers say would be barred from passing on the cost on to riders.
Taipei to operate autonomous shuttle in bus lanes.
Taipei City Government and start-up Turing Drive are working together to introduce a shuttle service that will circle back-and-forth around the dedicated bus lanes. Three electric autonomous driving shuttles will be deployed, including a 4m shuttle with capacity for nine passengers and a 6m shuttle that takes up to 34 passengers.
www.smartcitiesworld.net • Share
NHSTA tweaking vehicle safety rules.
The National Highway Traffic Safety Administration (NHTSA) for *the first time* proposed tweaks to its vehicle safety rules to help ease the way for the widespread use of self-driving cars. Up for change? The definition of a "driver", where children can and can't sit, how airbags work, new protections needed when steering wheels vanish for good, amongst other *very interesting* standards.
Shenzhen to test self-driving cars with passengers.
Shenzhen's transport authorities are seeking public opinion on a plan that would allow self-driving cars to test passenger transportation in designated areas including university campuses, industrial complexes and scenic areas. So far, Shenzhen has allowed 120 km of roads to be used for autonomous vehicle tests and granted 12 testing licenses to several companies.
Industry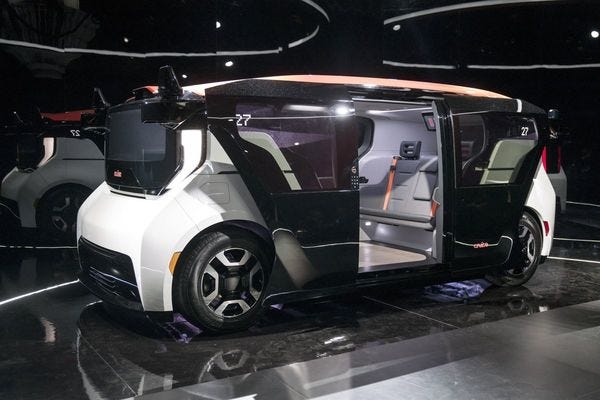 The future is just a bunch of roaming bread loaves.
"Cutting-edge robotic people-movers from the likes of General Motors Co., Toyota Motor Corp. and Jaguar Land Rover all share similarly rectangular dimensions with more of an eye toward engineering practicality than sex appeal. Even Waymo, the self-driving arm of Google parent Alphabet Inc., has chosen the lowly minivan as its primary ride for self-driving vehicles."
Baidu to build self-driving test facility in Chongqing.
Baidu will spend 52 million yuan (US$7.3 million) to build a test facility including building road infrastructure with embedded sensors and traffic signal control systems. Upon completion, the facility is expected to be able to host spontaneous test drives for over 100 Level 4 autonomous cars.
Self-driving freight company, Starsky Robotics, has shut down after its Series B fell through. This piece on Crunchbase tells of the story of how the company's great ambitions fell short and the steps the company had to take to close up shop.
Waymo considers its next move.
In a FT interview with Waymo CEO, John Krafcik, he indicated that the company may focus on providing other vehicle makers and ride-hailing companies with its autonomous vehicle technology. Last year, Waymo announced it would be working with Nissan and Renault to launch an autonomous ride-hailing service in France and Japan. Krafcik indicated that the service would likely not be branded under the Waymo One banner.
Waymo's self-driving Jaguar I-Pace.
If you want geek out on the hardware driving Waymo's fleet of Jaguar I-Pace's this article is for you. A big feature on their fleet? Cameras. The hardware suite has a new vision system that includes 29 cameras, which Waymo says provides different perspectives of the road with overlapping fields of view, as well as the ability to see a stop sign 500 meters away.
Waymo suspends all driving operations in Phoenix and Detroit.
Waymo told employees that starting Thursday, all driver Waymo operations would be suspended until April 8th. Drivers will not have access to facilities but will still get paid over the next two weeks. The mandate comes after the company enacted several measures, including suspending its driver-assisted Waymo One ride-sharing program and distancing employees in its offices.
Former top Uber engineer pleads guilty to trade-secret theft.
Welp, Anthony Levandowski has pleaded guilty to one (of his 33!) charges of stealing self-driving secrets from Waymo, and will potential spend 30 months in jail.
Uber open to using self-driving tech from competition.
Uber CEO, Dara Khosrowshahi , has said the company is talking to third parties about using their self-driving tech. "If any of those competitors want to put their tech onto our platform we'd be absolutely open as long as their tech is safe enough."
Khosrowshahi added that Uber's Advanced Technologies Group, had "very significant structural advantages" due to the ride-hailing business including knowledge of routes that generate the most revenue.
Mercedes hits the brakes on self-driving cars.
Mercedes has delayed the introduction of self-driving cars to focus on electric vehicles and autonomous trucks.
"It doesn't mean we are giving up the effort on passenger cars, we will continue investing in that, but we will deploy our resources in such a way where we can generate revenue at the earliest possible time," said Daimler chair and head of Mercedes cars, Ola Kallenius.
[Pre-COVID] Uber has resumed testing its self-driving cars in San Francisco.
Uber has resumed testing its self-driving cars in San Francisco after shutting down its program in the wake of the 2017 fatal crash in Arizona. The company will only operate two vehicles during daylight hours.
The vehicles have since halted operations due to COVID-19.
Self-driving cars break record in Beijing.
Over 1 million kilometres have been driven by self-driving vehicles in Beijing. In 2019, 73 self-driving cars from 12 companies drove more than 886,600 km in Beijing, an increase of 577% from the distance in 2018.
Research and Academia
Examining the challenges and opportunities of autonomous vehicles to urban planning.
From the University of Minnesota Centrer for Transportation Studies. This research project has engaged the planning community in the region to discern optimal timing, processes, and policies that should be considered when planning for autonomous vehicles.
A statistical analysis of consumer perceptions towards automated vehicles and their intended adoption.
While automated vehicle (AV) development continues to progress rapidly, how the public will accept and adopt automated vehicles remains an open question. Using extensive survey data, researchers apply cluster analysis to better understand consumer perceptions toward potential benefits and concerns related to AVs with regard to factors influencing their AV adoption likelihood.
Keeping the wheels turning
Micromobility keeping cities moving.
There are plenty of micromobility companies that are currently shuttering their services and having major lay-offs during this pandemic, but there are also plenty stepping up to the plate. Beryl have made all rides free for NHS workers across all of their programs in the UK. In London, key urban workers can collect a bike from Beryl to use during this period as their own personal bike, allowing them to avoid the still over-crowded public transport system. JUMP, NextBike, and Santander Cycles all have similar programming in the UK!
COVID-19 Legacy: The death of the avoidable car trip?
COVID-19 is requiring us to cut non-essential travel in the short term. It'll be harder to do it in the long term — but it will be worth it.
"The one-mile drive to the grocery store to pick up a single onion for a recipe. The quick jaunt to the mall to browse the stores just because. The spontaneous trip to the movie theater 10 miles away from home, because even though there is a cinema down the block, the one on the edge of town has reclining seats and caramel popcorn at the snack stand, so why not drive a little further?"
Notorious for smog, LA nears third straight week of clean air.
For nearly three straight weeks, air quality maps tracking the region's scores on the Environmental Protection Agency's Air Quality Index have been nothing but green—the color that denotes the cleanest air.
According to the California Air Resources Board, the last time the ozone level in the Los Angeles area reached unhealthy levels was in February. Over the summer, the region saw unhealthy ozone levels every day for more than two straight months.
Have a great week ahead friends. Hope you're staying safe & staying home.
Sarah
By Sarah Barnes
This weekly newsletter on cities, transportation and technology is curated weekly by Sarah Barnes, a transport nerd based in San Francisco, CA.
The newsletter encourages new conversations about advanced transportation technology, primarily autonomous vehicles, which focus on people, equity, design and the cities we want to (and need to) be building for the future.
If you don't want these updates anymore, please unsubscribe here.
If you were forwarded this newsletter and you like it, you can subscribe here.
Powered by Revue
San Francisco, CA