Along for the Ride - Issue #65
Hi all,
Welcome back to another week! Hope you are safe, healthy and sane. Today's extra section is a shortlist of transportation podcasts I recommend, if you are in need of some inspiration right now. Enjoy!
Read of the Week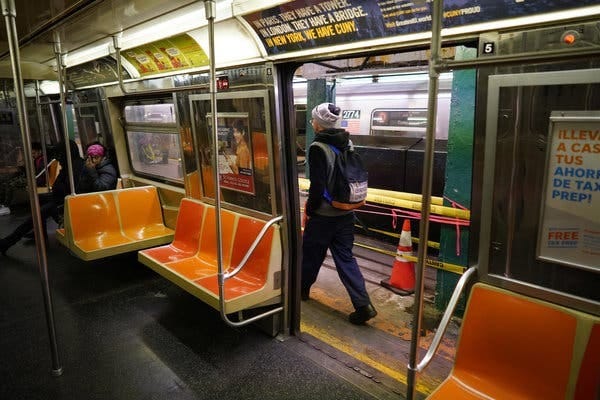 The Trump Administration awards $25 Billion in emergency transit funding.
Cities across the US spent weeks asking the federal government for critical support throughout COVID-19, to help keep their cities (and essential workers) moving. The Trump administration is allocating $25 billion in emergency funding grants to public transportation organisations facing a massive falloff in demand due to the coronavirus pandemic. Chief among them? New York City who is getting a whopping $5.4 billion. Now, if only it was that easy for public transportation authorities to receive ongoing federal funding for the clearly essential work they do everyday, all year round, not just during pandemics.
Government and Policy
Milton Keynes partners with industry to pilot impacts of parking in an autonomous future.
Milton Keynes and Coventry Council (a hub of CAV innovation in the UK) are leading a consortium to consider what CAV parking will look like on city streets. Jaguar Land Rover and AppyWay are members of the consortium and together they hope to answer how traffic and highways planners can ensure empty CAVs do not contribute to traffic and congestion.
www.intelligenttransport.com • Share
Stream: Curbed's panel on designing streets at SXSW
Hear from Amy Cohen, co-founder of Families for Safe Streets, Corinne Kisner, executive director of National Association of City Transportation Officials (NACTO), and Los Angeles Department of Transportation general manager Seleta Reynolds on how street design is saving lives now—and how we can rebuild our transportation systems more equitably in a post-COVID-19 world.
Industry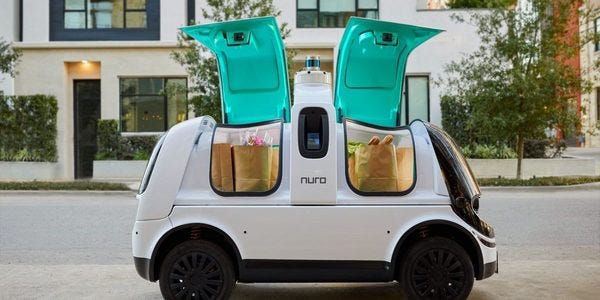 Coronavirus could hasten the adoption of delivery robots.
"While autonomous cars might be grounded at the moment, delivery vehicles like Nuro's R2 — which exclusively carry groceries and other essentials rather than human occupants — are having a moment. Starship Technologies, one of several companies developing autonomous robots that deliver items from local businesses, told VentureBeat that it has observed an increase in order volume in recent weeks but said it is too early to conclude whether this is related to COVID-19."
Google is publishing coronavirus mobility reports.
Feeding off of user's location reports (😳), Google is giving the world a clearer glimpse of exactly how much it knows about people everywhere. Google is touting their persistent tracking of where users go and what they do as a public good in the midst of COVID-19, to help cities plan how best to keep people safe. Agree with Google's privacy policies or not, it's a freaking interesting piece of work, and I'd recommend each and every one of you play around with the reporting tool.
Anthony Levandowski files motion to force Uber into arbitration.
Because of course he did. Did we really think Anthony Levandowski would plead guilty and then still find a way for somebody else to take the heat for it?
Levandowski, the self-driving car engineer who was at the center of a trade secrets lawsuit, has filed a motion to compel Uber into arbitration. This would mean Uber will have to shoulder the cost of at least part of the $179 million judgment against him.
Waymo halts self-driving car fleet due to coronavirus.
Following news that Waymo has curtailed its fleet of self-driving car prototypes in California and Arizona, the company has grounded its entire fleet amid the coronavirus outbreak in the US until April 7.
Ike, an autonomous-trucking startup named for President Eisenhower and his interstate highway system, is the feature of a deep dive on Bloomberg. Bloomberg interviews Nancy Sun, Ike's Chief Engineer about the company's plans and why they are taking the slow and steady approach to long-haul freight.
Phantom AI raises $22 million Series A.
Phantom AI builds low cost equipments which allows automakers to add advanced driver assist systems to their vehicles at scale. They've just announced a $22 million in Series A financing led by Celeres Investments and joined by Ford Motor Co.
Research and Academia
University of Iowa puts rural autonomous driving through its paces.
A $7 million grant from the U.S. Department of Transportation is funding National Advanced Driving Simulator (NADS) research into how automated vehicles operate on rural roads at the University of Iowa.
"What we're doing in the rural environment is unique in the sense that almost all testing is done in a 12-month climate. It's in Silicon Valley, in Florida, in Nevada, in Arizona. The roads are bare and dry 12 months of the year. We don't have that. Our economy is more rural, which means driving on gravel roads, driving on roads that are not marked..," NADS Director Dan McGehee said.
Podcasts to Keep the Wheels Turning
The War on Cars is a podcast about the epic, hundred years' war between The Car and The City. They deliver news and commentary on the latest developments in the worldwide fight to undo a century's worth of damage wrought by the automobile. Hosted by Doug Gordon, Sarah Goodyear and Aaron Naparstek.
Talking Headways is a podcast hosted by Streetsblog USA and Jeff Wood of The Overhead Wire. It explores the intersection of transportation, urban planning, and city living. Not always transportation related, but this podcast with give you a good understanding of the basic principles of good city building.
streetsblog.libsyn.com • Share
The Autonomous Vehicles Podcast.
Interviews with experts on autonomous vehicles (Locomotion, Zero5, researchers). There's only a few episodes, one with yours truly, but worth a listen to get varying opinions on the industry and where it's headed. Hosted by Gurtej Gill.
Autonomous Cars with Marc Hoag.
Airing twice a week, this podcast is more industry-led, so if you're interested in knowing more about which companies have their eyes on what products, which launches are eminent, etc. this podcast is for you. Hosted by Marc Hoag.
In their own words… "Zero BS conversations about automation, autonomy, self-driven cars & trucks, electrification, mobility and the politics & policy around the future of transportation." Hosted by Kristen Korosec, Alex Roy, and Ed Niedermeyer.
This is a new one! So no idea what it'll be like, but the team at Inside Transportation are launching a podcast, which is likely going to include segments on the auto industry (including autonomous vehicles), but also electrification, micro mobility, and and public transit.
That's all from me. Have a great week ahead friends!
Sarah
By Sarah Barnes
This weekly newsletter on cities, transportation and technology is curated weekly by Sarah Barnes, a transport nerd based in San Francisco, CA.
The newsletter encourages new conversations about advanced transportation technology, primarily autonomous vehicles, which focus on people, equity, design and the cities we want to (and need to) be building for the future.
If you don't want these updates anymore, please unsubscribe here.
If you were forwarded this newsletter and you like it, you can subscribe here.
Powered by Revue
San Francisco, CA