Along for the Ride - Issue #66
Happy Monday Friends!
Another week of news: governments and policy makers are focusing on the impact of COVID-19 on their transit systems, while we see industry respond to the virus as well. In our extra section this week I've got links to online courses and webinars I think this bunch will be interested in.
Enjoy!
Read(s) of the Week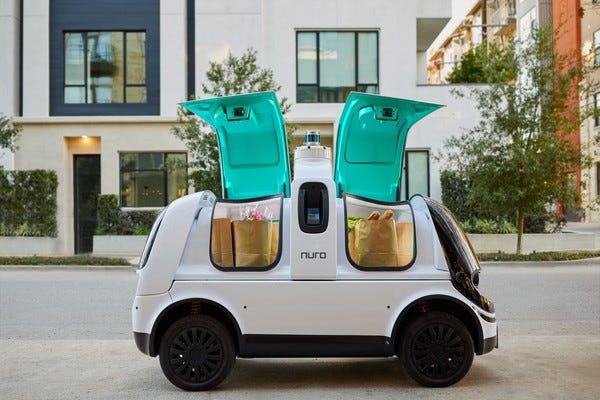 Nuro scores California's regulator approval.
In the midst of a global pandemic, one company continues to be progressing swiftly, and that's Nuro. The company can now test grocery-delivery vehicles on California roads without a driver behind the wheel, making it the second company to get a permit allowing such trials from California's DMC. The state permit will allow Nuro to test two of its R2 driverless pods in nine cities across the state.
In a pandemic, we're all 'transit dependent'.
Jarrett Walker (a personal favourite in the world of urbanism) takes a somber look at what the impact COVID-19 will have on our transit agencies, and the long-term implications of this period.
"The goal of transit, right now, is neither competing for riders nor providing a social service for those in need. It is helping prevent the collapse of civilization."
Government and Policy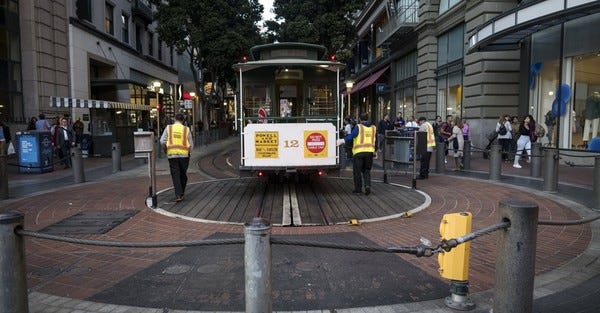 As Coronavirus quiets streets, some cities speed road and transit fixes.
"Los Angeles, where traffic levels have dropped 60% under shelter-in-place orders, may be the most prominent example. On March 31, the Beverly Hills City Council voted to approve a full temporary closure of a segment of Wilshire Boulevard, allowing the L.A. County Metropolitan Transportation Authority to expedite pile installation and the construction of a new concrete street deck on phase two of the extension of the L.A. Metro's Purple Line into the heart of Beverly Hills."
San Francisco eliminates nearly every Muni route.
As San Francisco decided to close down the majority of Muni routes in the city, cities like London and New York saw heart-breaking rates of transit operators dying of COVID-19 this week. It's hard to imagine any agency is equipped to deal with a pandemic like this, but making sure that frontline workers are safe if essential, and one can only hope the steps San Francisco is taking will do just that.
The latest DARPA challenge is here.
DARPA (the US military's research arm – responsible for the first call to action for autonomous vehicles in 2004) has announced another challenge inviting industry and academic institutions to take a stab at. The challenge is aimed at improving cyber-defenses against deception attacks on machine learning models, including self-driving cars.
Industry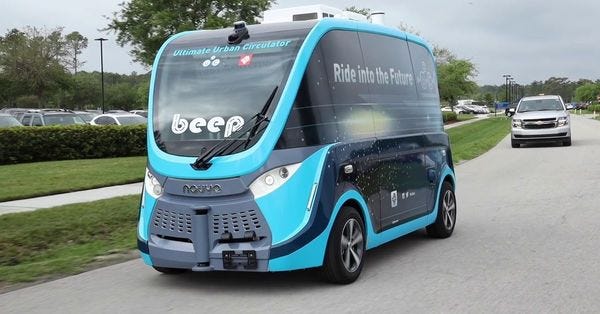 Self-driving shuttles are moving COVID-19 tests in Florida.
COVID-19 is bringing forward new applications of autonomous vehicles, earlier than we ever anticipated. The Mayo Clinic is using autonomous shuttles to transfer COVID-19 tests to a processing centre in Jacksonville, Florida. Each shuttle has to be trailed by a human driving a standard car.. just in case. Another benefit is that the shuttle helps keep Mayo Clinic staff as free as possible, since they would otherwise have to transport the samples themselves.
Via, the on-demand shuttle service has a bit more money in the bank this week. Their Series E round is led by EXOR, and brings the company's valuation to $2.25 billion. Via is available in more than 70 cities in 20 countries.
Zoox, citing COVID-19 shutdown, lays off its autonomous vehicle backup drivers.
Zoox has laid off approximately 120 contract workers, including their team of backup drivers that ride in the vehicles as they are being tested on public roads. Zoox has said the lay offs are a ramification of the extended shelter-in-place ruling in California.
Velodyne sued for laying off a third of its staff.
In a similar vein, Velodyne (LIDAR start-up based in California) is being sued for major lay offs of full-time staff. The 140 employees were given one days notice, without a clear statement as to why they were being made redundant other than Coronavirus.
"… Velodyne's mass layoff is unlawful as it violates the California Worker Adjustment and Retraining Notification Act, which states workers must be given 60 days' written notice if 50 to 499 employees are terminated or if the total number is equivalent to at least 33 per cent of its full-time staff.
Now, he is asking Velodyne to cough up cash to pay their unpaid wages, as well as any commissions, bonuses, accrued holiday pays, 401K contributions, and other benefits that would have been paid under the WARN act."
AutoX sets up Asia's largest autonomous vehicle operations centre.
AutoX has opened an 80,000 square feet centre, named the Shanghai RoboTaxi Operations Center, which they say is the largest data hub for self-driving car data in China. The launch of the centre comes after AutoX announced in September that Shanghai authorities had granted it approval to launch a fleet of 100 self-driving ride-hailing cars in the city's Jiading district.
Opinion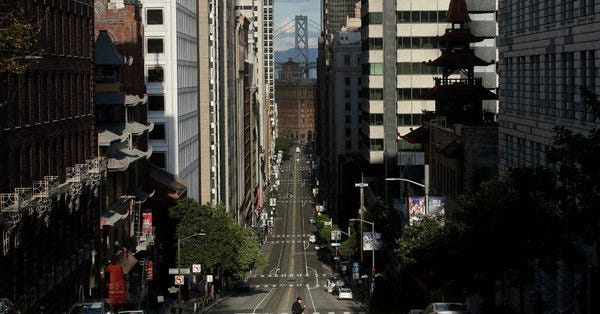 I don't know about you, but I love in London (aka the UK's Capital for Air Pollution), and my lungs are loving the reduced pollution from lack of travel. My ears are also enjoying the simple pleasures of being woken up by birds and not car honks. For all that there is worry about right now, it's the perfect time to become reacquainted with your city and understand how much of an impact traffic can make on how you see and experience your city.
Extras!
Remix, a San-Francisco based transit start-up has been hosting a series of webinars since March. There aren't currently that are planned, but there are some excellent links to past webinars which you can watch at your leisure. I whole-heartedly recommend the episodes with Jarrett Walker and Beth Osborne!
University of Toronto: Self-driving cars specialization.
The University of Toronto is offering an introduction to self-driving cars via Coursera. The course is taught through the university's computer science program and is a leader in the field.
"This Specialization gives you a comprehensive understanding of state-of-the-art engineering practices used in the self-driving car industry. You'll get to interact with real data sets from an autonomous vehicle (AV)―all through hands-on projects."
MIT: Leveraging urban mobility disruptions to create better cities.
"Explore a wide variety of topics that relate to recently emerged new mobility systems and learn how new mobility can be leveraged to increase equity, health, and improve accessibility. The course material is designed to have a global impact by taking advantage of an established network of academic partners, each bringing relevant expertise and representing distinct empirical settings."
Harvard: CitiesX: The past, present and future of urban life.
"CitiesX will give you a far-ranging look at the past, present and future of cities, with the aim of teaching you how to better understand, appreciate and improve urban areas. The course will explore key concepts of urban development by examining cities around the world, including London, Rio de Janeiro, New York City, Shanghai, Mumbai, Kigali, and many more."
That's all from me. Have a great week ahead friends.
Sarah
By Sarah Barnes
This weekly newsletter on cities, transportation and technology is curated weekly by Sarah Barnes, a transport nerd based in San Francisco, CA.
The newsletter encourages new conversations about advanced transportation technology, primarily autonomous vehicles, which focus on people, equity, design and the cities we want to (and need to) be building for the future.
If you don't want these updates anymore, please unsubscribe here.
If you were forwarded this newsletter and you like it, you can subscribe here.
Powered by Revue
San Francisco, CA