Along for the Ride - Issue #67
Heya friends!
Hope everybody is keeping safe and staying at home as they are able to. A fairly light edition today, so I'm interested to know what you'd like to see more of as we wait out this virus. Book recommendations? Twitter accounts to follow? Documentaries? All autonomous vehicle / transit / urbanism related. You name it and I'll list it.
Enjoying this subscription? Why not forward it to a friend.
Read of the Week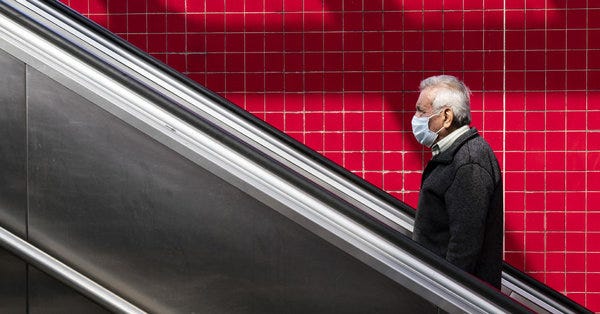 Transit has been battered by Coronavirus.
The NY Times takes a deep dive into the impact of COVID-19 on transit, and how it's not just loss of ridership that is taking its toll. Transit systems are the life blood of our cities, and we owe it to our cities to contemplate how we can better appreciate and support these modes once we start to creep out of our homes again.
"Across Illinois, transit agencies rely for the bulk of their budgets on sales taxes that will dwindle as household spending does. In Portland, Ore., the payroll taxes that fund transit will decline as unemployment rises. In San Francisco, the municipal transit system gets nearly twice as much revenue from parking fees and fines as from transit fares. Those have disappeared, too, and will lag in an economy where fewer people commute to work."
Government and Policy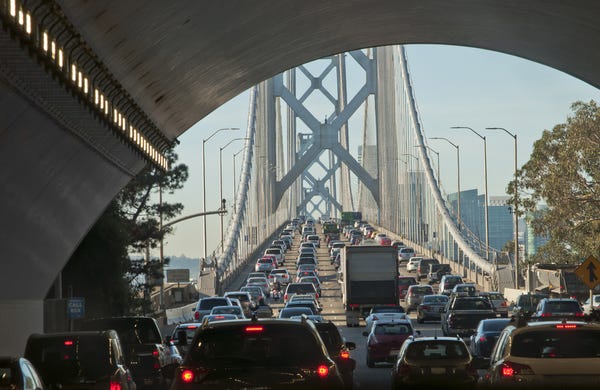 Early indications of car industry's future emerge.
On a similar thought-train as the above, new evidence from Wuhan, China shows that as people start to re-emerge in their cities they are taking their cars. Willingness to take public transit and risk physical interaction with others has decreased rapidly. How do we come back from COVID-19 without a boom in vehicle miles travelled? What steps can we take now to instill different behavioural patterns which will make our return to society more sustainable and healthier? Appreciate any of your thoughts on this venerable readers.
DC: Downsides of self-driving cars could swamp benefits.
Widespread use of self-driving cars in coming decades will increase congestion and pollution in the Washington region if governments don't take steps to avoid such consequences, according a study commissioned by the D.C. government.
"We know technology alone won't solve all of these issues," said Jeff Marootian, director of the District Department of Transportation, which released the report this month. "The study highlights the importance of putting in place polices that guide the outcomes we want to achieve."
www.washingtonpost.com • Share
Industry
Cameras in your car are collecting data.
A quick look into the work of Mobileye, a Tel-Aviv based subsidiary of Intel, that develops vision-based self-driving car and advanced driver-assistance systems. This article details how the company collects data, uses it to create composite maps, and some of the pitfalls of this industry (mostly the lack of regulatory oversight).
www.consumerreports.org • Share
Zoox's terrible, horrible, no good, very bad week.
Zoox has settled a lawsuit with Tesla after admitting that some new hires from the electric carmaker were in possession of certain Tesla documents when they joined Zoox. Shortly afterwards, Zoox also laid off 100 employees last week, approximately 10% of its work force.
Pony.ai launches autonomous deliveries in California.
Amidst lockdown in Irvine, California, Pony.ai has teamed up with e-commerce site Yamibuy to launch autonomous deliveries. The company only has a fleet of ten vehicles, but says they can deliver between 500-700 packages every day.
Kodiak Robotics lays off 20% of its staff.
Kodiak Robotics, the Mountain View, California-based autonomous trucking company, has laid off about 20% of its staff.
Research and Academia
Air pollution linked with higher COVID-19 death rates.
A study from Harvard examines how air pollution (PM2.5 specifically) is an indicator for how severely impacted a city might be from COVID-19. The main culprit of PM2.5 in cities? Why it's road vehicles of course. If we needed another reason to contemplate how we return with less emissions and air pollution.
"The study found, for example, that someone who lives for decades in a county with high levels of fine particulate pollution is 15% more likely to die from COVID-19 than someone who lives in a region that has just one unit (one microgram per cubic meter) less of such pollution."
Uber claims its AI enables driverless cars to predict traffic movement with high accuracy.
"One of the most critical pieces of the self-driving puzzle is the task of predicting future movement of surrounding traffic actors, which allows the autonomous vehicle to safely and effectively plan its future route in a complex world…
In the current work we focus on the problem of prediction, tasked with capturing and inferring accurate and realistic future behavior and uncertainty of actor movement, in order to ensure more efficient, effective, and safe SDV route planning."
Have a great week ahead friends.
Sarah
By Sarah Barnes
This weekly newsletter on cities, transportation and technology is curated weekly by Sarah Barnes, a transport nerd based in San Francisco, CA.
The newsletter encourages new conversations about advanced transportation technology, primarily autonomous vehicles, which focus on people, equity, design and the cities we want to (and need to) be building for the future.
If you don't want these updates anymore, please unsubscribe here.
If you were forwarded this newsletter and you like it, you can subscribe here.
Powered by Revue
San Francisco, CA