Along for the Ride - Issue #69
Hi friends,
Happy Friday – sending you all well-wishes of health, safety, and optimism. These past two weeks have felt the most agonizing for me so far, so if you're also feeling a bit wobbly, I'm with ya. Feel free to reach out if you want a friendly face to talk to.
Today I'm grateful because so many cities globally are starting to buck up and think about how they can recover and reopen post-covid, with streets designed to move people. That's the silver-lining I'm clinging to these days. Now onto the news!
Enjoying this subscription? Why not forward it to a friend.
Read of the Week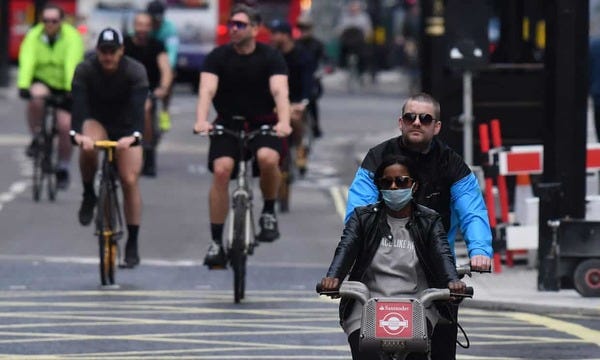 London cycling could increase tenfold after lockdown.
London took it's sweet time thinking about how the Capital's streets can promote sustainable and healthy active travel modes as it re-opens. This comes after the UK's conservative prime minister, Boris Johnson, has said to anticipate a "golden-era of cycling" to emerge as cities across the country gently start to re-open. Music to my ears.
As Londoners consider the potential of lockdown easing next week, London Mayor Sadiq Khan has said that if people were to switch even a small fraction of their journeys to cars, "London risked grinding to a halt, air quality would worsen and road danger would increase".
And thus, London is taking a three-pronged approach to make sure this doesn't happen:
The "rapid construction" of a strategic cycling network, using temporary materials, with new routes, aimed at reducing crowding on public transport.

A "complete transformation" of local town centres so that people can walk and cycle where possible, including widening footways on high streets so that people can safely queue outside shops.

Reducing traffic on residential streets and creating "low-traffic neighbourhoods".
🥳
Policy and Governance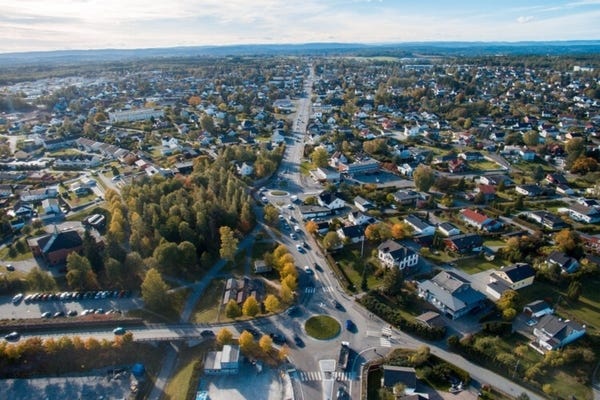 Toyota joins to self-driving mobility trials in Norway.
"A partnership between Ruter, Holo, Toyota Motor Europe, and Sensible 4 paves the way for Toyota vehicles retrofitted with autonomous driving software to be deployed in the next phase of Ruter's self-driving trials.
Ruter, which is the public transportation authority for Oslo, and mobility company Holo, commenced their first trials of self-driving public transport in Oslo last year. The purpose of the self-driving vehicle trials is to explore ways to integrate autonomous vehicles into Ruter's public transport service and provide new mobility services."
www.smartcitiesworld.net • Share
Covid spurs a road repair boom—and threatens a bust.
Even within the small walk / cyclable radius of my flat in London, I've been surprised with the unwavering continuity of construction along local roads. I've witnessed sidewalks become more even, potholes being filled, and the radius of street-corners adjusted.
And it seems this trend appears cities everywhere: empty streets and highways clear the way for speedier construction projects. Sounds fantastic right? What better time could there be! The only down side is that most of these projects are funded through fuel taxes, but with that decreasing with travel, it could mean critical budgets loose necessary revenue to keep up the good work.
Coronavirus cuts transportation funding, puts major road and bridge projects on hold.
On a similar note. In the US, states have started to postpone billions in road and bridge projects because of revenue losses from lower traffic volume caused by coronavirus shutdowns.
With public budgets so intimately tied to automobile usage, whereby more driving generates more money for public services*, how do cities and states continue costly roadworks without accidentally incentivizing more people to drive?
* Without nudges to shift user behaviour away from driving, nor investing said money into sustainable transport, à la Congestion Charging, an important detail.
Coronavirus crisis threatens push for denser housing.
Remember when NY Gov. Cuomo thought COVID-19 hit New York the hardest because of its density, and then cities like Hong Kong, Vancouver and Singapore raised a heavy eye-brow? Well, that thinking could have a long-term impact, threatening the advancement of denser housing.
Transit-oriented developments were seen as a solution to severe housing shortages, but experts say developers need to rethink the design for a post-pandemic world.
Sidewalk Labs abruptly abandons Toronto Quayside.
Welp, Sidewalk Labs' Toronto Quayside project has officially had the plug pulled. Don Doctoroff, Sidewalk's CEO said unpredictabilities stemming from the pandemic meant project was no longer feasible, mentioning that decreased real estate prices played a large part in the decision. The project was touted to be the city of the future, complete with autonomous vehicles, state of the art building technology, and (you guessed it) sensors everywhere. The project was filled with controversy locally, with many in the city against its development fearing gentrification and the creation (and normalization) of surveillance states.
Industry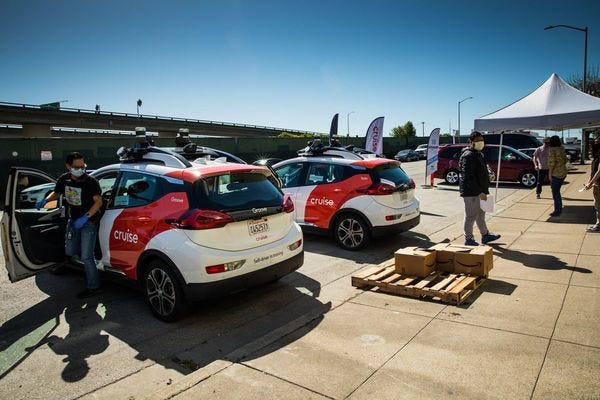 Cruise's cars delivering meals to those in need.
With their fleet of vehicles grounded for the time being, Cruise is finding ways for their greatest asset to get to work during the pandemic. Cruise is working alongside local foodbanks to deliver meals to people in need, reducing the time and costs associated with delivering food.
Intel is buying Moovit in a $900M deal.
Even in the middle of a pandemic, yahoo! Intel has confirmed its intention to expand its automotive division, acquiring Moovit, an Israeli startup previously backed by Intel that analyses urban traffic patterns and provides transportation recommendations with a specific focus on public transit.
The ArgoAI is fast-tracking Ford's self-driving cars.
A quick deep-dive into the team behind ArgoAI and in particular, Bryan Salesky, CEO who has a long-held history with some big names in this space, including Carnegie Mellon's National Robotics Engineering Centre, Waymo, and many more.
Ford shares a year's worth of self-driving car data.
Ford is releasing a comprehensive self-driving dataset to help academics and researchers better understand how this nascent technology. It includes LiDAR and camera sensor data, GPS and trajectory information, as well as 3D point cloud and ground reflectivity maps. The data includes a plug-in with data visualization tools.
Volvo will use LiDAR sensors from a Florida-based startup called Luminar to power its autonomous highway feature, available to consumers by 2022. Volvo's optional Highway Pilot package of technology includes autonomous drive software from Zenuity, cameras, radars, backup systems and Luminar's LiDAR system integrated into the roof.
The company won't say how much the option will cost, but it plans to begin rolling out vehicles with the self-driving system by 2022.
Lastly, if you want to look into some of the major layoffs that's happened over the last two weeks you can follow the links below, but I warn you, it might make you feel a bit low.
If you need a pick-me-up after that, just know that people are now referring to the Lime & JUMP merger as "Lump". If that doesn't give you a bit of a chuckle, I don't know what will.
Research and Academia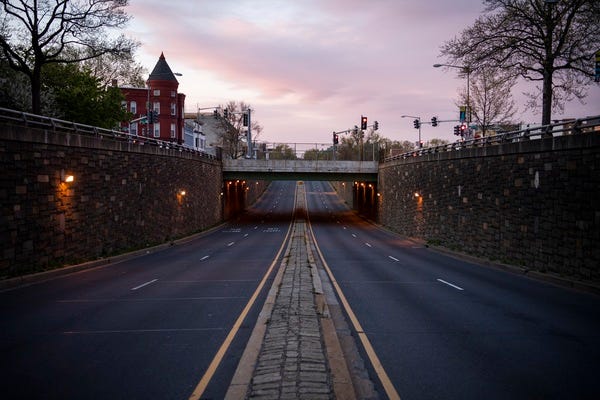 Coronavirus has shown us a world without traffic. Can we sustain it?
"Using driving data from the pandemic alongside key economic data, it's clear that the country can jump-start the economy without so many daily traffic jams. Doing so, however, will require major sacrifices: Employers will need to rethink their telecommuting practices, government officials will need to accelerate adoption of new revenue sources, and entire communities must be willing to redesign their roads for greener and more flexible uses."
Opinion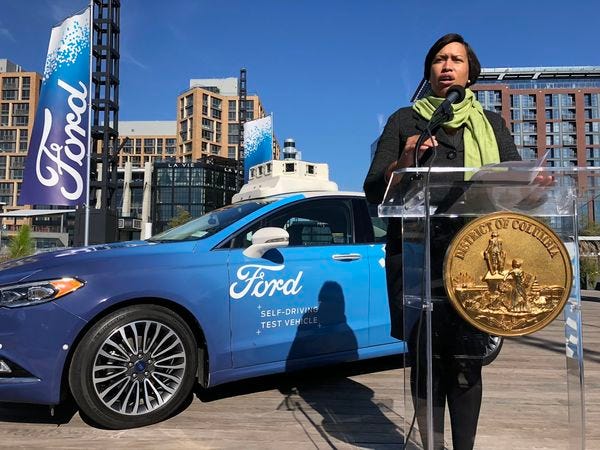 Without regulation, self-driving cars could be a hazard.
"Autonomous vehicles should not be deployed until thoughtful policies prioritizing safety, equity, accessibility and sustainability are set to ensure the potential benefits promised by the autonomous-vehicle industry.
Without sufficient regulation, accountability and a commitment to protecting those inside and outside of a car, unproven autonomous vehicles could compromise safety, risk lives and cause a wave of negative consequences, including increased congestion and emissions and decreased public transit use. Proposals from Congress have largely perpetuated a hands-off approach to federal oversight while exerting a heavy hand to preempt state and local governments' ability to protect road users. The public demands and deserves better."
www.washingtonpost.com • Share
Upcoming Webinars & Classes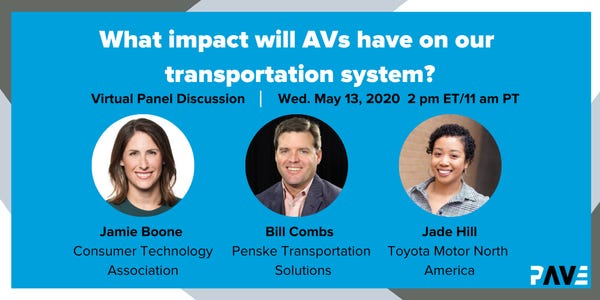 Panel: What impact will AVs have on our transportation system?
Partners for Autonomous Vehicle Education (PAVE) are hosting a webinar on Wednesday May 13th on what impact AVs will have on urban transit systems.
Online Class: Leveraging urban mobility disruptions to create better cities.
Starting this week from MIT!
"Explore a wide variety of topics that relate to recently emerged new mobility systems and learn how new mobility can be leveraged to increase equity, health, and improve accessibility. The course material is designed to have a global impact by taking advantage of an established network of academic partners, each bringing relevant expertise and representing distinct empirical settings."
That's all from me folks.Have a beautiful weekend.
Sarah
By Sarah Barnes
This weekly newsletter on cities, transportation and technology is curated weekly by Sarah Barnes, a transport nerd based in San Francisco, CA.
The newsletter encourages new conversations about advanced transportation technology, primarily autonomous vehicles, which focus on people, equity, design and the cities we want to (and need to) be building for the future.
If you don't want these updates anymore, please unsubscribe here.
If you were forwarded this newsletter and you like it, you can subscribe here.
Powered by Revue
San Francisco, CA