Along for the Ride - Issue #71
Hello friends, welcome to another week. How's everybody faring?
It seems in the media everybody is talking about how autonomous vehicles have either been accelerated during the pandemic, or have slowed down to the point where their future is entirely uncertain. Only time will tell what the long-term implications of COVID-19 will be on industry, but I'm inclined to think where there's a will there's a way and we're still a ways off before anybody puts the nail in the coffin on AVs.
Onto the news!
Enjoying this subscription? Why not forward it to a friend.
Read of the Week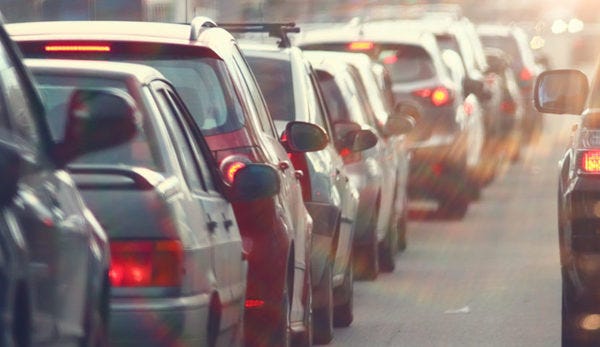 Congestion pricing in the United States.
There are a small handful of US cities that are considering how congestion pricing can help their roads become less congested while also funding much needed improvements for alternative modes of travel such as public transit, cycling and walking. The Eno Centre for Transportation has just released a report on how cities can design effective policy to accelerate the implementation of congestion charging. It focuses on three stages of policy development from the idea phase, to the planning and proposal stages.
Government and Policy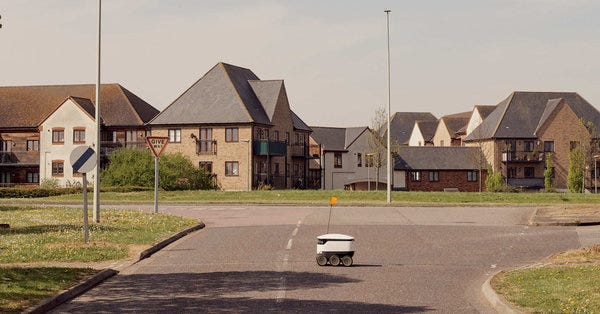 A city locks down to fight Coronavirus, but robots come and go.
Those outside the UK might be unfamiliar with Milton Keynes, but the small suburban city just North of London is known for its car-centric design which in turn has led to it also being a prominent hub for vehicular innovation. It is also home to the sweetest little delivery robots from Starship. This piece in the NYT focuses mostly on the delivery and autonomy space, but is still worth a read to grasp how the pandemic has made innovations such as these much more common or how companies have pivoted to new projects.
"Nuro, a start-up in Silicon Valley, has long promised larger robots that can drive on public roads. But it has not yet deployed these robots, and like most self-driving car companies, Nuro has been forced to curtail its testing. Rather than making deliveries, its robots are shuttling supplies across an old basketball stadium in Sacramento that has been converted into a temporary hospital."
Seoul to deploy self-driving cars and delivery robots.
The Seoul City government will put seven self-driving vehicles and three unmanned delivery robots on city streets as part of its smart mobility project. The vehicles will be used for contactless car-sharing service, automatic parking and item delivery service to places where cars cannot reach.
Fewer traffic collisions during lockdown.
A new report published by Kaiser Health is showing that few traffic collisions in lockdown has lead to a decrease in organ donation across the US. Prior to COVID-19 collision-related deaths were typically the largest source of donor organs nationwide. It is perplexing to consider that part of our healthcare system relies on the senseless and everyday deaths of Americans at the hands of traffic… to save people's lives. As autonomous vehicles also promise to reduce collisions, how will this impact organ donation and hospitals who rely on relatively steady stream of new donors everyday?
Don't get me wrong, it is a very good thing traffic collisions have reduced, this is merely an angle I hadn't considered being impacted by safer traffic management.
China's self-driving car projects accelerate during coronavirus.
While companies such as Waymo are halting their AV pilots during the pandemic, over 30 companies are deploying autonomous delivery solutions in China. This piece by the Financial Times takes a deep dive into one of these companies: AutoX.
"AutoX will be the first service in China allowed to drive up to the speed limit of 80km an hour, as well as being able to pick up and drop off passengers anywhere in the trial area of Jiading district, rather than at select stations.. In the long run, China's lack of a pervasive car-ownership culture, government support for self-driving cars and the sheer scale of the market could help it take the lead over the US."
Americans still don't trust self-driving cars.
A new poll released by PAVE (Partners for Automated Vehicle Education), has found that 3 in 4 Americans say autonomous vehicle technology "is not ready". Other insights include:
About 48 percent said they would never get in a taxi or ride-sharing vehicle that was self-driving.

Another 20 percent think autonomous vehicles will never be safe.

Only 34 percent think the advantages of AVs will outweigh the disadvantages.

Only 18 percent are eager to get on a waitlist for the first AV.
Action on driverless cars hits speed bump.
Progress on federal legislation to regulate self-driving cars has slowed as Congress shifts its focus during the pandemic.
"… with only eight months left in the current Congress, lawmakers are running out of time to get a bill passed and signed into law. The lack of action on legislation this year would be particularly disheartening for advocates following the failure of the House and Senate to agree on autonomous vehicle legislation at the end of 2018 after two years of work."
Industry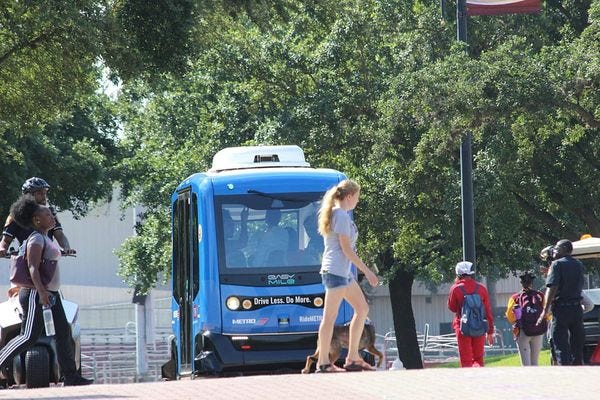 EasyMile shuttles add seatbelts.
After shutting operations due to their shuttles' sudden-stop problem, EasyMile has decided to introduce seatbelts to their fleets. A few months back a woman received minor injuries when the shuttle suddenly stopped, fleeing her from her seat. The closed down all of their operations, which included 16 projects in the US and more overseas.
Tesla raises cost of 'self-driving' cars.
Tesla has announced it is increasing the price per vehicle of its Full Self-Driving (FSD) feature. FSD is an extension to Tesla's autopilot package, although it isn't fully autonomous (!). FSD features include automatic lane changes, parallel parking and a summon feature, which automatically parks and retrieves the car. FSD also includes automatic traffic light and stop sign control.
The self-driving add-on will cost $8,000 (previously $7,000) when the price rise kicks in on 1 July. Elon Musk has also commented that this price is only set to rise over time as the technology improves.
Research and Academia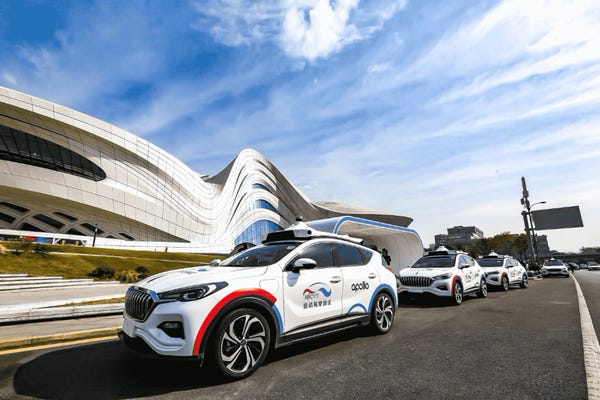 How coronavirus is accelerating a future with autonomous vehicles.
"Autonomous driving has also proved to be essential in the fight against the pandemic, easing the burden of covid-19 by transporting necessary medical supplies and food to health-care professionals and the public in infected areas and disinfecting hospitals and public surfaces to reduce the spread of coronavirus."
www.technologyreview.com • Share
Opinion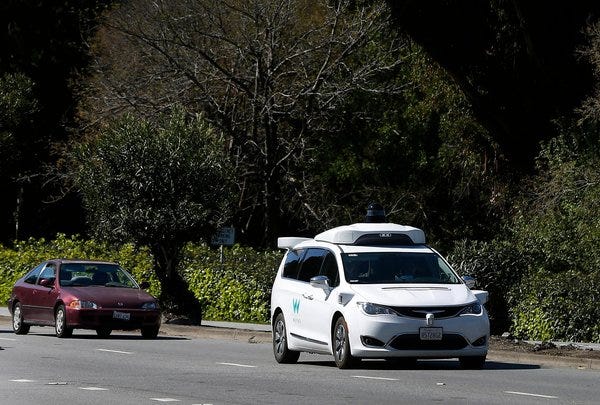 Self-driving cars aren't in control of their own future.
"I think this will freeze the self-driving race where it is, with Waymo and Cruise well in the lead, and others scrambling to catch up. Uber is closing the Pier 70 headquarters for its self-driving division, which was preparing to bring its autonomous vehicles back to local roads after getting a new permit for road testing in California. Lyft had only recently started road testing, though it is still hiring for its self-driving lab in Palo Alto.
The other big question hanging over self-driving cars: Will commuting ever return to what it was? With big Bay Area employers slow to bring workers back to the office, there simply may not be the demand that spurred self-driving inventors' ambitions. Technology has met its match: The coronavirus is at the wheel now."
That's all from me folks. Have a great weekend.
Sarah
By Sarah Barnes
This weekly newsletter on cities, transportation and technology is curated weekly by Sarah Barnes, a transport nerd based in San Francisco, CA.
The newsletter encourages new conversations about advanced transportation technology, primarily autonomous vehicles, which focus on people, equity, design and the cities we want to (and need to) be building for the future.
If you don't want these updates anymore, please unsubscribe here.
If you were forwarded this newsletter and you like it, you can subscribe here.
Powered by Revue
San Francisco, CA