Along for the Ride - Issue #75
Heya friends! Happy Friday.
Many of us are probably celebrating (or more aware) of Juneteenth this year. But it's alsoPride month 🏳️‍🌈. As we reconcile how our urban planning has been historically racist, we must also consider how traditional planning has failed queer folks as well. So today, I leave you with a short list of where we can all start:
If you're reading this and thinking "uhh, I signed up for a technology and transportation newsletter, and we are way out in left field right now", please do not dismiss these links. We can't build better transport networks, technology, or cities without considering how we've left people behind in the process 💛. Onwards and upwards, friends!
Government and Policy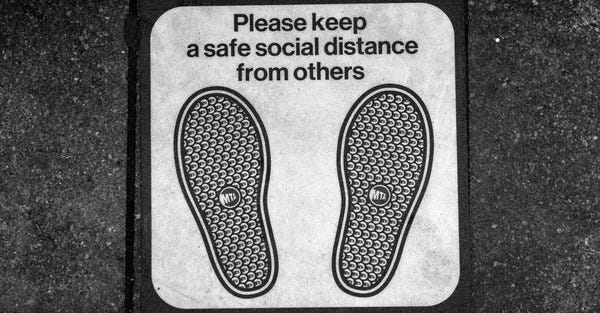 How Covid-19 is reshaping urban life.
"The truth is that we don't yet know how the coronavirus will reshape our cities—at least not in the long term … the most profound changes are likely to appear not in the physical makeup of cities, but rather in how people choose to live in them. A more remote workforce, for example, could mean reduced congestion on public transport, and could even prompt more people to move out of cities altogether."
Fear of public transit got ahead of the evidence.
A phenomenal read from Bloomberg's Janette Sadik-Khan and Seth Solomonow.
"The headline of the report read like the title of a 1950s horror film: "The Subways Seeded the Massive Coronavirus Epidemic in New York City." As America's densest city became the epicenter of a national pandemic in March, New York's subway system, which carried 5.5 million people on an average workday in 2019, emerged as the villain from central casting. Landing in mid-April, the report, written by an MIT economics professor, concluded that New York's subway system was "a major disseminator—if not the principal transmission vehicle" in the city's COVID-19 outbreak.
Underlying that rule is an assumption of danger that, so far, research has not borne out. A recent study in Paris found that none of 150 identified coronavirus infection clusters from early May to early June originated on the city's transit systems. A similar study in Austria found that not one of 355 case clusters in April and May was traceable to riding transit."
NHTSA to launch open data platform for AV testing.
NHSTA has launched the AV Test Initiative which will report where testing is taking place across the US. Participation is voluntary, but so far nine companies and eight States have signed on board.
One critique on the programme reflects the voluntary nature of data collection. Advocates for Highway and Auto Safety President Cathy Chase said: "Instead of the U.S. DOT continuing to issue voluntary, unenforceable agreements to the peril of all road users, it should fulfill its responsibility [to] make our roads safe and develop minimum performance standards. These baselines will protect the billions of dollars AV developers have invested, help foster public confidence and inspire innovation to exceed them."
It's time to fix America's sidewalks.
Anybody who's followed this blog for a while knows the most mundane transportation interventions are my favourite. Low tech, big results. And people who know me really well, know my favourite example of this is the radius of street corners. Well, this week in Citylab they discuss another: the condition of sidewalks and who has to pay for them.
"Sidewalks funnel people to and from bus stops, bikeshare docks, and parked scooters, favored modes among local leaders trying to reduce auto usage. Crumbling or nonexistent walkways tilt travel decisions toward driving and force remaining pedestrians into the roadway, leaving them vulnerable to automobiles. The burden of bad sidewalks falls especially heavily on certain groups — older people, wheelchair users, parents with strollers."
Tencent to build "City of the Future" in Shenzhen.
Do we think this will go the way of Google's Sidewalk Toronto project? 🤷‍♀️😅
One thing I found interesting was that Tencent is advertising this project as being "car free", but maintains that the 2-million-square-meter (22-million-square-foot) urban development will "prioritize pedestrians, green spaces and self-driving vehicles". The designers say they tried to minimize the impact of the car as much as possible. And only time will tell how earnest that vision truly is.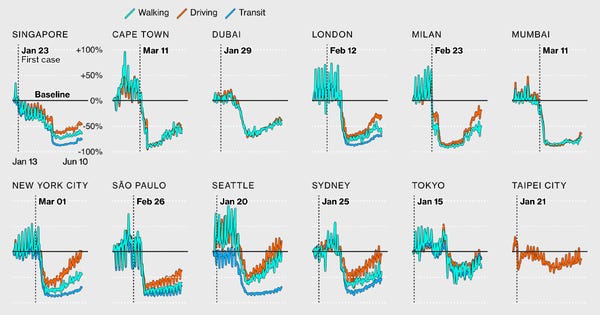 Global data reveals inequality of pandemic travel.
Another interesting piece this week on how travel behaviours have changed during the pandemic. So many interesting graphs and maps in this article (if that's your thing!).
"Yet the data that are available show that sweeping prognostications about the future of transportation require scrutiny. There is not one way that society's movements will shift in the wake of this pandemic. Similar to the health and economic impacts of the virus itself, the health and safety of the world's streets, skies and subways will vary depending on who is traveling through them, and on the policies and priorities that leaders establish now as protections."
Industry
Lyft cuts carbon offsets, promises electric vehicles by 2030.
Lyft has announced that by 2030, they will only offer rides in electric vehicles. At the same time, they also canceled a program to help fight climate change by offsetting carbon emissions associated with trips taken via ride-hailing.
The change in tune brings up a timely reminder: electric vehicles are only as sustainable as their energy source. If the electric vehicles get their electricity via coal or other fossil fuel based plants, then their contribution to fight climate change is negligible. Carbon offsetting has its flaws (see here) but they can be truly impactful when implemented with intention and integrated with a wider plan to lower carbon output from the offset.
Machine Learning for AV Perception at Cruise.
Cruise's Sean Harris gives on talk focusing on how vehicles estimate what other road users (namely drivers, pedestrians, cyclists) are going to do next. This problem is critical for ensuring AVs drive safely, but it isn't a challenge that's common in many other robotics or ML domains.
Podcast: The human experience of self driving cars.
Ryan Powell, Head of User Experience for Waymo, discusses what it's like to design the experience of something that feels like science fiction.
Research and Academia
Anthony Townsend's new book Ghost Road: Beyond the Driverless Car was released this week. Townsend holds a Ph.D. in urban and regional planning from MIT.
"When self-driving technology infects buses, bikes, delivery vans, and even buildings, a wild, woollier, future awaits. Autonomous vehicles will turbocharge our appetite for the instant delivery of goods, making the future as much about moving stuff as it is about moving people. For-profit companies will link the automated machines that move us to the cloud, raising concerns about mobility monopolies and the privatization of "the curb." Ghost Road explains where we might be headed together in driverless vehicles, and the choices we must make as societies and individuals to shape that future."
Carnegie Mellon on free space detection.
Researchers at Carnegie Mellon University have released new research showing that they can significantly improve the accuracy of autonomous vehicles' detection of objects such as other cars or pedestrians by helping the vehicle also recognize what it doesn't see.
www.greencarcongress.com • Share
Racial discrimination in 'dynamic pricing' algorithms.
"Our findings imply that using dynamic pricing can lead to biases based on the demographics of neighborhoods where ride-hailing is most popular," Caliskan and Pandey said. "If neighborhoods with more young people use ride-hailing applications more, getting picked up or dropped off in those neighborhoods will cost more, as in our findings for the city of Chicago."
That's all from me. Have a beautiful weekend friends.
Sarah
By Sarah Barnes
This weekly newsletter on cities, transportation and technology is curated weekly by Sarah Barnes, a transport nerd based in San Francisco, CA.
The newsletter encourages new conversations about advanced transportation technology, primarily autonomous vehicles, which focus on people, equity, design and the cities we want to (and need to) be building for the future.
If you don't want these updates anymore, please unsubscribe here.
If you were forwarded this newsletter and you like it, you can subscribe here.
Powered by Revue
San Francisco, CA