Along for the Ride - Issue #76
Heya friends!
Welcome to the last week of June 😳. This week, we maintain an emphasis on racial injustice within transportation, but the pieces are being integrated into over-arching sections.
I'm still working to add more Black voices to this newsletter, so as always, any insights or ideas you may have are more than welcome!
Reads of the Week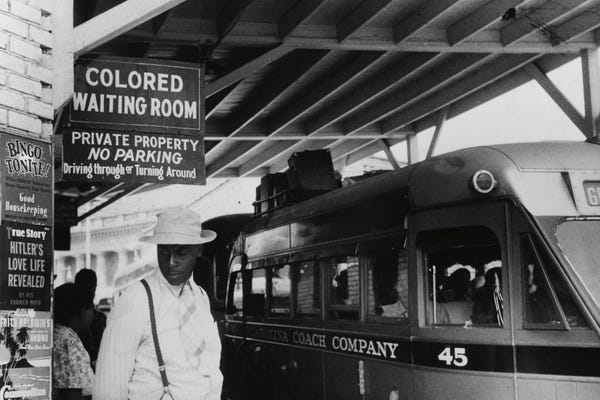 How planes, trains and automobiles worsened America's racial divide.
This piece discusses the history of racial injustice within the transportation industry in America, ahead of a transportation funding bill set for a vote in the House next week. Stephanie Gidigi argues that in order to enable future funding bills to right past wrongs, we must first understand the full scope of how past bills failed Black communities. There are too many insightful quotes from this article to share in this little snippet, so please read the full piece if you have a moment!
"At first glance, transportation might seem like a side issue, but it has been central to the inequality debate in America for generations.
We often gloss over it today, but much of the civil rights struggle centered on access to public transportation. The unfortunate Plessy v. Ferguson Supreme Court decision of "separate but equal" came about because Homer Plessy was ejected from a "whites only" train car and then fought for his rights in court. Rosa Parks' protest sparked the Montgomery bus boycott after she refused to give her seat to a white passenger after a long day of work. Her resolve united leaders to demand systemic changes including that buses stop at each street corner in Black neighborhoods just as they did in white ones. Black residents organized carpools, an early example of ride-share, and made the long treks across segregated neighborhoods to avoid using the city buses, as their yearlong campaign sought broader civil rights such as fair access to jobs and opportunity. Later, the Freedom Riders withstood rogue violence of stunning ferocity to get the Southern states to uphold the law and integrate interstate bus travel."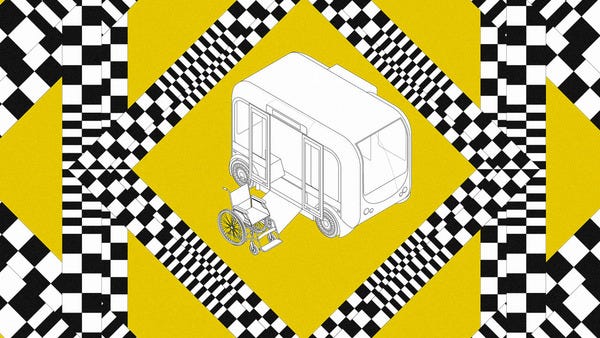 Self-driving taxis should be designed with accessibility at the forefront.
"Autonomous vehicles, like self-driving taxis, continue to garner media attention as industry and political stakeholders claim that they will improve safety and access to transportation for everyone. But for people who have different mobility needs and rely on human drivers for work beyond the task of driving, the prospect of driverless taxis may not sound like progress. Unless accommodations are built in to autonomous vehicle designs, companies risk undermining transportation access for the very communities this technology is promising to include."
Government and Policy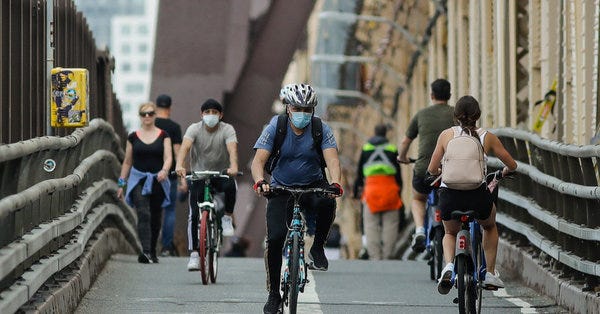 Could NYC get a car-free bridge?
Sounds like cyclist paradise to me. London has a few car-free bridges and few things sooth the soul like cycling over the Thames without a double-decker breathing down your neck (particular shout out to Hammersmith Bridge for being an engineering fluke, while remaining a pillar of people-first urbanism).
New York's proposed car-free bridge would connect Midtown Manhattan to Long Island City in Queens. Called the Queens Ribbon, the $100 million bridge would be narrower than one designed for cars and would resemble a relatively thin line across the East River. Improved cycling infrastructure is needed in the city, as twenty-eight cyclists were killed in NYC in 2019, the highest number in two decades.
DC Metro pledges to address systemic racism.
The Washington DC Metro Board said this week that they will return next month with a plan to address systemic racism in the transit system, including allegations of racially biased and unequal enforcement by transit police.
Anecdotally, I have heard from friends in DC about how local police target specific commuter journeys which lead to disproportionately result in traffic violations and arrests in the Black community. This anecdotal evidence is supported by studies which show that 70% of police stops in DC involve black people, while the Black community make up less than 50% of the city's population.
www.washingtonpost.com • Share
The political economy of autonomous vehicles.
Selika Josiah Talbott, Public Policy Professor at the American University, discusses the political ramifications of autonomous vehicles, particularly from a budgetary perspective. CityLab has a great piece out this week on understanding your city budget, which complements this discussion quite nicely.
"Will there be less and less individuals applying for driver's licenses? If so, that will result in fewer dollars in State general funds. The Texas Department of Motor Vehicle collects $4.5 Billion in registration, fees and sales most of which are used by their highway trust fund to build bridges and maintain highways and roadways. It is possible that the wide-spread use of autonomous vehicles will have an impact on the amount of dollars available to replenish their highway trust fund."
Nevada adopts California's zero emission vehicle standards.
Always encouraging to see State after State, support more stringent vehicle emission standards, and this week Neveda joins the party. Nevada is also home to Tesla massive EV battery plant, and thus likely has some extra motivation when it comes to promoting increased vehicle fuel efficiency.
Connecticut DOT to deploy autonomous heavy-duty buses.
CTDOT is partnering with Robotic Research, to bring three 40-foot long, automated, electric New Flyer Xcelsior Charge heavy-duty transit buses to the CTfastrak corridor. The corridor is a dedicated nine-mile stretch for exclusive use by CTtransit buses. The operations will be a zero-emission deployment occurring between New Britain, Connecticut, and downtown Hartford.
www.traffictechnologytoday.com • Share
Industry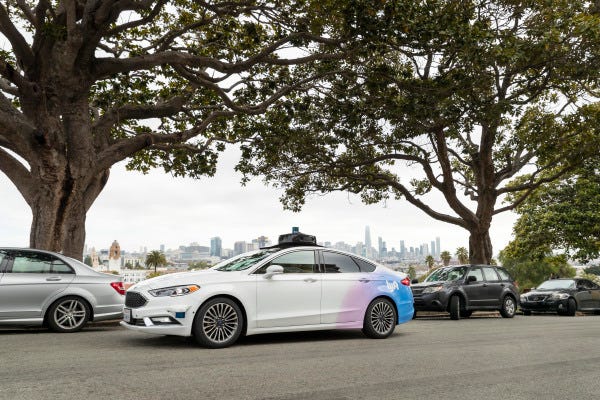 Lyft is using data from its rideshare drivers to develop self-driving cars.
Lyft's Level 5 self-driving car program is using the data to build 3D maps, understand human driving patterns and improve simulation tests. The program is taking data from select vehicles in its Express Drive program, which provides rental cars and SUVs to drivers on its platform as an alternative to options like long-term leasing.
Lyft releases new self-driving data set and launches $30,000 challenge.
Also from Lyft this week is their new Prediction Data Set. It's a fun link, full of snazzy visuals! The dataset consists of 170,000 scenes capturing the environment around the autonomous vehicle. Each scene encodes the state of the vehicle's surroundings at a given point in time. If you know python, you can go right ahead and play to your heart's content.
Alongside this, the company has released plans for a new challenge that will task entrants with predicting the motion of traffic agents.
AImotive raises $20 million for driver-assistance software.
AImotive, a Budapest-based autonomous vehicle startup, has raised a $20 million round to further develop its software for self-driving cars and advanced driver assistance. This brings the company's total investment to $70 million. The company mostly develops tools that help simulate trips taken by AVs.
Waymo and Volvo are making a baby! They have agreed to develop a self-driving, electric vehicle designed for ride hailing trips. From the sounds of it, Waymo will hold an exclusive contract with Volvo who will lead the design of a new vehicle.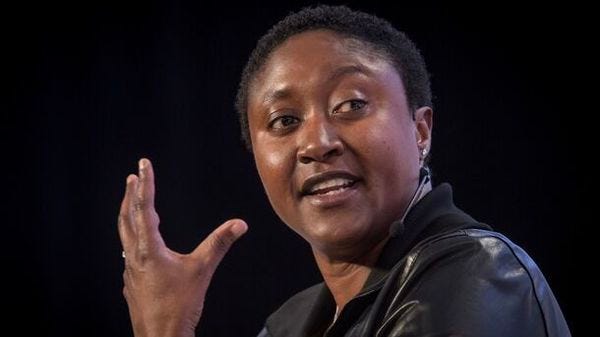 Amazon to pay more than $1 Billion to acquire Zoox.
That's a lotta zeros. Amazon has agreed to pay more than $1 billion to buy Zoox, an early developer of autonomous vehicles. The deal would give Amazon control of a nearly 1,000-person startup that has designed a prototype vehicle to transport passengers in urban areas. Zoox's CEO, Aicha Evans, is likely celebrating a massive win today!
www.theinformation.com • Share
Research and Academia
Travel behaviour changes among users of partially automated vehicles.
This study conducts qualitative interviews with 36 users of Tesla vehicles with Autopilot, to understand how Autopilot is used and whether the system has any impact on drivers' travel behaviour. Results from the interviews showed that partial automation leads to consumers travelling by car more and being more willing to drive in congested traffic. These changes are due to increased comfort, reduced stress, and increased relaxation due to the partial automation system, and because of the lower running costs of an electric vehicle.
The dynamics of modal shifts in suburban commuting.
New research from the Swiss Federal Institute of Technology seeks to better understand how new transport modes become integrated into existing mobility practices. Using a qualitative study of modal shifts in (sub)urban commuting in three major Swiss cities, they found that modal shifts can arise:
From dynamics related to the conditions of use of different transport modes;

The coordination of everyday mobility with other people;

The coordination of resources between different daily practices, and

From dynamics related to the intrinsic motivation of everyday mobility.
The researchers identified three patterns in how modal shifts play out, and which describe different ways in which the new transport mode becomes integrated into everyday mobility practices.
Opinion
What role should police play in traffic safety?
Also relevant: LA Metro are exploring ways to replace armed police on public transit.
"What does transportation safety mean? It's often focused around reducing severe injuries, crashes and fatalities. [But] we also don't talk about the reality of police violence that led to killings of so many black community members. I was alarmed that a pillar of Vision Zero was increased police enforcement of traffic violations, in the same year that multiracial groups were filling streets across the United States to call attention to the deadly effects of racial profiling in policing," says Ash Narayanan, the executive director of Our Streets Minneapolis, the city's largest transportation advocacy group.
Streetsblog interviews Tiffianie Stanfield, Founder of the nonprofit Fighting Hit and Run Driving (H.A.R.D.). They discuss Tiffianie's work, how it intersects with the broader national conversation about creating safe streets for Black pedestrians, and why street-safety advocates must centre the unique needs of Black victims and survivors of hit-and-run driving in their work.
Why education is pivotal for launching self-driving cars.
This piece is written by Seth Sabar, a High School Senior from Washington DC who undertook a mentorship program at Ford this past year. It's very sweet.
"In order to make self-driving vehicles a success, we have to educate people on what they are capable of and how well they are being designed. I had the opportunity to argue in favor of this technology to my fellow classmates and therefore believe continuous education is key to earning consumer trust — this could include town halls in the community and even classes where students can learn about how technology is becoming intertwined with their lives. Most importantly, communities need to be reassured that jobs will be created, not taken away."
That's all from me folks. Have a beautiful weekend.
Sarah
By Sarah Barnes
This weekly newsletter on cities, transportation and technology is curated weekly by Sarah Barnes, a transport nerd based in San Francisco, CA.
The newsletter encourages new conversations about advanced transportation technology, primarily autonomous vehicles, which focus on people, equity, design and the cities we want to (and need to) be building for the future.
If you don't want these updates anymore, please unsubscribe here.
If you were forwarded this newsletter and you like it, you can subscribe here.
Powered by Revue
San Francisco, CA