Along for the Ride - Issue #77
Heya friends! Happy Friday.
No long preamble this week, but I do have some exciting news coming next week! So stay tuned for that, and let's get right to it.
Government and Policy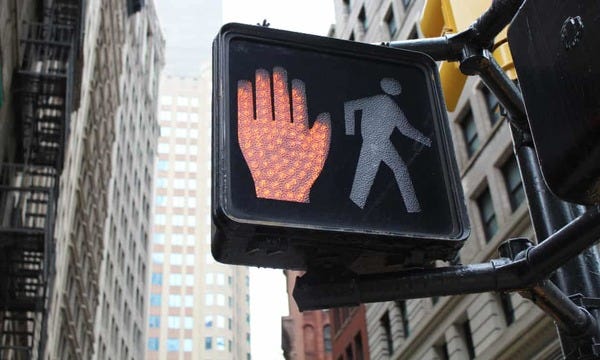 On Jaywalking: How an automotive intervention in planning is racist.
The Guardian has a great piece out this week about the history of Jaywalking (a social construct which was created by Automobile companies in the early 20th century to stigmatise people who couldn't afford cars). If you're unfamiliar with the terms origins, I would highly recommend reading up on it and it's inherently racist undertones.
Reclaiming the built environment.
From Harvard's Political Review.
"We relegate vast swaths of our public space to cars not by virtue of the free market but rather by that of local policies and zoning codes. Burdensome minimum parking requirements and other zoning ordinances have overloaded land-strapped cities with enormous quantities of half-empty parking lots. Zoning codes almost always mandate a certain ratio of parking to be developed alongside each new building. In many areas, the mandated level of parking creates an oversupply that leaves expensive land essentially unused while also pushing buildings farther apart, reducing walkability, and encouraging more car usage."
How NYC's "Fair Fares" cut hits low-income people the hardest.
NYC Mayor, Bill de Blasio, confirmed this week that he cut $65 million (😒) from the Fair Fares program. The program is usually allocated $200 million, so this cut represents over 30 percent of the entire budget (😒😒) . Almost 200,000 New Yorkers use the program, while another half-million meeting the eligibility.
Although, it's still unclear whether the cut is based on the expectation that far fewer riders will be using transit for the foreseeable future. There seems to be a lack of consensus amongst council members on why this cut has transpired.
A global perspective on anti-racist urban planning.
Planetizen has a feature this week on how cities can develop anti-racist approaches to urban planning, by looking beyond traditional tropes of "good urbanism". Chock full of useful resources, the piece points you towards even more books, articles, and leaders within the space.
I took a deep-dive earlier this week into one of the featured resources "Unmaking Architecture: An Anti-Racist Architecture Manifesto" by the Wai Architecture Think Tank. 20/10 would recommend to a friend.
Norway may achieve major emission reduction goals this year.
In the event that you needed a reminder that this work is important and impactful, this year Norway is on track to record their lowest greenhouse gas emission levels in 27 years.
This year Norway might meet its carbon emissions goal established in 2012 (! only eight years ago !). How'd they do that so quickly you ask? A little thing called public investment in infrastructure. Subsidies for EVs, paired with expansions to cycle networks and public transport seem to be the key to unlocking these results.
France bans bike commercial for creating climate anxiety.
I'm sure you can all imagine the massive eye roll I am serving right now. Vehicle commercials often show a car travelling along picturesque highways, or in urban centres devoid of all other traffic. Meanwhile, a bike commercial depicts a more accurate view of the transportation experience, and gets … banned?
VanMoof, a well known Dutch bike manufacturer, has had their commercial banned in France for creating "climate anxiety". Meanwhile, the cars actually contributing to climate change? Ya, no problem, keep their commercials on air and wheels turning on our streets.
Industry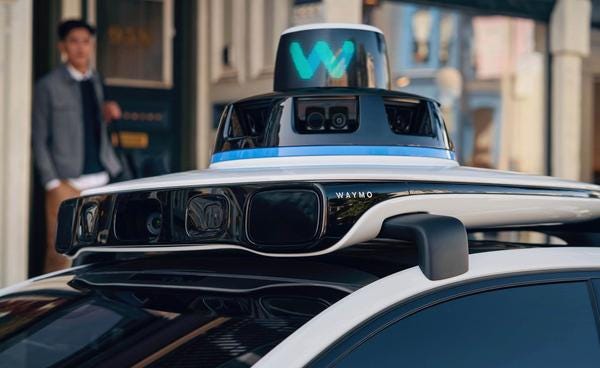 How Waymo's autonomous cars are driven by design.
A deep dive into Waymo's design side, with an interview from YooJung Ahn, the company's Head of Design for the last eight years.
"When we started in 2013 people had no idea [about autonomous cars]. We made our first car look friendly, not intimidating. It wasn't meant to be a scary robot car… The service and branding is almost more important that the car itself."
The hot topic in the industry has been Amazon's acquisition of Zoox. More details have emerged about the acquisition, and the NYT reports on Amazon's ambitions to leverage the technology to move not only packages, but also people.
Didi Chuxing has launched their AVs as part of ride-hailing service in a suburb of Shanghai. Didi installed V2X (Vehicle to Everything) hardware throughout the area in advance of the service launching. The service is currently free to customers, and all vehicles have safety drivers.
Lyft's AVs are back on the road in California.
Lyft's has restarted testing on public roads in California, after pausing operations due to Covid. The vehicles are currently operating in Palo Alto on its closed test track. Each vehicle is equipped with partitions to separate the two safety operators inside, and the operators must wear face shields and submit to temperature checks. Duos of operators are paired together for two weeks at a time.
Tesla's Autopilot price increase comes into effect.
Tesla announced earlier this year that they will be increasing the cost of their driver assistance package, and this week it came into effect. On July 1st, Tesla's Autopilot with Full Self-Driving increased to $8,000 from $7,000. Nobody said building AVs was going to be easy or cheap or timely.
On the emergence of self-driving trucks in the US.
"While TuSimple, Waymo, and others are making progress, it will be years before the majority of America's long-haul shipping is carried out by autonomous trucks. Engineers and regulators are still studying how self-driving trucks — and self-driving cars — actually work on the road. But the hope is that the technology will make trucking cheaper, safer, faster, and more fuel-efficient."
Podcasts
All Things Autonomy with John McNelis from Fenwick.
On this week's Inside Transportation podcast, their guest is have John McNeils. John is a leading advisor, writer and speaker in the field of autonomous vehicle technology, he chairs the California Technology Council's Autonomous Transportation Initiative and serves as the industry lead for Fenwick's autonomous transportation and shared mobility practice.
That's all from me. Have a beautiful weekend friends.
Sarah
By Sarah Barnes
This weekly newsletter on cities, transportation and technology is curated weekly by Sarah Barnes, a transport nerd based in San Francisco, CA.
The newsletter encourages new conversations about advanced transportation technology, primarily autonomous vehicles, which focus on people, equity, design and the cities we want to (and need to) be building for the future.
If you don't want these updates anymore, please unsubscribe here.
If you were forwarded this newsletter and you like it, you can subscribe here.
Powered by Revue
San Francisco, CA