Along for the Ride - Issue #78
Heya friends! Happy Friday.
Some exciting personal news: this week was my last week at Beryl. I've spent a spectacular two years with Beryl and four years in London, falling in love with double decker buses, the underground, and all that public transports can and should be. Later this summer I'll be hopping back across the pond and landing in sunny San Francisco. If you're in London, let's grab a socially-distanced coffee and if you're in the Bay Area let's meet up come August!
I'll be taking two weeks off from newsletter writing, so you'll hear from me later in July! Now onto the news 🤓.
Read of the Week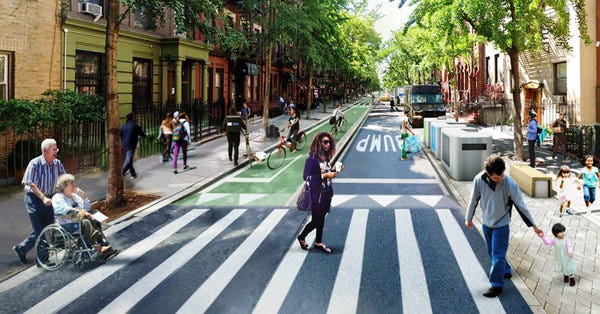 If you've not read this yet, some great visuals which make this piece a literal joy to read. But also of note: this piece lacks the perspective of people with disabilities, women, the Black community and many others. For the vast majority car ownership is a luxury, but for some car usage is a necessity. How can we design cities to be inclusive of all bodies, while minimizing the horrendous legacy cars construct on our streets? Food for thought friends.
"You already know what's terrible about cars: They're dirty. They're dangerous. They're expensive to buy and maintain, and environmentally hazardous to produce and operate. Automobiles kill around 90,000 Americans every year — about 40,000 in car accidents, and an estimated 50,000 more from long-term exposure to air pollution emitted by cars.
What's that you say? There aren't enough buses in your city to avoid overcrowding, and they're too slow, anyway? Pedestrian space is already hard to find? Well, right. That's car dependency. And it's exactly why cities need to plan for a future of fewer cars, a future in which owning an automobile, even an electric one, is neither the only way nor the best way to get around town."
Government and Policy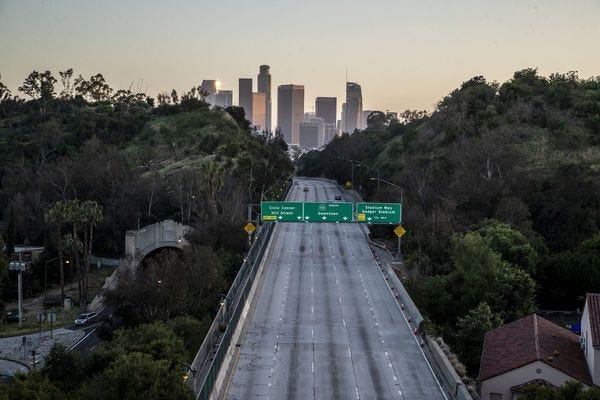 The case for congestion pricing in Los Angeles.
Los Angeles will pilot a toll program for freeway drivers at peak hours in 2021… can I get a woop-woop? 🥳 If any city in America had the most to benefit from congestion charging, Los Angeles is without a doubt within the top five.
"As part of its preparations for the 2028 Olympics, the Los Angeles County Metropolitan Transportation Authority, which operates bus and rail transit and provides funding and planning for freeway projects, is studying congestion pricing to manage travel demand in its ExpressLanes—one or two high-occupancy-vehicle (HOV) lanes adjacent to four or five free lanes in each direction."
How race shapes America's roadways and cities.
"When the urban planner Robert Moses began building projects in New York during the 1920s, he bulldozed Black and Latino homes to make way for parks, and built highways through the middle of minority neighborhoods. According to one biography, Moses even made sure bridges on the parkways connecting New York City to beaches in Long Island were low enough to keep city buses — which would likely be carrying poor minorities — from passing underneath."
If you're unfamiliar with Robert Moses (and perhaps more importantly his community-champion rival Jane Jacobs), then this piece gives a nice overview of their history in NYC.
How to prioritize equity in mobility planning.
The Urban Institute out of DC has published a short and sweet article on how cities can prioritize equity when planning for new mobility. In bullet points:
Transportation officials should use flexible permitting and proposal processes to embed equity considerations into new technologies

Cities and companies need to engage with residents during each step

Planning organizations should craft transportation plans with equity as a goal
On why we need to stop building more roads.
A look at the past ten years, and how the US has invested heavily in the expansion of roadways leading to the detriment of other services and the worsening of traffic.
"Most developed countries already have effective road systems; they can be maintained, but the economic benefits of expansion are marginal and the downsides significant. Road construction is environmentally destructive, and it promotes urban sprawl, congestion, air pollution and inequality."
NSW government awards grant to develop flying cars.
The New South Wales government has awarded almost $1m from a regional grants fund to start-up AMSL Aero, to develop an electric flying car.
The company builds electric aircrafts that take off and land like a helicopter but travels with the efficiency and speed of a plane. The project has been granted $950,000 to establish a testing facility and conduct flight tests in the NSW central west region of Narromine.
Industry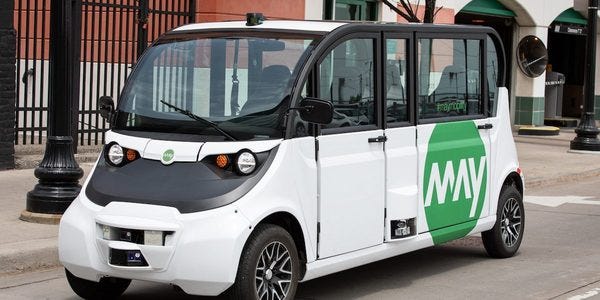 I won't lie, May Mobility has been one of my favourite companies to watch in this space. A super cool female COO? Check. A commitment to shared and electric vehicles? Check. Strong, paying partnerships with local governments? Check. Reading how the company has started to crumble has been difficult.
"By all appearances, May Mobility was a scrappy success story. The autonomous transportation startup made its debut at Y Combinator's demo day in 2017, with a team that had been working on driverless tech since the third U.S. Defense Advanced Research Projects Agency (DARPA) Grand Challenge in 2017. Within the span of a few years, May had a roster of paying customers in Michigan, Ohio, and Rhode Island as it raised tens of millions in venture capital from investors including Toyota and BMW.
But on the inside looking out, it was a different story… The leadership's ambition often outstretched May's ability to deliver, which upset vendors, some of whom went unpaid for stretches. And not a single one of the company's commercial routes approached full autonomy."
Self-driving technology is a game of partnerships.
Making an autonomous vehicle is proving harder and costlier than many startups predicted. This realization has led to an array of partnerships between established automakers and self-driving startups.
"Think Aptiv and Hyundai; Waymo and Jaguar; General Motors and Cruise; Argo AI and Ford and Volkswagen. The Covid-19 pandemic has only heightened the need for partners, as venture capitalists tighten the purse strings on big bets like self-driving."
Musk predicts Tesla to hit Level 5 this year.
"I remain confident that we will have the basic functionality for level five autonomy complete this year… I think there are no fundamental challenges remaining for level five autonomy." Elon Musk, everybody. Musk spoke at a Chinese AI conference this week when he made these claims.
Now who wants to hedge our bets on this coming true?
Aurora announced this week its new in-house developed LiDAR system for its fleet of autonomous vehicles, FirstLight. Supposedly, FirstLight can see and track objects more quickly and from further away than other LiDAR sensors.
Research and Academia
On the relationship between public transport and car parking demand in Melbourne.
New research looks towards Melbourne as a case study on the relationship between public transport frequency and car parking demand.
"Key findings indicate that while lower demand for car parking is associated with proximity to high quality public transport, this association is not significant when controlling for other factors that influence car ownership. Public transport service supply within 800 m of residential apartment buildings was instead found to be significant, rather than simple distance to transit. Modelling results suggest an inelastic relationship whereby a 10% increase in public transport service supply is associated with a 0.9–1.2% reduction in car parking demand as measured by levels of car ownership."
How attractive is it to use the internet while commuting?
New research from GIT explores how the hypothetical provision of Wi-Fi on transit affects the willingness of non-transit commuters (solo drivers, ridesharers, and cyclists) in Northern California to switch from their current mode to public transit with internet access. The researchers consider the implications these finding may have in the future, as or when autonomous vehicles hit city streets.
Emissions saving of converting ride-hailing fleets to EVs.
Researchers from UC Davis uses data from Uber and Lyft in California to provide insights into the use of electric vehicles in ride-hailing. The potential environmental and emission reduction benefits are approximately three times higher for electric vehicles being used in ride-hailing compared with those of regular vehicle usage in California.
Opinion
Why self-driving cars should be electric.
Lots out this week on the importance of electrifying vehicle fleets. Ideally paired with a decarbonized energy source.
This piece considers how much energy is required to operate an autonomous vehicle, beyond the miles driven autonomous vehicles feature energy-intensive technology to navigate roads. With LiDAR, vehicles process thousands of images every second to make driving decisions. New research from Carnegie Mellon details why increased efficiency of AVs paired with increasing EV range may mean we don't have to choose between the two.
business.financialpost.com • Share
Newsletters
Urban Underpinnings by Chante Harris is a "newsletter on urban innovation highlighting the ideas, trends, stories, and technologies championing creative community resilience and place-based innovation."
The newsletter intends to build conversation around the following questions:
What are the impacts of data-driven decisions for the future of urban environments?

What would it look like for the government and policy to react less to technological advancements and be involved in their creation?

How do we reimagine and reinvent the design and product development to think about the market opportunity of all users particularly those that are overlooked?

Where are the best solutions and are they receiving the funding and resources they need to thrive?
chanteharris.substack.com • Share
That's all from me. Have a beautiful weekend friends.
Sarah
By Sarah Barnes
This weekly newsletter on cities, transportation and technology is curated weekly by Sarah Barnes, a transport nerd based in San Francisco, CA.
The newsletter encourages new conversations about advanced transportation technology, primarily autonomous vehicles, which focus on people, equity, design and the cities we want to (and need to) be building for the future.
If you don't want these updates anymore, please unsubscribe here.
If you were forwarded this newsletter and you like it, you can subscribe here.
Powered by Revue
San Francisco, CA