Along for the Ride - Issue #80
Heya friends, happy Friday!
Ahead of our usual news cycle, I just want to quickly say that I know a lot of us are feeling heartbroken for Beirut right now. I've added a list of places to the end of this newsletter where you can donate to help with aid and recovery in the city, as you are able to.
Now, onto our favourite vehicles that have minds of their own..!
Read of the Week

How lockdowns and protests are redrawing urban streetscapes.
This piece is phenomenal and captures the omnipresent political tension that perpetuate our city streets. In particular it examines how Capitalism was born in the streets, and the extent to which corporate encroachment has manifested over time. If you only read one thing this week, I'd recommend this ten times over.
"This whiplash transition from lockdown to lockup to liberation gave fresh resonance to one of the protest chants that echoed around New York: "Whose streets? Our streets!" In a political context, this slogan is an unambiguous declaration of people power in the face of perceived state oppression. In a wider socioeconomic context, however, the question "Whose streets?" emerges as more complex and multifaceted."
Government and Policy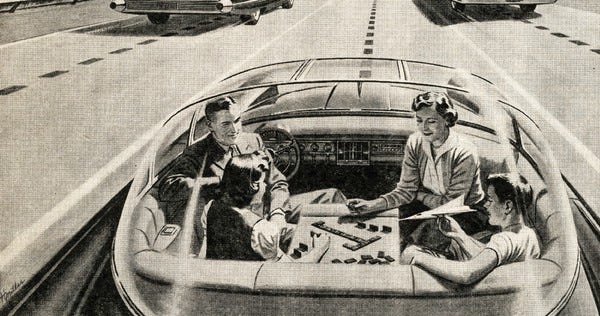 The 100-year history of self driving cars.
Anthony Townsend, author of Ghost Road, has written up a 100-year history of self-driving vehicles, from the first ambitions and dreams to the reality we face today. He starts with the ways that sailors used their natural environment to steer them, and the first iteration of vehicles partially relied on animal such as horses to do the cognitive heavy-lifting and how we've ended up with computer chips, databases, cameras and maps that will steer us in the future.
Is the U.S. government slowing progress on self-driving cars?
This piece includes call outs from Clifford Winston and Quentin Karpilow's new book, "Autonomous Vehicles." They are what I will call optimists who believe that "self-driving vehicles would cut highway congestion in half, and would virtually eliminate the estimated 94% of crashes that are caused by human error. And the avoided costs of delays would boost the economy."
But they do have one point that I agree with: the development of federal (and local level) policies for self-driving cars is slower than the development of the technology itself. And it is needed in order to thoughtfully consider how we want these vehicles to be a part of urban life.
Houston adopts new development rules to promote walkable, transit-oriented projects.
Once upon a time I considered the suburbs of Houston home, so reading this made me extra 🥳🥳 this week. For a city known for it's oil and gas industry, driving, and suburbs this is a very exciting and hard-fought step in the right direction.
"The guidelines have a range of implications for new development moving forward, from regulating building design, setbacks, the number of required parking spaces and the amount of space for sidewalks and a pedestrian buffer. The transit-oriented development rules, or TOD, will apply to areas within 1,000 feet of a transit station, while properties within a half-mile can opt into the standards but are not required to do so."
Bloomberg deliver a deep dive into how Adria Gomila, Chief of mobility services in Barcelona, has turned Barcelona into a bikeable city, despite some real topographical challenges.
"When Barcelona locked down in March, Gomila was ready. The city had already planned where new lanes would go, and painting yellow lines was easy when the streets were empty. "We did the work of months in just a few days," he says."
Industry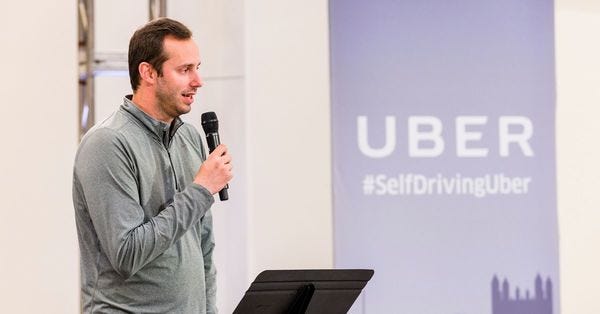 Anthony Levandowski sentenced to 18 months in jail.
Two thoughts: How long until somebody makes a movie about this? Who will play Levandowski? My inbox is open people!
In March, Levandowski pled guilty to one count of stealing trade secrets from his former employer, Waymo. He asked for house arrest, saying that serving prison time during a pandemic could amount to a "death sentence" but the judge denied the request – although the start of the sentence was delayed due to coronavirus pandemic. As part of the plea agreement, Levandowski agreed to pay $750,000 in restitution.
Did I also mention that now he's suing Uber for $4.1 billion…
Baidu completes its computer for self-driving cars.
Baidu has revealed that its Apollo Computing Unit, billed as the "world's first production-ready" autonomous driving computer, is ready for use. It's an unassuming little box, but it can handle massive amounts of data from five cameras and 12 ultrasonic radars.
Yandex pilots AVs in Ann Arbor.
The Russian tech company has brought its self-driving vehicle program to the U.S. after years of testing in Moscow and Tel Aviv. Yandex is a ride-sharing service, and in the US has partnered with Uber to test a fleet of autonomous Hyundai Sonatas on street.
Research and Academia
The role of transportation in improving America's health.
The Eno Center for Transportation has released it's most recent report connecting the implications of our transportation networks on public health. It includes recommendations on how public sector agencies can work together to improve policy and programming, provide a more equitable environment, and enable better health outcomes and a higher quality of life.
Will autonomous vehicles cut parking revenue?
Researchers from Portland State Univeristy have been studying Seattle as a case study to find the association between TNC trips and on-street parking occupancy. Model predictions show that once TNC trips reach about three times what they were in 2016, parking revenues will likely decline.
"Autonomous vehicles (AVs) will challenge cities in ways that are difficult to fully predict, and yet critical to address early. A particular challenge is the potential for AVs to upset municipal budgets, as they upend traditional auto-related funding streams like vehicle registration fees and parking revenues. To prepare for this uncertain future, cities should practice scenario planning to understand revenue implications and identify alternative solutions."
Opinion
Why we should ban SUV adverts.
"The large increase in numbers of SUVs in the UK and around the world is the second-largest contributor to the increase in global emissions since 2010, according to the International Energy Agency. The size, weight and drag of SUVs means they consume more fuel and emit more carbon dioxide than the average car.
We ended tobacco advertising when we understood the threat from smoking to public health. Now that we know the human health and climate damage done by car pollution, it's time to stop adverts making the problem worse. In a pandemic-prone world, people need clean air and more space on town and city streets.. adverts promoting the biggest and worst emitting SUVs are in effect "upselling pollution"."
Resources for Beirut
First and foremost, if you're feeling under-educated on what has happened this week, the BBC offers a good recap. The Slow Factory Foundation also has a comprehensive and yet bite-sized explainer as well. For those with the means, Lebanese Red Cross and Impact Lebanon are both accepting donations, with the latter dispersing funds raised to local NGOs to help the money land where it will be most impactful.
That's all from me. Have a beautiful weekend folks!
Sarah
By Sarah Barnes
This weekly newsletter on cities, transportation and technology is curated weekly by Sarah Barnes, a transport nerd based in San Francisco, CA.
The newsletter encourages new conversations about advanced transportation technology, primarily autonomous vehicles, which focus on people, equity, design and the cities we want to (and need to) be building for the future.
If you don't want these updates anymore, please unsubscribe here.
If you were forwarded this newsletter and you like it, you can subscribe here.
Powered by Revue
San Francisco, CA