Along for the Ride - Issue #81
Heya friends, happy Friday!
Excited to share that this is my last newsletter before I move to San Francisco, so there will be a short hiatus next week as I jump across the pond. I'm really excited to start sharing more from California, and eventually getting to meet some of you for (socially distanced) coffees, bike rides, and strolls. If you're in the area, I can't wait to become acquainted!
Now, onto the news.
Government and Policy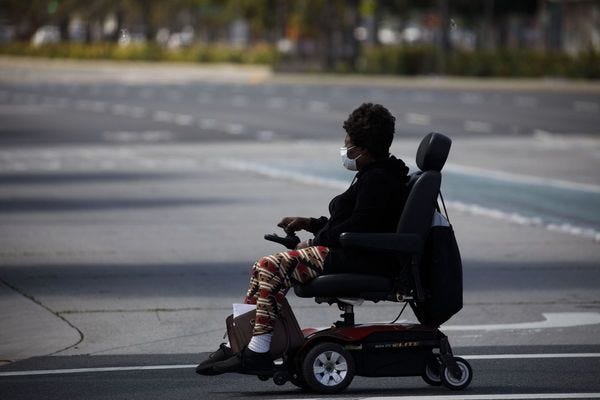 How do we prioritise accessibility in urban design?
Cycling advocates in Manchester this week rejoiced as fancy new, Dutch-inspired cycling infrastructure hit city streets. But some voices weren't so smitten. While the infrastructure soothes pain points for cyclists, it creates additional frustration for people with visual impairments and physical disabilities. The piece of infrastructure in question is a CYCLOPS (this fun youtube video explains the infrastructure!) which enables near continuous moment for cyclists, but places pedestrians in awkward and at times dangerous positions.
This piece in Bloomberg, written by a friend and fantastic newsletter writer John Surico, examines if bike lanes have an accessibility problem. John asks how can we reconcile the need for improved cycling infrastructure while also improving the experience of those with disabilities?
Policy for AV industry is like the Wild West.
This is an excerpt from a recent interview with American University Professor Selika Josiah Tolbatt on the future of the AV industry. You can watch the whole interview here.
According to Talbott, the lack of federal policy in the US has hampered the AV industry's transparency with communities where the vehicles are tested. She voiced concern that private companies are undertaking rogue testing with vehicles on public roads, which without clear regulation, is detrimental to the general public.
Inspector General to audit safety standards.
This week an Inspector General in the US announced they will audit oversight of U.S. vehicle safety standards. The audit will hopefully lead to efforts that will set and enforce Federal Motor Vehicle Safety Standards (FMVSS) across the country. In 2019, more than 36,000 Americans were killed in traffic collisions in the US.
How England's new planning reform could be catastrophic.
This past week the UK introduced new planning guidelines, which are "likely to cut democratic input into the planning process by half." The intention is to cut red tape and speed up planning processes, claiming to spur a "fast-track system for beautiful buildings". But the reality of the new guidelines will wipe out public input as we know it.
"The government is tearing up the national rule book that has been in place since the second world war to ensure the best use of land, and replacing it with three simple classifications. From now on, all land in England will be designated for either "growth", with automatic planning permission, "renewal", with permission subject to some basic checks, or "protection", preserving the sacrosanct status of the green belt."
Cities can't rely on autonomy to solve pedestrian safety.
The Head of LADOT, Seleta Reynolds, recently spoke on a webinar where she denounced the potential for AVs to truly solve the problems they claim to, including pedestrian safety. She was also wary of the problems they will inevitably create along the way.
"Reynolds notes that concepts like dedicated AV traffic lanes could create more problems than solutions for some communities. She said those lanes would "continue to privilege people who can either afford to purchase their own AVs, or who can afford to pay for a company who operates a fleet to send those AVs to pick them up and move them around. And if what we're going to do is solve the problems of a privileged few, we're going to completely fail on the bigger problems that we have at hand around climate and inequity."
www.smartcitiesdive.com • Share
Industry
Hyundai and Aptiv welcome their brain child: Motional.
Hyundai and Aptiv have partnered to develop their own fleet of autonomous vehicles, which will operate as Motional. They plan to introduce the vehicles for ride-hailing fleets by 2022. The partnership initially emerged in March of this year: Hyundai invested $1.6 billion in cash and contributed $400 million in R&D resources, while Aptiv transferred its autonomous driving technology, intellectual property and about 700 engineers to the new company.
May Mobility gets a local boost.
May Mobility has recently procured state funding from the Michigan Strategic Fund Board. The Board will give $700,000 to the company through the Michigan Business Development Program grant, which they hope will create 100 engineering and technology jobs.
Will Uber and Lyft exit California?
It's been months, if not years, of back and forth when it comes to California's AB5 bill, which argues that gig economy workers must be classified as employees and not independent contractors.
This week, a California Superior Court Judge granted a preliminary injunction forcing Uber and Lyft to reclassify its drivers as employees. In retaliation, Uber has publicly stated that this decision may cause the company to exit California, which could be multiple months, as it adjusts its business model to comply with the new ruling.
The WSJ has a quick six minute video about how China is pushing ahead in the AV industry during the pandemic. They share that while autonomous-vehicle road testing has come to a halt in the U.S. amid the pandemic, China's startups have more than doubling their number of self-driving car projects.
Research and Academia
Can self-driving cars stop the urban mobility meltdown?
Research from BCG depicts how some cities will gain significant advantages by introducing AVs, while others will fare better by promoting other mobility options, such as e-bikes and e-scooters. Using five archetypes of different city typologies, the report breaks down under what circumstances (and policies / practices) AVs can help a city thrive over time.
Opinion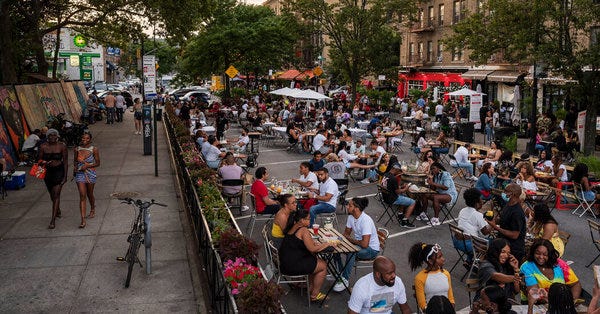 Who will rule the road in post-pandemic New York?
"Competition for New York's streets is nothing new — there have been growing calls in recent years to push cars aside — but the pandemic has emboldened more people than ever to stake their claim to a piece of asphalt and force a sweeping reimagining of the urban grid.
Under pressure from advocates for open spaces and the restaurant industry, the city has temporarily excluded cars from more than 70 miles of open streets for social distancing, biking and outdoor dining."
An op-ed from Uber's CEO on the gig economy.
As seen above, California's mandate to treat all gig workers as employees, has gig economy companies making statements left, right and centre. Uber went so far as to write an op-ed in the NYT about why new legislation and laws for employment types are needed first, to remove the binary definitions of being a full-time employee or independent contractor.
"I'm proposing that gig economy companies be required to establish benefits funds which give workers cash that they can use for the benefits they want, like health insurance or paid time off. Independent workers in any state that passes this law could take money out for every hour of work they put in. All gig companies would be required to participate, so that workers can build up benefits even if they switch between apps. Had this been the law in all 50 states, Uber would have contributed $655 million to benefits funds last year alone."
Can we abolish the police without challenging the status quo of car culture?
"The ongoing movement to defund the police demands that police funding be reallocated towards community priorities. If we understand the relation of policing and cars and the antidote – public transit – re-investing funding from police agencies to transit systems demonstrates a possible remedy to the dual threat of violence from policing and cars. By transitioning resources from police departments to transit agencies, cities could both reduce the need to protect communities from reckless driving and increase racial equity in our cities."
That's all from me. Have a beautiful weekend folks.
Sarah
By Sarah Barnes
This weekly newsletter on cities, transportation and technology is curated weekly by Sarah Barnes, a transport nerd based in San Francisco, CA.
The newsletter encourages new conversations about advanced transportation technology, primarily autonomous vehicles, which focus on people, equity, design and the cities we want to (and need to) be building for the future.
If you don't want these updates anymore, please unsubscribe here.
If you were forwarded this newsletter and you like it, you can subscribe here.
Powered by Revue
San Francisco, CA