Along for the Ride - Issue #82
Hi friends!
Coming at you live from California. My newsletter hiatus lasted a bit longer than anticipated, and I've been spending the last few weeks reflecting on the way this move will change my usual commuting patterns and travel behaviours.
I keep coming back to the fact that over four years of living in London, I used rental cars four times (three road trips, one move). Four times! Since announcing my move, I've had *at least* fifteen people ask me when I'll be getting a car of my own. On top of that, I've already witnessed one pedestrian get hit by a car (they were OK!). It's not that London's streets are a pedestrian paradise—they're not—but I do miss the assumption that most people don't own a car, need a driver's license, or align car ownership with some unfounded metric of success on an everyday basis.
Alright, enough of my stream of consciousness. To the news! There's been a bit of a pile up over the last few weeks, so pardon the length. PS. If you make it to the end of this week's newsletter, you'll be rewarded with a really cute pig..!
Reads of the Week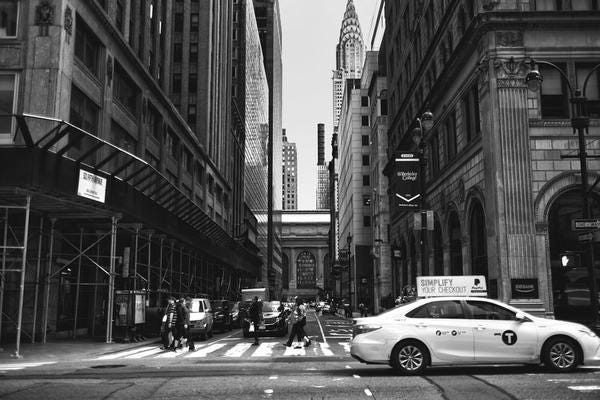 A Discussion with Henry L. Greenidge.
"One of the best lessons from my time at Cruise was the important reminder that when it comes to innovation mobility, everything is and must be local…Ultimately, companies need to know and understand each market they seek to operate in."
Chante Harris interviews long-time AFTR supporter and wonderful friend, Henry Greenidge (seriously click on that link and read his bio). As a snippet, Henry is a policy expert specializing in autonomous transportation. He most recently worked to advance local outreach efforts and advocacy with Cruise, and is now a McSilver Fellow-in-Residence at NYU. In conversation, Henry talks about his work in the public sector and at Cruise, and companies he is keeping an eye on for future innovation.
chanteharris.substack.com • Share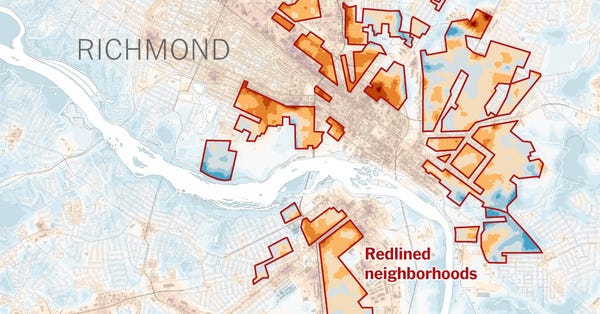 How decades of racist housing policy left Black neighbourhoods sweltering.
File this under: fun NYT graphic article featuring sobering and complicated subjects. This piece looks directly at the impact of redlining (wikipedia here if you are unfamiliar) in American urban centres, and how today, areas which were segregated for Black communities are some of the hottest parts of town in the summer, with few trees and an abundance of heat-trapping pavement.
"Across more than 100 cities, a recent study found, formerly redlined neighborhoods are today 5 degrees hotter in summer, on average, than areas once favored for housing loans, with some cities seeing differences as large as 12 degrees."
Government and Policy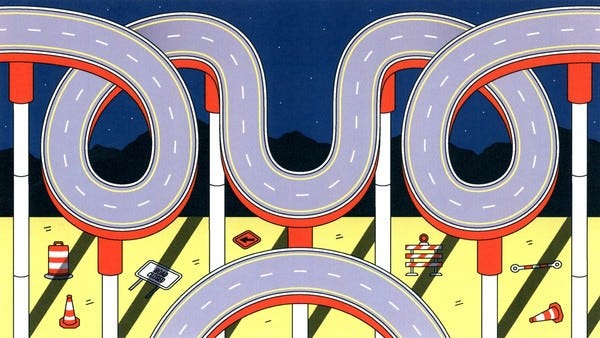 The algorithm that poisoned American transportation.
Vice takes a deep dive on Travel Demand Modeling (TDM), and how it has led cities across the US awry for the past 70 years.
"Either way, nearly everyone agreed the biggest question is not whether the models can yield better results, but why we rely on them so much in the first place. At the heart of the matter is not a debate about TDMs or modeling in general, but the process for how we decide what our cities should look like."
The NHSTA's new automated vehicle tracking tool.
The NHSTA has announced the Automated Vehicle Transparency and Engagement for Safe Testing Initiative. The initiative makes it easy for the general public to see where AV testing is happening in the U.S., but as information is voluntary, it doesn't represent the whole picture of testing in the US (still worth clicking on the link and having a play!).
So far 10 companies in nine states have signed up to be in the map pilot project. But at present, that's only a fraction of the companies that are testing. In California alone, more than 60 companies have applied to test autonomous vehicles on public roads. The NYT has published a detailed review of the initiative.
Michigan's self-driving street.
Michigan announced last month that it plans to retrofit a 40-mile stretch of roads outside Detroit, exclusively for self-driving vehicles. Sensors and cameras will be added to the roads to help the vehicles better understand their surroundings. Physical barriers may be added as well, which would make it easier for the vehicles to drive safely, as the location of pedestrians and cyclists could be restricted.
The project will be led by Cavnue, a subsidiary of Sidewalk Infrastructure Partners (aka Google), and will be supported by an advisory committee that includes GM, Ford, Toyota, Argo AI and Waymo.
As we get closer and closer to self-driving cars on our streets, it is imperative local governments consider how infrastructure will change to meet new needs. Do we want GM, Ford, Toyota, and tech companies designing our streets? Do we stick to cameras and sensors? Or start to allocate dedicated road space… to vehicles, or to pedestrians and cyclists? We have an opportunity to reimagine our cities, and we need to make sure we do so with the responsibility of setting future generations up for success (read: low carbon, safe, and active!).
UK motorways to welcome AVs next year.
The UK government is considering legalising AVs for use on public motorways next year. Vehicles could operate at speeds of up to 70mph in the slow lanes of motorways, with the cars automatically staying in lane and slowing down for vehicles in front.
The Black design collective reimagining how cities get built.
Even when policies aren't actively racist (à la redlining and race-restricted covenants), urban development policies and practices have often neglected or harmed Black communities simply by cutting them out of the decision-making process. They continue to result in discriminatory outcomes, whether planners, designers, and developers realize it or not.
BlackSpace, a collective of 200 Black designers, architects, artists, and urban planners, seeks to change that. Committed to Black-centered planning and design, the organization works through community workshops, planning exercises, and cooperative design efforts to proactively bring Black voices and concerns into a development process that has long ignored them.
Fairfax tests region's first self-driving shuttle for public transit.
A suburb of Washington DC is getting it's first self-driving shuttle. Fairfax County and Dominion Energy are testing an autonomous electric shuttle that will carry passengers between a Metro station and the county's Mosaic District as early as this fall.
www.washingtonpost.com • Share
Industry
Yandex and Uber spin off self-driving vehicles business from joint venture.
Yandex and Uber entered into agreements to spin off Yandex Self Driving Group (SDG) from Yandex's larger ride-hailing and foodtech venture. Following these transactions, Yandex SDG will be directly owned by Yandex and Uber.
www.greencarcongress.com • Share
Yandex selects Michigan as testing base for self-driving program.
Tagging on from the above, Yandex has also has chosen Ann Arbor, Michigan, as a base for testing its autonomous car technology in America. Yandex is based out of Moscow, and also has a testing footprint in Innopolis and Tel Aviv, Israel.
www.automotivetestingtechnologyinternational.com • Share
Self-driving vehicle education in D.C.
Wholesome content: Ford hosted hosted a group of 50 students from fourth through eighth grade via a webcast to discuss how self-driving vehicles operate and opportunities they might take advantage of now to pursue a career in the self-driving vehicle space. The intention is to educate and improve more young people about the impact and implications of AVs, and encourage them into careers in STEM.
Tesla's path to fully self-driving vehicles.
Venkatesh Rao details Tesla's five pillars which will (optimistically) lead to Tesla's success:
One architecture across all vehicles. All Tesla vehicles sold are equipped with the hardware necessary for full self-driving — sensors including camera, radar, GPS, ultrasonics, and the onboard computer.

Their fleet collects the data. Tesla has close to a million vehicles on the road in major parts of North America, Europe, and Asia. Every time an owner drives the vehicle, it is busy sending back mountains of data to Tesla.

A commitment to full self-driving. Tesla is not focusing on partial, assisted, or conditional self-driving.

Vertical Integration. Almost all key aspects of the company are under development in house.

A foot into China. Tesla has a strong foothold in China, with their factory in Shanghai. Tesla now gets to rinse and repeat its self-driving strategy in the world's largest electric vehicle market.
Oxbotica approved to test AVs in Germany.
Oxbotica, a UK-based AV software company, has announced that it has been granted a permit to conduct trials in Germany. It is the first time a UK-based automated vehicle company has gained a permit recommendation from the independent inspection body to begin trials on public roads in urban and rural areas in southern Germany.
www.scientific-computing.com • Share
Waymo is testing its driverless trucks in Texas.
Waymo's heavy-duty trucks took to the Texas roads to start the company's road testing of its driverless fleet, which consists of 13 18-wheelers. The trucks will always have a safety driver onboard, and Waymo plans to hire local truckers for these jobs.
Zoox sued over $1.3 Billion Amazon acquisition.
"Zoox Inc. was sued for records in Delaware by a shareholder looking to probe claims that the self-driving vehicle company's board and top executives used the Covid-19 pandemic as a pretext to engineer a $1.3 billion proposed sale to Amazon on self-dealing terms."
Autonomous vehicles should benefit those with disabilities.
"An MIT report estimates truly autonomous vehicles might not hit the streets for a decade. And when they do, it's difficult to say whether they will fully accommodate all riders, including those with disabilities. Driverless car technology promises to remove barriers to personal transportation, but few self-driving operators have made headway on solutions for customers with mobility, vision, and hearing impairments, including seniors and those with chronic health conditions."
Research and Academia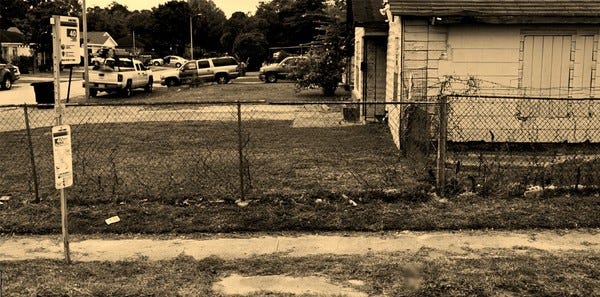 What transit equity means to a transit-dependent rider in a car-centric city.
Rice's Kinder Institute for Urban Research has a new series examining the intersection of race, equity and public transit in America. This week they interview, Janis Scott, who cares deeply about transit equity in Houston. Locally she is known as the "Bus Lady," and has been riding Metro all of her life and considers public transit her lifeline to the world.
"Houston's METRO is a lifeline for many of us — it's a mandate and a civil right. If you do not have a car, public transit gives you access to many opportunities, including jobs, medical appointments, education and what I call life, liberty, and the pursuit of happiness! Transit justice is a form of freedom, where sidewalks and curb cuts are fundamental provisions, especially for people with mobility challenges. It is crucial that the built environment is up to code."
What's your angle? Analyzing angled parking via satellite imagery to aid bike-network planning.
It's a week of AFTR friends making waves! Marcel Moran has a paper out this week analyzing angled parking in US cities, and how this type of parking exemplifies planning practices which prioritize the storage of automobiles over the safe movement of bicycles.
Defining "Communities of Concern" in transportation planning.
Many public transit agencies have developed wide-ranging definitions of "community of concern", as it pertains to their planning practices. The Urban Institute has prepared a brief which aims to highlight the various approaches that transportation agencies take to conducting environmental justice analyses in transportation planning, and shares the results from a review of how regional, state, and transit agencies identify underserved communities. The brief provides recommendations for supporting equitable transportation access.
Everybody's favourite policy lever is back with more research, and this time from Kuwait. This paper investigated the possibility of applying congestion pricing in order to mitigate the traffic congestion on urban road networks in Kuwait.
"It was concluded that commuters are support applying congestion pricing as long as it will guarantee them a lower travel time with less delay. Eventually, the positive impact of congestion pricing on the studied network and the delay reduction was clearly noticed."
Opinion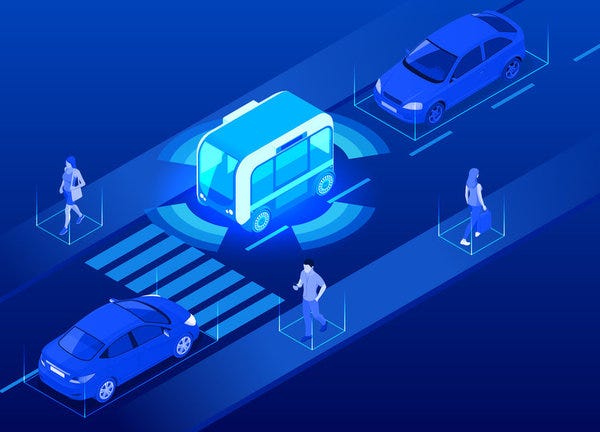 It's not too early for cities to regulate AVs.
"With cities guiding the regulatory conversation, they can steer AVs away from frameworks that only benefit the private-sector companies operating them and move the technology toward higher ideas like forming comprehensive transportation networks."
The myth of pedestrian infrastructure in a world of cars.
"Much of what is labeled pedestrian infrastructure is in reality car infrastructure. In a place populated entirely by pedestrians and bicycles, for example, there's no need for wide rights of way, grade separations or traffic signals. In even the most crowded cities, people simply walk or ride around one another. If its just people walking, there aren't even lane markings. Humans have long had the ability to avoid collisions, using subtle visual cues. Pedestrian friendly places don't need elaborate infrastructure."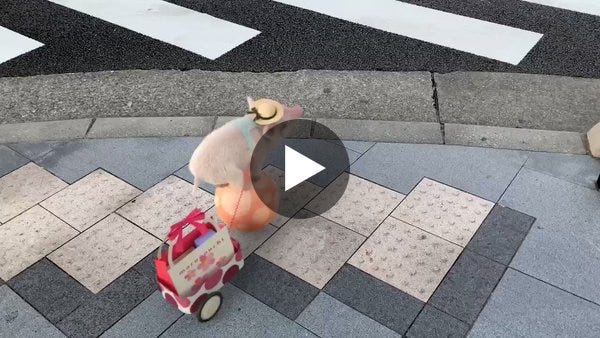 Part 2. Pig in the city... https://t.co/Z8tDO59nyV
Here's a cute video of a pig crossing the street, to get your weekend off to a good start! Told you it was worth it.
Sarah
By Sarah Barnes
This weekly newsletter on cities, transportation and technology is curated weekly by Sarah Barnes, a transport nerd based in San Francisco, CA.
The newsletter encourages new conversations about advanced transportation technology, primarily autonomous vehicles, which focus on people, equity, design and the cities we want to (and need to) be building for the future.
If you don't want these updates anymore, please unsubscribe here.
If you were forwarded this newsletter and you like it, you can subscribe here.
Powered by Revue
San Francisco, CA