Along for the Ride - Issue #83
Happy Friday friends!
Happy to report that last week's most popular link was the cute pig crossing the street, which means we all have more in common than I originally thought.
Now onto the news..!
Government and Policy
Minneapolis decreases police traffic stops.
In the US, police can stop vehicles for so many minor offenses, and officers are given a tremendous amount of discretion, which has opened the door for dramatic racial disparities. After analyzing 100 million stops, a study from Stanford found that Black drivers were 20% more likely to be pulled over than white drivers.
Recent data collected from Minneapolis on police activity, shows a precipitous drop in the number of traffic stops since June. The police department has been making an average of 80% fewer traffic stops each week since May 25, the day of George Floyd's death.
Uber safety driver charged over fatal crash.
Over two years since Elaine Herzberg, aged 49, was hit by an Uber self-driving car as she wheeled a bicycle across the road in Tempe, Arizona, the "safety driver" of the vehicle has been charged with negligent homicide. Uber has not been charged for the incident.
Investigators said the car's safety driver, Rafael Vasquez, had been streaming an episode of the television show The Voice at the time.
In the words of Robin Chase, "We've seen again and again how it's easier to bring criminal law to bear against an individual 'bad actor' than against entire systems and structures…".
Elon Musk's Las Vegas tunnel is almost complete.
Elon Musk's Loop Tunnel (developed and manufactured under Musk's Boring Company) is nearing completion after a year of construction. The tunnel is designed to shuttle passengers in self-driving Tesla cars between any two destinations in Las Vegas within minutes.
Tunnels under cities with self-driving electric cars will feel like warp drive

First operational tunnel under Vegas almost done

The @BoringCompany
Why Spain doesn't think you should be afraid to take public transportation.
Spanish health experts have noted that Covid-19 exposure on public transit is low thanks to safety measures like the use of face masks, and improved ventilation systems. Studies in several countries have now shown that public transportation is not one of the main sources of contagion.
Industry
Nvidia aims to acquire ARM, but with challenges ahead.
ARM, a British chip manufacture, is set to be acquired for $40B (!) by Nvidia. ARM was previously owned by Softbank. The proposal requires regulatory approval from the UK, EU, the United States and China.
But universal approval isn't guaranteed, and it's likely China may not approve the acquisition, due to concerns over this critical piece of technology being owned by US company, placing China at a disadvantage. Nvidia and Arm said they expect that the deal will take 18 months to close.
Baidu's Apollo showcases autonomous driving in Beijing, Changzhou, and Changsha.
Baidu's Apollo is the first autonomous taxi / shuttle service to be operating in Beijing, the capital of China. The Beijing arm of Baidu's service covers 700 km and uses 40 self-driving vehicles. Their system is free for users, and includes 100 pickup/drop-off locations, operating like a "station-to-station" service.
An interview with Waymo's Head of LiDAR.
Business Insider interviews Simon Verghese, Waymo's head of LiDAR. The interviews discusses everything from how Simon spends his days developing new laser radars to compliment the evolving Waymo suite of hardware and software technologies, to his previous work with NASA (!) and living across the US.
www.businessinsider.com • Share
On the potential of autonomous delivery.
Nuro has published a blog based on new research from Steer (link to research in next section) about the economic, social and environmental impacts of autonomous delivery services.
"When it comes down to it, building the world's largest system for delivering local products to your door is not about a race for autonomy. It's about people — the millions of people it will take to change the way we do business, and the millions of us who can spend a little more time safely at home with our loved ones while the milk arrives."
Research and Academia
The evolutionary consequences of systemic racism in urbanism.
Christopher Schell (University of Washington) and co have published a review how systematic racist practices such as residential segregation, enacted in part through redlining, have led to an unequal distribution of "nature" within cities. These inequities continue to play out in both the ecological processes of cites and the welfare of their residents.
"One of the most characteristic attributes of cities is social inequality—specifically the uneven distribution of resources and wealth primarily underpinned by structural racism and classism. Because structural inequalities form the foundation of city infrastructure, urban development, governance, management, and landscape heterogeneity, inequality among humans defines the ecological setting and evolutionary trajectories for all urban organisms."
science.sciencemag.org • Share
Economic impacts of autonomous delivery services in the US.
Hat tip to AFTR friends, Alia and Matt from Steer, for this research report!
Key take-aways from the report include:
Total Economic Activity worth $3.4 trillion could be potentially generated in the US economy across different sectors (retail, automobile manufacturing, warehousing and storage, etc.);

More than 21 billion hours of driving trips for shopping and errand purposes could be saved, which represents ~87 hours or as much as 11 vacation day per year per person using the service;

A reduction in CO2 emissions of 407 million short tons which is the annual equivalent of 88 million passenger vehicles off the road for one year.
Opinion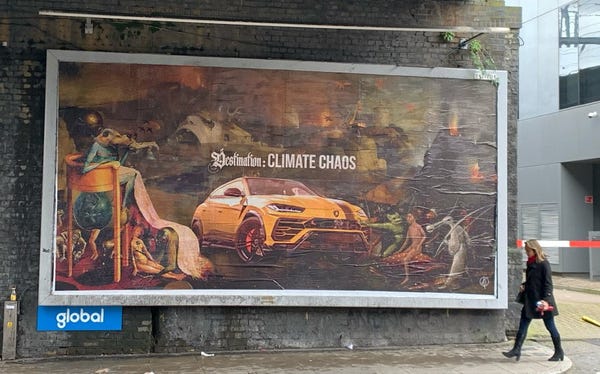 "Brandalism" targets car companies.
Environmental activist groups in the UK have installed over 100 parody car advert posters on billboards and bus stops in England and Wales. The guerilla artworks feature brands such as Range Rover, Ford, Volkswagen, BMW, Citroen, Lamborghini and Vauxhall, and were installed without permission.
Some of these adverts are very clever, and worth a scroll to improve your Friday!
Have a beautiful weekend friends.
Sarah
By Sarah Barnes
This weekly newsletter on cities, transportation and technology is curated weekly by Sarah Barnes, a transport nerd based in San Francisco, CA.
The newsletter encourages new conversations about advanced transportation technology, primarily autonomous vehicles, which focus on people, equity, design and the cities we want to (and need to) be building for the future.
If you don't want these updates anymore, please unsubscribe here.
If you were forwarded this newsletter and you like it, you can subscribe here.
Powered by Revue
San Francisco, CA