Along for the Ride - Issue #84
Heya friends, happy Friday.
I've said it before, and I'll say it again: transportation is political. We can't wiggle our way out of that one, and if you're in this industry we've got work to do.
My recommendation today is that you contemplate how you support black women in your life, and what more you can do to ensure that they know you cherish and value them. Next, and if you have the means available, that you donate to Louisville Community Bail Fund, or the Loveland Foundation which helps provide mental health support for Black women and girls in the US. And lastly, that you continue to educate yourself on how this industry and space has upheld racism, and commit to dismantling and decoupling racism from transportation no matter your sector. There's a great resource in the research section this week that should help you get the ball rolling :)
Government and Policy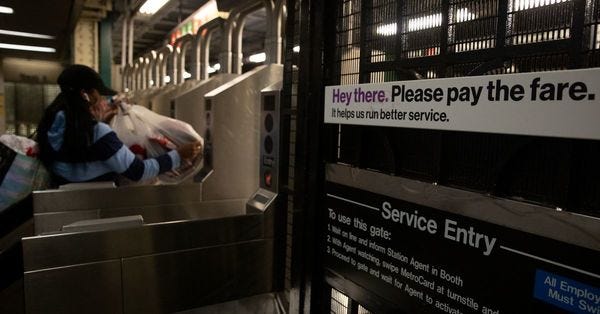 MTA's fare evasion estimates missed the mark.
Shout out to AFTR reader Bridget for sharing this piece.
"The MTA's estimate of losing more than a quarter of a billion dollars a year to fare evasion is way off track, the transit agency's inspector general found. The financially ailing MTA's methodology is so flawed it's impossible to tell the real cost, according to a report we obtained." 😬
MTA claimed that it loses $300 million a year to fare evasion, and this past year took a hard-line approach to enforce fare payments across the NYC subway. Their efforts received extreme backlash for targeting the city's low-income population, and you guessed it, the vast majority of people arrested for fare evasion are Black and Latinx. This article from Vice taught me a lot on fare evasion in NYC, the role of the police in enforcing these measures, and the dehumanizing experience enforcement has on individuals most in need of support.
Houston, we have a bullet train.
A sliver of hope! Federal officials have issued the final approvals needed to green light a Houston-to-Dallas high-speed rail line (!). These approvals will clear the way for construction to begin of the proposed line. The authors of this article are very clear that there are many opponents to this project, but I hope we can all agree, this is one small step for Texas, and a giant leap for suburban cities everywhere. 👏
www.houstonchronicle.com • Share
BART receives $1.2 billion grant.
Another sliver of hope! BART has just received the largest grant in agency's history to provide it with a 'critical funding boost'. The funding is for the Transbay Corridor Core Capacity Project, which has four goals:
Reduce crowding and improve service with the addition of 252 new railcars;

Trial control modernization;

A new railcar storage yard; and

Five new power substations to upgrade the electrical system.
These improvements are expected to increase train frequencies between San Francisco and Oakland by more than 30% and boost overall capacity by more than 36%. One small step to ensuring that car usage doesn't skyrocket in the aftermath of the pandemic.
California bans sales of new combustion-engine vehicles from 2035.
What's that? More slivers of hope?! California will ban the sale of new gas-powered vehicles starting in 2035. Governor Gavin Newsom signed an executive order as part of a package of new rules meant to curb carbon emissions.
While EVs can't solve the climate crisis on their own and require a green energy supply to be truly effective at curbing emissions, this is a big step forward and will hopefully set precedence for other states to do the same.
On China's autonomous vehicle approach.
Fast Company published a deep dive into how the Chinese government's investments in autonomous cars and 5G are supporting a series of new pilot programs in densely populated Chinese metropolises. I linked to some of these pilots in last week's edition, most notably Baidu's Apollo program.
Congress will try again in 2021 on self-driving car reform.
Welp, another year, and no self-driving car reform from the US federal government. Congress will try again in 2021 to try to approve the contested reforms to the Self Drive Act. The latest version includes changes to language that make self-driving car standards more inclusive for those with physical impairments.
Driverless vehicles return to Arlington, Texas.
In partnership between The City of Arlington, Via and May Mobility, people in Arlington will be able to take a self-driving shuttle to their destinations. Via riders whose trip falls within downtown core are asked if they would like to utilize RAPID, the fleet of self-driving shuttles, for their journey. The fleet includes a wheelchair-accessible vehicle, and the program provides free rides for university students. This program is funded by a $1.7M grant from the FTA.
Aloha! Hawaii welcomes self-driving car testing.
Hawaii's has approved new legislation which will allow testing of AVs on the state's roads. Vehicles are required to have a human driver behind the wheel at all times. Thankfully, operators will not have to worry about crossing state borders.
Industry
Falling asleep at the self-driving wheel.
A Canadian man has been charged after he was discovered speeding on an Alberta highway, with 'both front seats completely reclined'. His Tesla was on autopilot, going 150 km/hr (approx 93 mi/hr!!) at the time. At present, Tesla's system requires drivers to always pay attention behind the wheel… But it's OK because self-driving cars are going to make our roads safer right?
Musk says autopilot is coming, and it's "clearly going to work".
And on that note… I shan't be holding my breath. Elon Musk has said that Tesla will be introducing full self-driving capabilities to their fleet in 'a month or so'. The remark was made at the company's annual stakeholder meeting, where he made many other remarks about the system's programs claiming it will be 10 times less likely to be involved in a serious crash than the industry average.
Volkswagen takes stake in TuSimple.
Volkswagen's Traton division, which focuses on commercial vehicles, has signed a deal with TuSimple to jointly develop self-driving trucks. TuSimple, based out of San Diego, has been testing its technology since 2015, and has logged several million test kilometres on public roads.
Research and Academia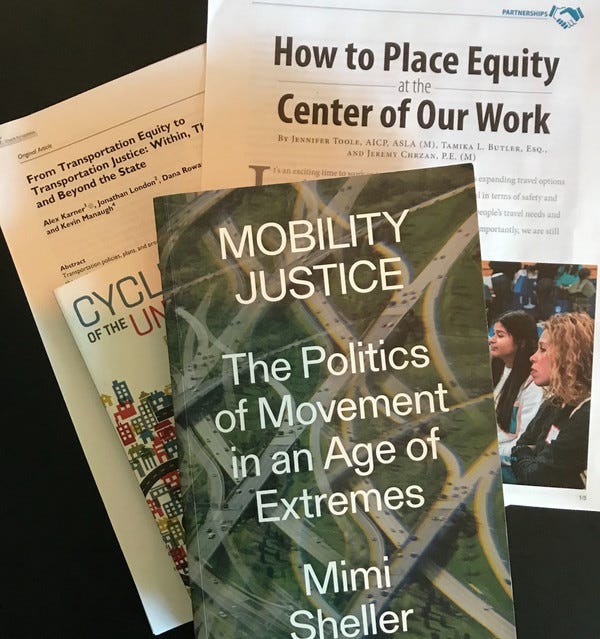 A syllabi list on transportation, race and equity.
Jennifer Dill from Portland State University has put together a syllabi for us all! And it is comprehensive af. Rejoice! Dill has published Transportation, Race and Equity: A Syllabi Resource List for Faculty on her website and this google doc has all the good stuff.
In her own words: "The objective is to collect readings and other resources that university faculty can use in their courses on transportation planning and engineering, so that we can better address issues of racism, equity, and justice in the transportation field."
As I believe we are all life-long learners here, this is fantastic syllabi for those of you who may not have studied urban planning in school, or were never introduced to this material when you were studying. If you need a place to start, I devoured everything Mimi Sheller ever wrote during my studies, and the Tamika Butler article in Bicyling is a must-read 👩‍🏫.
Opinion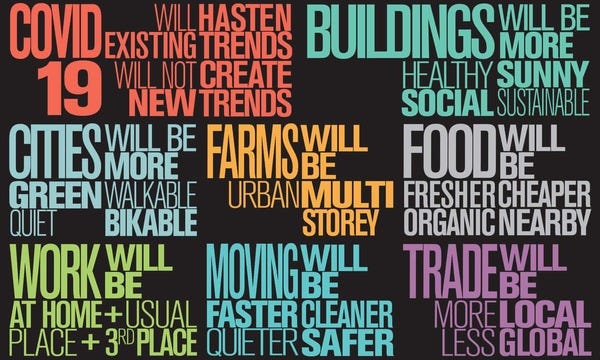 Norman Foster on how the pandemic will accelerate the evolution of our cities.
"The cumulative effect of even just a few of these trends will change the infrastructure of our cities as progressively less space is needed for vehicles. We can already see the effects in central London, with proposals for pavement widening and conversion of traffic lanes to bike lanes; elsewhere, entire streets have been given over to terraces for dining. Radiant heating and cooling will extend the seasonal use of outdoor spaces."
Why wasn't Uber charged for the fatal self-driving car crash?
"It has, in other words, been difficult—though not impossible—for the legal system to hold people responsible for the technology they build. Instead, the human in the loop, the person behind the wheel or the screen, has borne the bulk of the responsibility."
Events and Opportunities
Apply to join the virtual delegation to LA's 'Future of Transport' Month
Here's an interesting opportunity for UK based companies working in this sector.
The UK's Department for International Trade (DIT) in Los Angeles is recruiting innovative UK companies to join a highly collaborative, month-long virtual mission for the Los Angeles 'Future of Transport' month in November. This virtual trade mission will bring together mobility stakeholders and companies from across the US and UK in automotive, mobility, and smart cities with a select group of cutting-edge UK companies demonstrating UK expertise in the 'Future of Transport.' The mission will include access to CoMotion Los Angeles, Autotech Council events, and a variety of opportunities tailored to network with the US mobility ecosystem.
www.events.great.gov.uk • Share
That's all from me. Have a beautiful weekend folks.
Sarah
By Sarah Barnes
This weekly newsletter on cities, transportation and technology is curated weekly by Sarah Barnes, a transport nerd based in San Francisco, CA.
The newsletter encourages new conversations about advanced transportation technology, primarily autonomous vehicles, which focus on people, equity, design and the cities we want to (and need to) be building for the future.
If you don't want these updates anymore, please unsubscribe here.
If you were forwarded this newsletter and you like it, you can subscribe here.
Powered by Revue
San Francisco, CA