Along for the Ride - Issue #86
Heya friends,
Well it's been an exciting week all around for the industry: Waymo has expanded operations in Chandler to the general public, and Cruise has secured a California license to operate without a driver. But as exciting (if not more?!) is that Anne Hildago has publicly told Parisians they should forget about traversing the city by car. So on the one hand, we've got the autonomous vehicle industry breaking new ground in American cities, and a European mayor who is doubling down on investment in tried and true transportation models such as cycling and walking. C'est la vie.
I hope you enjoy this week's news as I much as I do.
Enjoy this subscription? Why not forward it on to a fellow transportation wonk (or two!).
Read of the Week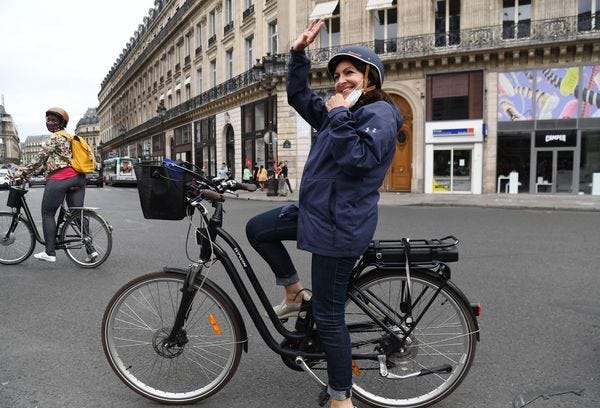 Anne Hildago Promises a Future without Cars.
Anne Hildago's recent mayoral campaign was heavily centred on transportation, and in particular bringing to life a human-scale transportation network designed around 15 minute walk circles. In her first interview since she was elected, she tell French newspaper, Le Parisien, that her manifesto promise to crack down on automobiles will be upheld.
The plan centres around providing six core needs for every urbanite: dwelling in dignity, working in proper conditions, being able to gain provisions, well-being, education and leisure. Their thinking is that in order to improve quality of life, the city needs to reduce the access radius for these functions.
Government and Policy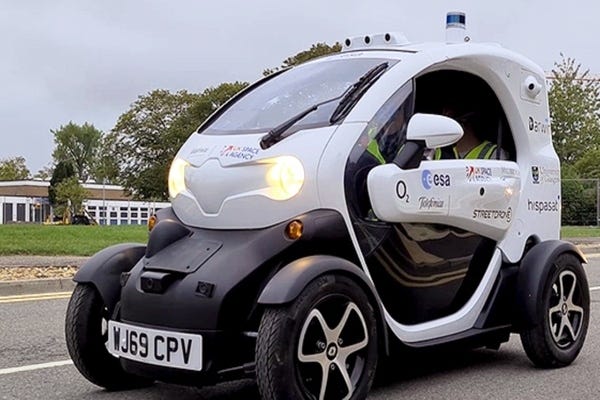 UK launches first commercial AV lab in Oxfordshire.
The Darwin SatCom Lab has just launched in the UK, with the intention of investigating and testing solutions for connected and autonomous vehicles. The lab is focused on developing connectivity technology, and forms part of Project Darwin, a four-year programme backed by the UK Space Agency and the European Space Agency.
www.smartcitiesworld.net • Share
Transit agencies should focus on masks, not crowds.
Over here in America there is no nationwide mask mandate for public transit, and lord knows even when there is one people take it with a grain of salt.
Without this mandate for transit, transit agencies and cities have been forced to emphasize passenger crowding to ease rider anxieties. Some agencies have revised their rules to limit the number of bus passengers allowed on board, while others have started offering passengers real-time crowding estimates for buses and trains.
And yet! Taipei's metro system is once again packed, with no virus spread detected. The same is true in Spain and Japan without evidence of spreading the disease. The mask is one avenue agencies can lean on to prevent decreasing ridership while prioritizing public health and safety.
New technologies to fight the COVID-19 on transport.
Along a similar line of inquiry, this article discusses how disinfection robots, thermometer robots, smart tunnels, automatic passenger counting, powerful ultraviolet lamps and other new technologies are reshaping public transport amid Covid.
On how cyclists and cars can coexist in harmony.
Ok, this article focuses on Vehicle to Bicycle communication as an avenue to prevent collisions with cyclist, and focuses on what cyclists can do for safety. But we, the enlightened, understand victim blaming and that in order to have everybody travel peacefully, we need dedicated and protected lanes for all modes.
"The concept envisions a future where everything — literally the internet of things — is online to create smart roads and smart cities. Traffic lights will see cars coming, cars will see pedestrians at intersections, and bicycles will talk to cars."
The case for reining in car advertising.
This piece takes a comprehensive look at the negative externalities of car advertisements, including how they often portray dangerous, unrealistic scenarios, which fuel buyer habits. This includes promoting vehicles such as SUVs in urban environments, normalizing unsafe driving behaviour, and fostering a false sense of security.
Industry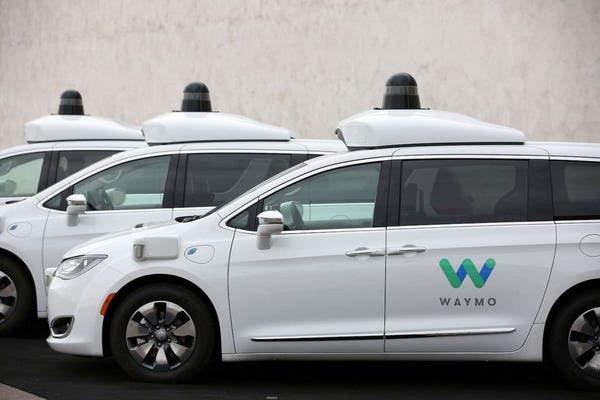 Waymo launches fully driverless service to the public.
Waymo has expanded its rideshare service to riders in the Phoenix metro area (50 square miles!), enabling anyone in the region to download their app and hail an autonomous vehicle. Waymo was giving between 1,000 and 2,000 weekly rides before the coronavirus pandemic, of which 5-10 percent were fully driverless.
www.washingtonpost.com • Share
Cruise gets the all clear to remove safety drivers from vehicles in California.
This week Cruise received a permit from the California DMV to test their vehicles on California roads without a safety driver. While they are not the first to receive the permit, they claim to be "the first to put it to use on the streets of a major U.S. city". They appear to be talking about San Francisco, saying that they will launch vehicles by the end of the year "without gasoline and without anyone at the wheel" on the streets of SF.
Special shoutout to my neighbourhood Cruise vehicles, Truffles and Falafel, I see you and I love you.
What it's like to be a safety driver in California.
… in the middle of a pandemic and wild fires.
The Verge reports on how both Waymo and Cruise, have continued to test their vehicles through the pandemic. And how with the addition of wildfires burning across the state, AV backup drivers say the companies are making decisions at the expense of their health and safety.
The Autonomous Driving Network, simplified!
Shoutout to AFTR reader Augustin Friedel who recently published his Q3/2020 version of the Global Autonomous Driving Network.
The files are available to download from DropBox, and simplify the remarkable partnerships happening across the industry. Definitely worth an exploration!
Tesla scores below average in European assisted driving test.
Europe's New Car Assessment Program (NCAP) rates auto OEMs on their assisted drive features, and the assessment is broken down into three scored categories: vehicle assistance, driver engagement and safety backup. The program gave Tesla's Autopilot system high marks for technical excellence but low marks for maintaining driver engagement.
Musk tweets about a Tesla bus, and then deletes it.
Who doesn't love a classic Elon Musk tweet then delete?
On a similar note, Musk mentioned that a potential Tesla electric bus in a tweet that he later deleted, which inevitably sparked discussions about the possibility of a new Tesla vehicle.
"We will make a dense Tesla if it matters. Maybe just better to have more tunnels though. There is no practical limit to tunnel count. Increased traffic due to "induced demand" is the second dumbest theory I've ever heard after homeopathy!"
Who doesn't love a tech CEO claiming that building more vehicle infrastructure will reduce congestion, amiright.
UK-based electric-vehicle startup Arrival has raised $118 million from funds managed by BlackRock Inc. Arrival is currently working towards providing UPS with electric delivery vans, and has previous investments from Hyundai and Kia. Part of the funding will go towards a $46 million facility in South Carolina, which will be able to make as many as 1,000 electric buses a year and employ 240 people when it opens late next year.
ServCity helps introduce AV tech to UK cities.
A new program in the UK, ServCity, has launched in the UK. The program is a consortium made up of organizations including Nissan, the Connected Places Catapult, TRL, Hitachi, SBD Automotive and the University of Nottingham. The teams will be working over the next 30 months to help solve how cities can successfully incorporate autonomous vehicles into a complex urban environment.
A conversation with Voyage's CEO.
Bloomberg delivers a deep dive into Voyage, a tech company designing AVs for places like retirement communities. The interview with the company's CEO, Oliver Cameron, takes a look at what's to come for the company over the next 12-24 months.
Research and Academia

Great graphics / maps here if you're into that!
The urban institute has published a report on how policymakers can reduce disparities in access to transportation (and thus, opportunity) through targeted investments. The report examines inequities in four US cities: Baltimore, Lansing, Nashville, and Seattle.
"Civic and community leaders across each of our case study regions told us that equity is rarely at the forefront of decisionmaking; when it is, there is a lack of data to support policies that challenge the status quo."
Transportation For America: Driving Down Emissions.
T4A has released a new report on how the transportation industry can decrease GHG emissions, and it focuses on some of my favourite things, namely:
Getting government regulations out of the way of providing more homes where people naturally drive less;

Making safety the top priority for street design to encourage more short trips;

Instituting GHG reduction and less driving as goals of the transportation system;

Investing heavily in other options for getting around, and;

Prioritizing access to destinations.
Exploring new measures of travel behaviour.
The Brookings Institute released a new report looking at how transportation is used to connect people and places. Another report with GREAT maps! The report considers what infrastructure and urban design features lead to different travel behaviours across neighbourhoods.
"Critically, these design features are found in the suburbs too. Neighborhoods built at a human scale—many of which are older than the automobile—function as 'transportation islands.' Trips in towns such as Aurora, Joliet, and Wheaton all end up looking more like central Chicago neighborhoods, even though they're surrounded by automobile-oriented land use patterns."
Identifying health impacts of AVs.
New research from Texas A&M is being published in Sustainable Cities and Society, examining the health impacts of AVs. The researchers identified 32 transportation-related risk factors that affected health, and concluded that 17 could negatively impact public health, while eight could have a positive impact. There were seven areas of uncertain implications that require further investigation.
Extra Bits and Bobs
Waymo is hiring an International Policy Manager
The role is based in London, UK or Washington, DC.
According to the posting, the policy manager will oversee Waymo's policy engagement across European institutions, as well as within any identified national markets, including the UK and France, to advance key transportation policy and regulatory frameworks for autonomous vehicles. Engagement may scale to include other geographies as needed.
Podcast Series: Women in Mobility
Jenny Gladman has begun a podcast series centred on Women in Mobility, featuring women delivering modal shift around the world. So far she has spoken with AFTR reader Georgia Yexley (Head of Growth @ Beryl), in addition to aerospace engineers (!), and others from prominent companies such as Via. Worth a listen! Especially if you identify as a dude!
jenny-gladman-brightsmith.medium.com • Share
That's all from me. Have a beautiful weekend friends.
Sarah
By Sarah Barnes
This weekly newsletter on cities, transportation and technology is curated weekly by Sarah Barnes, a transport nerd based in San Francisco, CA.
The newsletter encourages new conversations about advanced transportation technology, primarily autonomous vehicles, which focus on people, equity, design and the cities we want to (and need to) be building for the future.
If you don't want these updates anymore, please unsubscribe here.
If you were forwarded this newsletter and you like it, you can subscribe here.
Powered by Revue
San Francisco, CA