Along for the Ride - Issue #87
Heya friends, happy Friday!
Short n sweet edition today, featuring some interesting jobs, webinars and a few pokes at Elon Musk (all in a week's news cycle right?).
Enjoy this subscription? Why not forward it on to a fellow mobility nerd (or two!).
Read of the Week
Lessons and policy guidance on AVs from across America.
Susan Shaheen (the big tuna in shared transportation research) has new research synthesizing state-level planning and actions for autonomous vehicles. The research provides a summary and comparative analysis of actions states across the United States are taking in response to AVs.
"The analysis found that AV stakeholder forums and strategic actions address a diverse set of focus areas, but they pay minimal attention to the implications of AVs on the environment, public health, social equity, land use, public transit, goods movement, and emergency response."
Government and Policy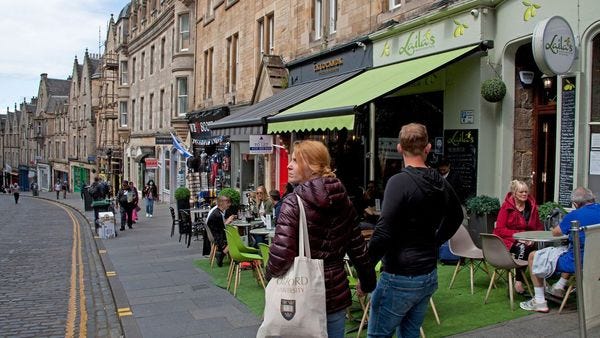 The pandemic pushed cars out of Edinburgh.
And everybody* rejoiced! Some of Edinburgh's prettiest streets in the historic city centre closed to motorised traffic during the pandemic. Now National Geographic discusses how the city tourism industry may benefit over the long-term if road closures remain in place.
*OK, most people rejoiced, but I'm sure taxi lobbies have their two cents to share here as well 😬
www.nationalgeographic.co.uk • Share
Industry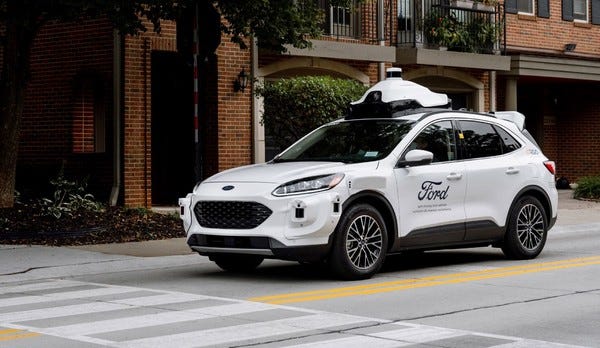 Ford and Argo AI launch their 4th generation AV.
This week Ford and Argo AI launched their fourth generation autonomous vehicle. The companies say that this latest iteration includes components which are "launch-intent" in terms of the components that will be needed to support future vehicle's commercialization. Of particular interest is the vehicle's refined sensor cleaning system, which is designed to keep rain, dirt, debris and even insects from interfering with the sensor system.
Hacked billboards could trick self-driving cars.
There is a fear that urban billboards can be hacked, resulting in AVs which engage emergency stops while driving. New research demonstrated this case study, where researchers were able to trick both Tesla's and Mobileye's self-driving systems.
"A demonstration by security researchers at Israel's Ben Gurion University of the Negev showed that a hijacked billboard showing an image of a stop sign for just a fraction of a second would be enough to trigger the automatic brakes of an autonomous car."
Musk's Loop plan... goes a bit loopy.
Welp, who would've guessed that Elon Musk's latest endeavour into transportation infrastructure has come up short again. The answer is me, I guessed that.
The HyperLoop system for the Las Vegas Convention Center was sold on big promises, of expanding capacity and increasing access. Now it seems the venture is struggling to deliver capacity, and revenue. Where the city was considering a light rail system, they chose Musk's loop system because it was tens of millions of dollars cheaper (cue actual tears from me 😭). But it's ok because as far as Musk is concerned, induced demand is fake news.
But don't worry, Tesla's full self-driving mode is here.
If the hyper loop doesn't pan out, will Tesla's Full Self-Driving (FSD) mode do the trick? Consider me…. skeptical.
Tesla launched FSD this Tuesday, with Musk tweeting that the feature would extremely slow & cautious at first. This is the same feature he promised to release by the end of 2019. FSD is still technically an assisted driving system, and requires drivers to still be at the wheel and paying attention while driving. In addition, the feature is only available on highways.
China's top ride-hailing firm Didi Chuxing is considering Hong Kong for a multibillion-dollar initial public offering next year. Will be rather interesting to see the fate of Didi differs from that of Uber and Lyft.
Research and Academia
ITDP launches tools to improve transit inclusivity.
Pedestrians First, a new guide, report and toolset from ITDP, is designed to help cities assess their walkability. The report is the first-ever worldwide analysis to measure walkability in cities globally.
"The tools provide urban planners, local officials and citizens the data they need to make their cities safer and more accessible to people on foot. This is crucial work if major cities are to avoid surging car traffic – evidence of which is already present for some cities."
www.intelligenttransport.com • Share
New research on exposure to particulate matter 2.5 (PM2.5 … a glorified, but highly dangerous, dust associated with vehicle braking) in the USA is significantly associated with an increased hazard of first hospital admission with Parkinson's disease and Alzheimer's disease and related dementias.
"For the ageing American population, improving air quality to reduce PM2·5 concentrations to less than current national standards could yield substantial health benefits by reducing the burden of neurological disorders."
Extra Bits + Bobs
Jobs!
Transportation Talks!
Remix is hosting a webinar on transportation careers and the winding path they can take.
That's all from me. Have a beautiful weekend friends!
Sarah
By Sarah Barnes
This weekly newsletter on cities, transportation and technology is curated weekly by Sarah Barnes, a transport nerd based in San Francisco, CA.
The newsletter encourages new conversations about advanced transportation technology, primarily autonomous vehicles, which focus on people, equity, design and the cities we want to (and need to) be building for the future.
If you don't want these updates anymore, please unsubscribe here.
If you were forwarded this newsletter and you like it, you can subscribe here.
Powered by Revue
San Francisco, CA