Along for the Ride - Issue #88
Heya friends, happy Friday!
I hope everyday has had a good week, and is looking forward to a spooky weekend ahead. In transit, this week there's a lot of movement happening the UK, a partnership between Waymo and Daimler, and a podcast with Anthony Townsend, author of Ghost Road.
Enjoy this subscription? Why not forward it on to a friend (or two!).
Read of the Week
Report: Connected and Automated Vehicles in the UK
The Centre for Connected and Autonomous Vehicles (CCAV), a unit with the UK government's Department for Transportation (TfL) has released their 2020 Information Booklet. The booklet is short and sweet (12 pages! You can read it over tea!), and describes the history of AVs in the UK, and what future plans the government is envisioning. If you're interested in learning more about the UK's approach to AVs, then this document is absolutely the place to start.
Government and Policy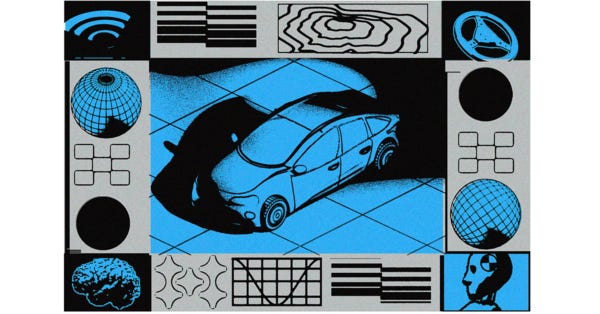 How reality humbled the self driving car.
The NYT discusses how AV companies went from moon shoot hype men, to companies that now contend with the reality of designing machines that can't be perfected or delivered overnight, or in isolation.
"For now, driverless cars operate in isolated cases. It will be many years before they are reliable, affordable and widespread in all road and weather conditions. And I continue to worry that optimism about driverless cars will make people and policymakers avoid hard choices on inefficient and road clogging transportation and hold out instead for computer-piloted vehicles to solve everything — which they won't." 👏 👏 👏
Coventry and Warwickshire to see AV investment.
Coventry and Warwick have been earmarked for additional budget to advance AV modelling as part of a new government program. Coventry has already attracted a hefty share of investment from the UK government to support the research and development of AVs, as it is home to the likes of Jaguar Land Rover, Aston Martin, Rolls-Royce and others. Consider it the Detroit of the UK!
coventryobserver.co.uk • Share
London's congestion charge conundrum.
Ok, we all know I *love* congestion charging as a mechanism to deter driving and fund sustainable transport right? Well, we've finally found a use case where I'd argue it's less applicable.
Covid has hit transit agencies hard, and TfL, which amasses 70% of its total revenue from ridership fares, is hurting. London is one of the only major cities in Europe without a government grant to cover its day-to-day operations, even before the pandemic. And the pandemic has not swayed the central governments' heart or mind in a different direction.
As opposed to supporting one of the world's most renowned transit systems with emergency funds, a leaked letter from the central government propositions that the agency expand the city's congestion charging zone to make up for the loss in revenue. The plan would cost drivers £15, and be applied to some shocking journeys: driving to a hospital in Woolwich, to an Ikea in Beckton or Tottenham, a cemetery in Willesden or the wide open spaces of Wanstead Flats – let alone a daily school run or journey to work in any borough.
UK insurers warn against AVs on motorways.
As the UK plans to introduce AV testing on public roads in 2021, at speeds up to 70 mph, insurers are wary that the technology is not ready. "While insurers support the introduction of more automation – and believe fully automated cars would be safer than human drivers – they said the current technology was a "quantum leap" away from what was needed."
The climate crisis of used vehicle exportation.
File this under the more ya know: The US, Europe and Japan often export used light-duty vehicles (think SUVs, minibuses) to so-called developing countries. A new UNEP report has studied the environmental consequences of this exportation, and the term consequences of this process.
The research finds that the poor quality of the used vehicles is hindering efforts to mitigate climate breakdown. Essentially many of these vehicles fail to meet environment and safety standard in their origin country, and then get shipped to countries with little to no emissions or air quality regulations, passing the problem on.
AVs pick up speed in California.
Govtech dives into how San Francisco and Silicon Valley has become the epicenter for research and development on AVs, and now changes to state regulation could mean that Californians may soon to be able to hail a ride in AV. San Francisco's Jeffrey Tumlin is interviewed and speaks directly to the need of public-private collaboration at this critical time in development.
Industry
Waymo partners with Daimler Trucks.
Waymo's lorry venture, Waymo Via, has partnered with Daimler. The partnership is slightly unexpected, as Daimler has already purchased a majority stake in Torc Robotics, a direct competitor to Waymo. This is Waymo's first partnership in the freight-side of their business. Daimler Trucks will power Waymo's big-rig lorries.
US regulators keeping an eye on Tesla.
Last week after Tesla launched their Full Self Driving (FSD) mode, the NHSTA said it was closely watching Tesla's release. FSD allows Tesla vehicles to drive themselves, and NHSTA made a statement saying "it stood ready to protect the public against safety risks."
The PAVE Campaign, a coalition of every major player in the industry (with the exception of Tesla…), has publicly renowned the release. "Public road testing is a serious responsibility and using untrained consumers to validate beta-level software on public roads is dangerous and inconsistent with existing guidance and industry norms," PAVE said in a statement.
Motional, the Hyundai-Aptiv joint venture, and shuttle startup Via plan to launch a shared autonomous vehicle service for the public in 2021. The service will be launched in the US, and the partnership is being designed with the intention to learn how AVs can be integrated into mass transit.
Research and Academia
How cities make a green and just recovery.
The C40 Global Mayors COVID-19 Recovery Task Force has released new research demonstrating that a green and just recovery could deliver transformative economic, health and emission reduction benefits across the world's 100 leading cities.
"By ignoring the opportunity to make rapid green stimulus investments, most national governments and global institutions are likely leading us towards catastrophic climate change," said the Task Force mayors.
Promoting transit-oriented developments.
New research released by the Mineta Transportation Institute at San Jose State University considers the various land use, zoning, and value capture-related barriers to the construction of transit-oriented developments, and what strategies could be used to address these barriers.
Virginia Tech partners with NVIDIA.
The partnership will specifically study how AVs interact with emergency vehicles, and will use the NVIDIA platform to conduct these evaluations on public roads.
Driving the Future: 2020 Report
Loop and 7th Sense Research have published a report on the state of the automotive industry this year. The survey spoke to 3,000 UK transport users to ask: what's happening now, how have things changed and what will they be doing in the future?
"Half of all respondents will change how they use their car, but some will use it more, and some less. However, on balance 25% expect to use their car 'less' or 'a lot less' post-lockdown."
Extra Bits and Bobs
That's all from me! Have a beautiful weekend friends.
Sarah
By Sarah Barnes
This weekly newsletter on cities, transportation and technology is curated weekly by Sarah Barnes, a transport nerd based in San Francisco, CA.
The newsletter encourages new conversations about advanced transportation technology, primarily autonomous vehicles, which focus on people, equity, design and the cities we want to (and need to) be building for the future.
If you don't want these updates anymore, please unsubscribe here.
If you were forwarded this newsletter and you like it, you can subscribe here.
Powered by Revue
San Francisco, CA