Along for the Ride - Issue #94
Heya friends,
How are we doing? We're a week into 2021, and the UK is under its most stringent lockdown since March, the US has political leaders calling for insurrection (against their own government..), and Elon Musk is now the richest person on the planet. Joy. I hereby give you permission to go take a nap.
For those of you who want to escape via news about cars that can drive themselves, this ones for you. For those of who you can't compute anything anymore, there'll be another edition next week.
Read of the Week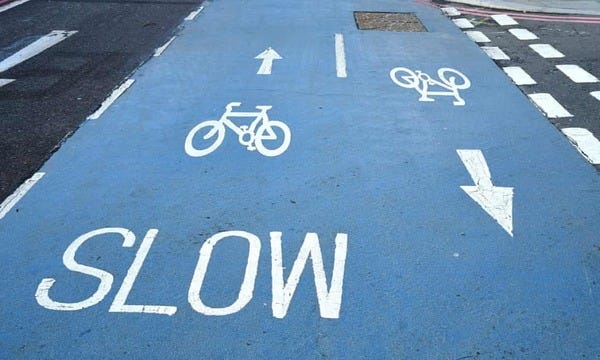 What happens when you remove a bike lane?
For those of you who have never had the pleasure of banging your head against a wall because the borough Kensington and Chelsea refuses to support cycling, I apologize in advance for the headache that is about to ensue.
The borough recently removed a well utilized cycle lane in the heart of London because 322 people complained it impeded the flow of motor traffic (for reference, that's 0.2% of the borough's population). And now? Since the cycle lane was remove, the road space has been blocked by parked cars up to 80% of the time, according to new analysis.
Government and Policy
Nuro receives first commercial permit in California.
Nuro has received the green light to start using its self-driving cars for commercial use on some streets near its Bay Area headquarters. The vehicles have a maximum speed of 25 mph and are only approved to operate in fair weather conditions on streets with a speed limit of no more than 35 mph.
B.C. man accused of dangerous driving for sleeping in self-driving, speeding Tesla.
According to witnesses, Leran Cai, a 20-year old Canadian man, and his passenger, were asleep with their seats fully reclined as their Tesla travelled up to 150 kmh (93 mph) on a freeway between Edmonton and Calgary this summer. He is being charged with dangerous driving, and will appear in court again later this month. This is a legal first for Canada, where a driver is being charged for dangerous driving while in "self-driving" mode.
It's likely that with Tesla's approach to automated driving we will only continue to see Tesla drivers abuse the power of the vehicle's on-board tech.
How do we support progressive urban infrastructure once the pandemic ends?
This article is very optimistic, thinking about the pandemic ending and all that. It focuses on how it's not yet clear how many of the cities that made temporary changes during the pandemic will make this infrastructure permanent. So the question does remain: how can we prevent removing progressive infrastructure post-pandemic, and maintain momentum to continue investing in active travel infrastructure moving forward?
Piggy-backing off of the above, this piece from CityLab contextualizes how some of the more "progressive" infrastructure implemented in light of the pandemic, specifically slow streets, impacts different communities, neighbourhoods, and cities differently.
"The embrace of non-motorized mobility has been widely cheered by safety advocates, environmentalists and foes of auto-centric planning. But in the U.S., slow streets initiatives have also drawn controversy, community resistance and comparisons with racist urban planning practices of earlier decades."
New York car ownership jumps nearly 40%.
With transit skepticism higher than ever before (in my lifetime at least) due to the pandemic, car ownership has sky rocketed in New York City as residents avoid public transit. Specifically, car registrations jumped 37% between August and October of 2020 in New York. In Manhattan alone, new car registrations rose 76% and in Brooklyn, registrations climbed 45%.
Honestly this NYT piece is worth the read, just to understand car culture in one of North America's most robust transit cities.
Industry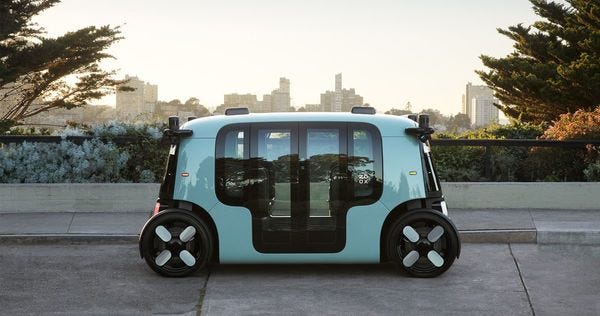 Zoox is barely a car, and that's its most promising feature.
A quick look at how Zoox's design features paint a different picture for autonomous vehicles, aimed at a collective, shared driving experience, rather than personal ownership.
"Zoox's debut is refreshing because most of the headlines about autonomous vehicles are about privately owned self-driving cars developed by auto manufacturers. If we all just go out and buy those, there will be minimal improvement of the climate or congestion, and we may, in fact, be introducing new safety risks."
The holiday buzz at the tail end of 2020 was all about Apple's Project Titan. As it turns out, Apple is moving forward with autonomous technology, targeting 2024 as the year they will produce a passenger vehicle that could include its own battery technology. This piece on patents in CNN describe what the vehicle could potentially look like.
WeRide raises $200M in funding .
WeRide, one of China's most-funded startups developing autonomous driving capabilities, has raised a $200 million strategic round from Chinese bus maker Yutong.
Ford to test AVs on Israeli roads.
Ford's Israeli research and development centre plans is to introduce an AV taxi service before the end of the year, after recently obtaining permission from Israel's Transportation Ministry. Ford's self-driving fleet in Israel will consist of Ford Fusion models equipped with LiDAR, cameras, and radar.
Waymo ditches the term 'self-driving'.
I love some good commentary on rhetorics, especially when it involves a dig at Elon Musk 😇.
Waymo will no longer refer to their fleet as "self-driving", and instead will use "autonomous". Many believe the change is partially in response to Tesla's decision to name (or misname..) its advanced driver assist feature "Full Self-Driving."
"It may seem like a small change, but it's an important one, because precision in language matters and could save lives. We're hopeful that consistency will help differentiate the fully autonomous technology Waymo is developing from driver-assist technologies (sometimes erroneously referred to as 'self-driving' technologies) that require oversight from licensed human drivers for safe operation."
Oxford-based Oxbotica has raised additional funding from BP and Tencent. The company growing into a global leader in autonomous vehicle software. It was founded by two Oxford University professors, Paul Newman and Ingmar Posner, in 2014.
Research and Academia
10 transportation priorities for the Biden Administration.
The Eno Center for Transportation has published ten priorities for Biden and Buttigieg (you know, once the shambles of this week are addressed…). Top priorities include addressing climate change, invest in public transportation, and emphasizing the importance of land use.
Opinion
It's time for self-driving cars to really take off... but not for people.
"Billed as the first everyday consumer application of AI, self-driving has simultaneously inspired its champions and proved a worry for its investors. Aiming high in terms of functionality has delivered plenty of exciting business cases, but the science and engineering problems they entail are not easily soluble.
Aiming low has not delivered business cases that make sense and deliver a return. This conundrum has sent technology companies in a number of exciting directions, whereas automotive firms have ended up favouring simpler driving-assistance features that they can monetise more easily."
Why the driverless car revolution has stalled.
"Looking back, Professor Nick Reed says "the technology worked … people had the sense, it does the right thing most of the time, we are 90% of the way there. But it is that last bit which is the toughest. Being able reliably to do the right thing every single time, whether it's raining, snowing, fog, is a bigger challenge than anticipated." "
Extra Bits + Bobs
For those interested in a new online course, UCL and TUMI have partnered to deliver a new, free, online course on transformative urban mobility. As a heads up, the course instructors (while acclaimed) are all white, and absent from the syllabus is a focus on equity—so while the course may be useful as an introduction to transportation, it may not be where you want to dive in to get the bigger picture.
This syllabus from Portland State University on racial equity and transportation continues to be a guide-post I use when looking for a broader understanding.
That's all from me. Have a beautiful weekend friends, and take care.
Sarah
By Sarah Barnes
This weekly newsletter on cities, transportation and technology is curated weekly by Sarah Barnes, a transport nerd based in San Francisco, CA.
The newsletter encourages new conversations about advanced transportation technology, primarily autonomous vehicles, which focus on people, equity, design and the cities we want to (and need to) be building for the future.
If you don't want these updates anymore, please unsubscribe here.
If you were forwarded this newsletter and you like it, you can subscribe here.
Powered by Revue
San Francisco, CA