Along for the Ride: Weekly Newsletter on AVs and Urbanism - Issue #14
Esteemed subscribers, welcome to another week of self-driving cars and urbanization.
Without further delay, here's the round up:
Meme of the Week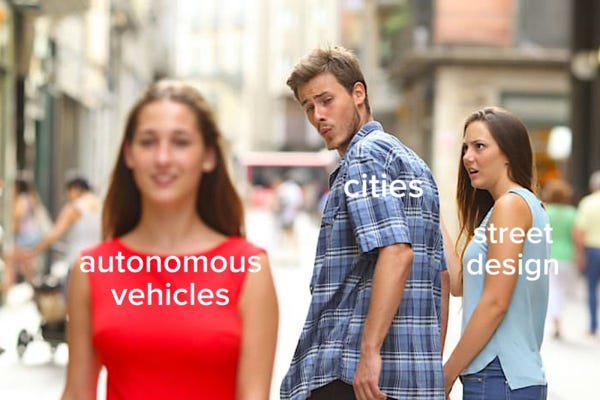 Courtesy of Janette Sadik-Khan's (former NYCDOT Commissioner) twitter.
Government and Policy
NHSTA Rewrites Rules: The National Highway Traffic Safety Administration is rewriting rules to progress AV R&D. (USDOT).
Pricing Pavement: Jakarta is the latest city to welcome road pricing, expected in 2019. (Straits Times).
Street Design First: Renowned urban planner Jeff Speck reminds cities that adding more space for self-driving cars won't solve congestion problems. (Streetsblog LA).
Curbed: How NYC's small infrastructure change of embedding rubber curbs into intersections is saving pedestrian's lives. (Qz).
AVs and Access: How can we design equitable and accessible self-driving vehicles for people with impairments? (The News Wheel).
Sunbelt Shuttles: Phoenix and Sacramento welcome new Local Motors shuttle. (Smart Cities Dive).
Industry
Honda & GM: Honda will begin heavily investing in GM's self-driving unit, Cruise. (USA Today).
MONET: Softbank and Toyota partner in Japan to bring the world a new (Mo)bility (Net)work - MONET. (TechCrunch).
Communication is Everything: Ford considers how AVs can best communicate with the public and other vehicles. (Forbes).
Ford's Sky Gaze: Auto OEM partners with NASA to develop better self-driving tech. (Inverse).
Maps: Mapper.ai is building a map base for self-driving cars that continuously updates. (MIT Tech Review).
Asleep at the Wheel: A collision by a Waymo vehicle last year is reported to have occurred after the safety driver feel asleep at the wheel and accidentally hit the accelerator. (The Information).
Pizza Please: User video of a self-driving car delivering Dominos. (YouTube).
Making Moves: May Mobility brings its self-driving shuttle to third US city this year. (TechCrunch).
Lyft Ditch: The company is expanding their project which pays people to give up their personal vehicle. (Wired).
Guinea Pigs: Tesla enlists own employees as self-driving car beta testers. (Bloomberg).
Taiwan: Acer and Yulon Group design Taiwan's first self-driving car. (Taiwan News).
Bad Apples: Ex-apple engineers unveil new LiDAR technology. (The Verge).
Research and Academia
Home Sweet Home: AVs have the potential to free up enough land in London for 180,000 new homes. (PlanTech).
More Miles: Research from the University of Colorado Denver finds ride-hailing does increase vehicle miles travelled. (Springer).
Opinion
An Ode to Detroit: How the city built self-driving gurus, not Silicon Valley. (Detroit News).
Shuttling Through Canada: Blog on the experience of using a self-driving shuttle in Edmonton, Alberta. (David Silver).
The Disruption Hoax: Urban planner and transport engineer discusses why AVs aren't as disruptive as everybody thinks. (Justin VannPashak).
Blocking Benefits: How AVs could interfere with the design of walkable, liveable communities. (The Conversation).
Have a beautiful weekend friends.
Sarah
By Sarah Barnes
This weekly newsletter on cities, transportation and technology is curated weekly by Sarah Barnes, a transport nerd based in San Francisco, CA.
The newsletter encourages new conversations about advanced transportation technology, primarily autonomous vehicles, which focus on people, equity, design and the cities we want to (and need to) be building for the future.
If you don't want these updates anymore, please unsubscribe here.
If you were forwarded this newsletter and you like it, you can subscribe here.
Powered by Revue
San Francisco, CA