Along for the Ride: Weekly Newsletter on AVs and Urbanism - Issue #15
Esteemed subscribers, welcome to another week of self-driving cars and urbanization.
Without further delay, here's the round up:
Read of the Week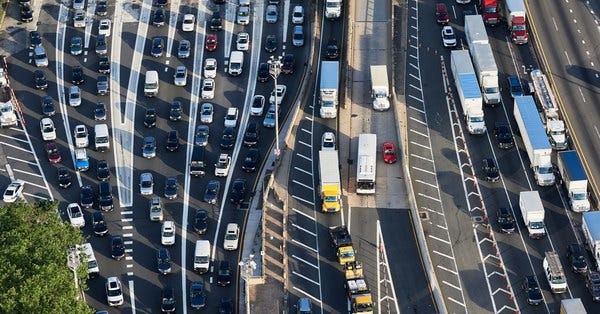 Wired looks into the potential for AVs to induce pollution and sedentary behaviour, both of which are closely linked to cancer and heart disease.
Government and Policy
Autonomous Vehicles 3.0: Hot off the press from last week is discussion surrounding the latest regulatory change by NHTSA re: self-driving. (Washington Post, Smart Cities Dive)
Levelling Up: The Federal Highway Administration (FHWA) in America is creating a new edition of the National Traffic Control Manual, set to include new standards for AVs. (FHWA).
Slipping Away: Trump Admin is withdrawing support from 10 AV Test Sites. (Bloomberg).
Down Under: Canberra develops a new AU$9.7m transport office to focus on self-driving. (ZD Net).
5G Cities: Houston, Los Angeles, Indianapolis and Sacramento all welcome 5G connectivity, paving the way for better connected transport. (Smart Cities World).
Industry
10 Million Miles: Waymo paces on ahead with over 10 million miles driven; it had less than 4 million miles this time last year. (Tech Crunch).
Pass / Fail: NVIDIA develops a drivers' license for self-driving cars in collaboration with government body to ensure automated driving systems are road-ready. (NVIDIA).
Simple Math: Uber develops an equation to measure and manage a city's curb space. (Wired).
Smart Intersections: Honda develops a smart intersection prototype which tells drivers what or who is just around the corner - be it an ambulance or pedestrian. (Engadget).
Les autos: The Paris Automobile show put the future of the car on the main stage. Wired recaps some of the jazziest designs this year. (Wired).
Steering Control: Ford patents a phone platform that controls the movements of self-driving vehicles. The patent is for "non-autonomous" steering. (CNET).
Up to Snuff: Waymo is in a period where they need to prove themselves as reliable transport providers, selling people not only on their product but also their mission and ability to achieve their lofty goals. (The Street).
Consumer Reports: Cadillac tops lists for automated driving system, with Tesla coming in second. (Consumer Reports).
Research and Academia
To Crash, or To Swerve: That is the question. New research from University of Göttingen looks at the risk analysis of actions taken by an AV when in a collision. (Wiley Online).
Green Streets: Research from the University of Minnesota lead by urban designers reimagines streets as cities consider autonomous vehicles (with a focus on healthy, liveable streets). (Star Tribune).
Opinion
Urban Laboratory: Why Sidewalk Toronto will not benefit Torontonians and leave the city behind. (Globe and Mail).
Shared Mobility: Shared fleets (of bikes, cars and scooters) provide an opportunity to reshape cities and address urban issues. So how do we actually do it? (Forbes).
That's all from me! Have a beautiful weekend friends.
Sarah
By Sarah Barnes
This weekly newsletter on cities, transportation and technology is curated weekly by Sarah Barnes, a transport nerd based in San Francisco, CA.
The newsletter encourages new conversations about advanced transportation technology, primarily autonomous vehicles, which focus on people, equity, design and the cities we want to (and need to) be building for the future.
If you don't want these updates anymore, please unsubscribe here.
If you were forwarded this newsletter and you like it, you can subscribe here.
Powered by Revue
San Francisco, CA