Along for the Ride: Weekly Newsletter on AVs and Urbanism - Issue #17
Esteemed subscribers, welcome to another week of self-driving cars and urbanization.
Without further delay, here's the round up:
Read of the Week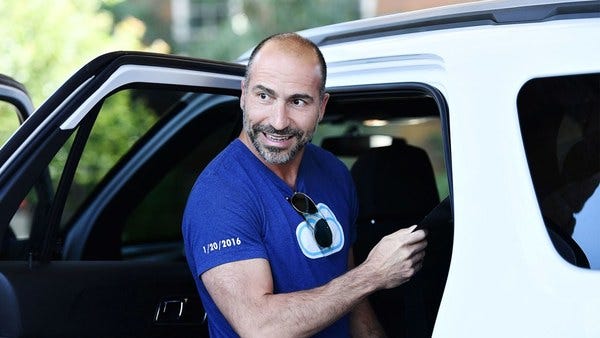 Is Uber the Next Amazon... or the Next Yahoo?
Vanity Fair brings us a thought-provoking piece about how Uber sees itself and its future, in comparison to how the outside world perceives the ride-hailing company. Special focus on their upcoming IPO.
Government and Policy
Welcome to London Town: Oxbotica and Addison Lee partner to bring self-driving cars to London by 2021. (The Guardian).
Capital Cars: Ford is bringing self-driving cars to Washington, DC where the program will place a heavy emphasis on equity and accessibility. (The Verge).
Gold Star State: Drive.ai expands their Texas footprint, rolling into Dallas last week. (Wired).
SOS: New York's MTA launches a Transit Tech Lab to ideate new solutions for its bus and subway network which are currently in "crisis". (The Verge).
China: Will reportedly have over 14 million semi-autonomous vehicles sold in 2020. (Next Big Future).
Not so Fast: US regulators put an end to a trial in Florida which saw students using an automated school bus (shuttle) for their commute. (Business Insider).
Lyft: Just when I was beginning to think Lyft were the good guys. The company has put $100k to lobby against Proposition C in SF. Prop C forces start-ups to support housing for the city's growing homeless population. (SF Examiner).
Don't Forget the Kids: As we design AVs most standards focus on adults, but what about the safety adaptions needed for children? (Wards Auto).
Industry
New Wheels: Lyft unveils new self-driving car and purchases Blue Vision Lab (AR startup) for $72 million.
Call 911: Or Uber, if you're in South Africa. The ride-hailing company will soon offer emergency response services. (Bloomberg).
No "Demo-Candy": How three self-driving godfathers joined together to create Aurora Innovation, an AV start-up that moves slowly and speaks quietly. (Washington Post).
Bandwagon: Apple files patent for caravan features which would share electricity between electric AVs while driving. (9to5Mac).
Swedish Excellence: Why IKEA has their eyes on the automotive industry. (Forbes).
Tesla Flop: Company is no-longer promoting "full self-driving" features to avoid confusion. (The Verge).
Bad Apple: Apple was involved in a crash last week while in manual mode. The link is what the actual DMV report looks like - in case you're curious. (DMV).
New Kid on the Block: Ridecell's Auro division is granted testing license in California. (Ridecell).
Research and Academia
Automotive Morality: MIT published research this week detailing how different countries (233 to be specific) hold different views in relation to the ethics of self-driving cars. (Nature).
Validating Data: Research from Cornell demonstrates how drones can be used to verify and expand upon data collected by autonomous vehicles. (Cornell).
Opinion
Racist Cars: Sam Huang (Investor at BMW i Ventures) discusses the bias of AI and the dangers which may emerge. (Medium).
Order of Importance: As a society, we should be more concerned about how we will live with AVs, rather than who they will kill in a collision. Please discuss. (The Independent).
Real Estate: Impacts of AVs on land use - including the need for fewer garages and space optimization. (Forbes).
Job of the Week
Cruise is looking for a Policy Research Associate. Their government affairs team is lovely, the CEO is a vegan, and they have the nicest office in the heart of San Francisco.
That's all for today folks - have a beautiful weekend friends.
Sarah
By Sarah Barnes
This weekly newsletter on cities, transportation and technology is curated weekly by Sarah Barnes, a transport nerd based in San Francisco, CA.
The newsletter encourages new conversations about advanced transportation technology, primarily autonomous vehicles, which focus on people, equity, design and the cities we want to (and need to) be building for the future.
If you don't want these updates anymore, please unsubscribe here.
If you were forwarded this newsletter and you like it, you can subscribe here.
Powered by Revue
San Francisco, CA