Along for the Ride: Weekly Newsletter on AVs and Urbanism - Issue #20
Welcome to our 20th (!) week of AVs and Urbanism. Thanks to all the folks who've been here since the get-go, and those joining us for the first time (and everybody in between, really).
Reflections on Self-Driving

Today I want to share a text I got last week from my friend, Tiffany Lam. We were talking about a recent study from Australia on driver road rage geared towards cyclists and the fear we felt as minorities on the road (be sure to watch the video to really grasp this concept).
We got to thinking about how autonomous vehicles not only have the power to eliminate inadvertent road collisions - but also intentional violence from drivers who seek to harass, scare and bully vulnerable road users. This goes beyond physical detection of other road users from a technological perspective, and begins to address our societal understanding of who belongs on the road.
Would love to hear your thoughts on this venerable subscribers - perhaps next week I can share some of your insights.
Read of the Week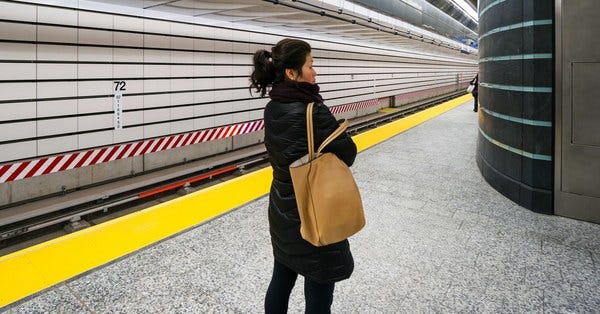 The Pink Tax : Transport in NYC
Women spend on average $50 more per month to travel about NYC than their male counterparts. Are they travelling longer distances? No. Women are spending more to feel safe and be free from harassment. You can find the NYU paper behind this article below.
Government and Policy
Under oath: The Law Commission of England, Wales and Scotland has opened a new consultation looking into the legal frameworks needed for AVs. Consultation is open until February 2019, be sure to send your thoughts. (Law Commission).
Newcastle, AUS: All the hail the driverless shuttle! Newcastle, Australia is launching a trial that will see the shuttles move about the city's harbour. (The Herald).
Regulatory laboratory: I love the concept of innovation in regulation: bringing the design process to how cities deliver new policy. The UAE is doing just that (in theory..) for future technology, including AVs. (The National).
Bus schedules: In a similar vein, a look into how an algorithm built by MIT to optimize school bus schedules in Boston describes why (and how) tech and policy need to coincide to deliver thoughtful and equitable solutions. (Wired).
Deployment without Congress: Waymo and GM are close to deploying vehicles, and Congress is about to miss the boat when it comes to regulating these efforts. (Bloomberg).
Industry
A Christmas Miracle: Waymo is believed to be launching their driverless car service next month. (Bloomberg).
Scooters -> Self-Driving: Why scooter acquisitions are actually about self-driving cars. (Cheddar).
Gold stars: Uber launches a rewards program (TechCrunch), one day after Lyft does (Lyft). What's missing is a focus on all the active travel these two have been investing in.
In the red: Meanwhile, Uber lost nearly $1B this past quarter. (TechCrunch).
Thermal imaging: A deep-dive into thermal imaging, and why this technology is better equipped to keep all road users safe. (Jalopnik).
Love triangle: Ford, Walmart and Postmates get together to solve self-driving delivery. (CNBC).
Metamorphosis: A podcast interview with Ford's Jim Hackett about the evolution of Ford and it's plans for the future. (Freakonomics).
Research and Academia
Pink Tax: From the Read of the Week, the NYU report measuring women's challenges in mobility in NYC. (NYU).
Urban Test Bed: Jaguar Land Rover is investing in a driverless car research centre near Coventry and Warwickshire. (Express and Star).
Podcast: The Wharton School at the University of Pennsylvania interviews the former VP of Research for GM, discussing how AVs reshape transportation. (Knowledge@Wharton).
Opinion
Under the weather: Waymo's CEO, John Krafcik, ruffled feathers this week by being honest about the difficulties AVs will have in poor weather conditions. Here's an opinion from Canadian urban planner, Gordon Price. (Price Tags).
Extra Surprise
New York's Cooper Hewitt Museum is opening an exhibit on future mobility which will run from December 14th, 2018 until March 31st, 2019. The Road Ahead: Reimagining Mobility will feature over 40 projects, and I think you should all grab a ticket (and send me pictures)!
That's all for this week! Have a beautiful weekend friends.
Sarah
By Sarah Barnes
This weekly newsletter on cities, transportation and technology is curated weekly by Sarah Barnes, a transport nerd based in San Francisco, CA.
The newsletter encourages new conversations about advanced transportation technology, primarily autonomous vehicles, which focus on people, equity, design and the cities we want to (and need to) be building for the future.
If you don't want these updates anymore, please unsubscribe here.
If you were forwarded this newsletter and you like it, you can subscribe here.
Powered by Revue
San Francisco, CA