Along for the Ride: Weekly Newsletter on AVs and Urbanism - Issue #26
Welcome to another week of self-driving cars and urban everything. Lots of interesting recaps from CES, predictions for 2019 and more in this week's issue.
Read of the Week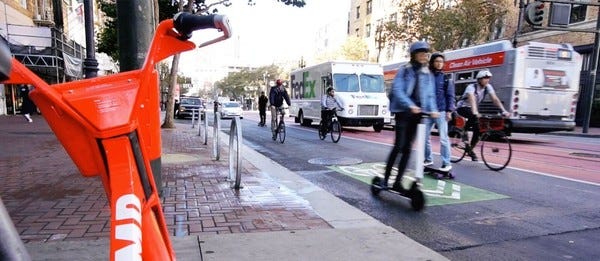 Everybody's favourite urbanism startup, Remix, discusses how 2018 was the Year of the Scooter, and why 2019 will undoubtedly be the Year of the City. They predict that cities will harness new technology to rival services offered by the private sector, and that TNCs and micro-mobility companies will begin to fund more urban infrastructure. Sounds a bit like a blended, urban mobility family to me.
Government and Policy
Car Rich: Vehicle ownership and traffic is on the rise in some of America most transit-oriented cities, particularly those where Uber and Lyft are most heavily used. Some very interesting stats unpacked in this analysis. (CityLab).
Oslo: Oslo has begun to implement infrastructure for its imminent ban on motor vehicles in the city centre in 2019. (NYT).
Traffic Court: A man who pointed a gun at a Waymo self-driving vehicle is the first person in the history of the world (!) to be sentenced to one year of supervised probation for this behaviour. Traffic courts just got a bit more exciting in Arizona. (AZFamily).
Paving the Way: In an attempt to educate the general public, Audi, Daimler, General Motors, Toyota, Volkswagen, and Waymo have formed a new partnership. Partners for Automated Vehicle Education (PAVE) was announced at CES this week. (CNET).
Mapped Out: Mobileye partners with the UK's Ordnance Survey to collate geospatial maps with Mobileye's self-driving data. (Business Insider).
AV Test Site Acquired: The American Automobile Association (AAA) acquires GoMentum Station, the US' largest autonomous vehicle test site. AAA has over 60 million customers across the US. (GovTech).
Mobilising the Future: Sheryl Connelly, Ford's "futurist" for the last 15 years talks to The Post about her predictions for what's to come in the future of urban mobility - and the importance of having urban planners in the room. (WashPo).
Ride-hailing in China: China's new regulations around ride-hailing make it more difficult than ever for part-time workers to get in on the game. Yet, ½ of DiDi drivers worked less than two hours a day according to Bain and Company. (Digital Journey).
Industry
Uber Optimistic: Survey of Uber employees from October shows many (83%) believe they are in a "position to succeed over the next two years". (BusinessInsider). Uber's IPO is also estimated to be worth $90 Billion USD. (The Information).
CES: In list form!
Hey, Alexa: Amazon begins to embed Alexa capability into vehicles, starting with Telenav's navigation systems. (TechCrunch).
Money, money, money: Must be funny in rich-AV world. Aurora expected to raise $500 million. I'm not sorry about that Abba pun. (FT).
Research and Academia
Car, please: Pew Research Centre finds that over 36% of Americans use ride hailing apps, up from 15% in 2015. Only 3% of Americans have never heard of ride-hailing apps. (Pew).
Audi Illusions: According to this "study", a increasing the number of people in a car from 1.1 to 1.3 persons, will result in no more congestion during rush hour… I'm barely even sure this qualifies as research, rather a naive and ignorant publication based on lofty forecasting. (Audi).
Over Eager: New research from Deliotte finds that AV development and investment is out-pacing consumer interest in the product. (Deliotte).
Opinion
Great Expectations: David Silver (from Udacity) lists his self-driving car predictions for 2019. It's an interesting take, and made me question my own assumptions for the road ahead. (Medium).
Jobs!
The Institute for Transportation and Development Policy (ITDP) is hiring! Including a Senior Associate for New Mobility.
That's all folks. Have a beautiful weekend.
Sarah
By Sarah Barnes
This weekly newsletter on cities, transportation and technology is curated weekly by Sarah Barnes, a transport nerd based in San Francisco, CA.
The newsletter encourages new conversations about advanced transportation technology, primarily autonomous vehicles, which focus on people, equity, design and the cities we want to (and need to) be building for the future.
If you don't want these updates anymore, please unsubscribe here.
If you were forwarded this newsletter and you like it, you can subscribe here.
Powered by Revue
San Francisco, CA