Along for the Ride: Weekly Newsletter on AVs and Urbanism - Issue #27
Welcome back friends!
Without further delay, here's this week's round-up:
Read of the Week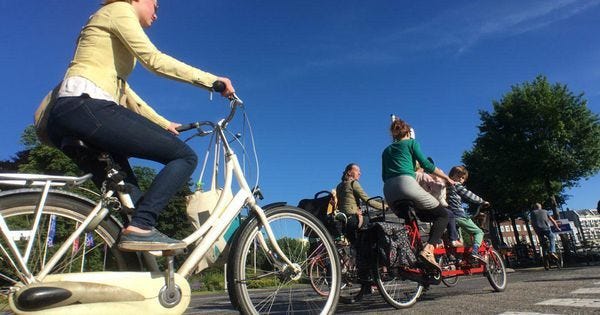 Launched this week in Washington D.C. just days after TRB, is the New Urban Mobility alliance (NUMO for short). Supported by a foundation and led by Zipcar's Robin Chase (and my own mobility crush), NUMO has $6 million USD to spend on people first mobility, helping to shift urban mobility away from private vehicle trips.
Government and Policy
The EU's latest resolution: The EU has endorsed a new resolution pertaining to autonomous vehicles and drones, and the research and initiatives which support further exploration. Essentially, they are going to continue funding and research for connected and autonomous transport. Yay! (Europarl).
Japan's new track: Japan's SenseTime has built a new testing facility for self-driving cars, just outside of Tokyo. (The Tech Portal).
Michigan's move forward: The Michigan Mobility Challenge will fund electric autonomous shuttles to help solve problems including transport to and from hospitals. (Smart Cities Dive).
Distracted driving: CityLab recaps some of CES' most interesting car designs, and find that in the future city today's "distractions" will become focal points of our attention. (CityLab).
Job surplus: It is estimated that the self-driving industry will create more than 300,000 high-skilled jobs in the US, up to six times the number of relevant graduates. (Tech Republic).
Urban self-driving cafe: Renowned architecture firm, Carlo Ratti Associates, unveils their latest design for a self-driving cafe (via a google drive folder..🤷‍♀). (Carlo Ratti Associates).
Urban metamorphosis: How large scale parking garages are future-proofing their design for the days when self-driving cars make their use (potentially) redundant. (FastCo).
Autonomous snow plow: Toronto is hosting their 9th Annual Autonomous Snowplow Competition in partnership with Sidewalk Labs. Ok, not really urbanism related, but can you blame me? I'm Canadian after all. (Sidewalk Toronto).
Industry
Pony.ai gallops ahead: The company released a ride-hailing app this week in China, allowing users to hail autonomous taxis. Currently only staff and VIPs have access to the 20 vehicles on offer. (CNBC).
Cruise control: Cruise wowed many last week with the release of a new video demonstrating how their vehicles handle the most difficult urban experiences (Inverse). They also released a new whip with less obtrusive lasers. (The Car Connection). Cruise also publicly calls for increased cybersecurity oversight, for the entire industry, just not right now. (Autonews).
Chariot on fire: The internet let out a big sigh this week as news broke that Ford-acquired Chariot is ceasing operations. Many voiced the opinion that mobility at this scale always requires governmental support and funding to succeed. (The Verge).
Partners in progress: VW and Ford have formed a partnership to work on electric and self-driving capabilities for trucks and vans. While the move falls short of previous ambitions, Ford anticipates they will save about $500 million a year. (NYT).
Opinion
Just a load of hype: Much of the news post CES focused on how the self-driving momentum is slowing down. Tim Higgins discusses why. (WSJ).
Have a beautiful weekend friends,
Sarah
By Sarah Barnes
This weekly newsletter on cities, transportation and technology is curated weekly by Sarah Barnes, a transport nerd based in San Francisco, CA.
The newsletter encourages new conversations about advanced transportation technology, primarily autonomous vehicles, which focus on people, equity, design and the cities we want to (and need to) be building for the future.
If you don't want these updates anymore, please unsubscribe here.
If you were forwarded this newsletter and you like it, you can subscribe here.
Powered by Revue
San Francisco, CA